Global Sterilized Packaging Market: Overview
The global sterilized packaging market accounted for USD 32.41 Billion in 2020 and is expected to reach USD 59.29 Billion by 2028, growing at a CAGR of 8.4% from 2021 to 2028.
Sterilization is defined as a process of removing, killing, or deactivating the microorganisms such as bacteria, fungi, and viruses present on any surface, food, or fluid. The majority of medical and surgical devices used in hospitals are made of heat-stable materials that are sterilized with heat, primarily steam. Packaging is essential for preserving and protecting a product against damage or contamination. Sterilized packaging is required for some critical products, not only to protect the product but also to avoid reactions with packaging solutions and air. Packaging also helps in reducing contamination, and any sort of leakage during transportation or storage.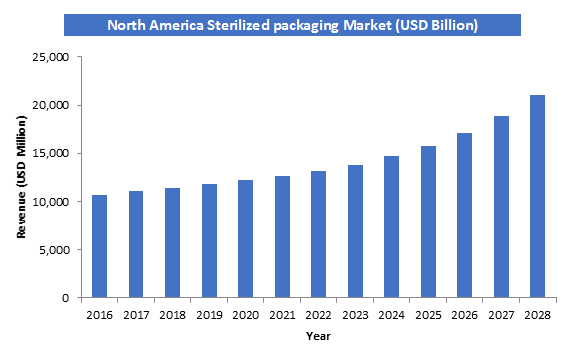 Request Free Sample
COVID-19 Impact Analysis
COVID-19's recent outbreak and rapid spread around the world have caused economic disruption. The rising prevalence of infectious and communicable diseases and viruses such as COVID-19, flu, tuberculosis, and SARS has prompted medical device manufacturers to improve hygiene in order to prevent disease contamination and spread in patients. As a result, the demand for sterile medical packaging rises. Medical supplies, masks, devices, syringes, and other items are in higher demand, resulting in increased demand for their primary and secondary packaging.
Sterilized Packaging Market: Growth Factors
The healthcare industry is driving growth in the sterile medical packaging market. Plastics and paper & paperboard have several advantages, including low weight, recyclability, and durability. Sterile medical packaging also protects against environmental damage, such as moisture during transit, which has led to an increase in demand from the medical industry. Sterile medical packaging is ideal for the packaging of medical devices and pharmaceutical products in the healthcare industry due to properties such as microbial barriers. Because of rising health awareness and concerns about infection control, the sterile medical packaging market is expected to grow.
The demand for sterile medical packaging products is driven by the ease with which they can be handled. Consumer preferences will shift toward increased spending on healthcare services as income levels rise, supporting the growth of sterilized medical packaging products. To withstand moisture and other environmental influences that may affect pharmaceutical products, these products require sterile packaging.
The global aging population is increasing, resulting in health issues that necessitate medical assistance, driving the demand for sterile medical packaging. Diabetes and high blood pressure are common diseases in the elderly population. To provide a better quality of life, the healthcare industry advances technology, which necessitates sterile medical packaging to prevent further infection, which could result in consumer health deterioration.
Report Scope :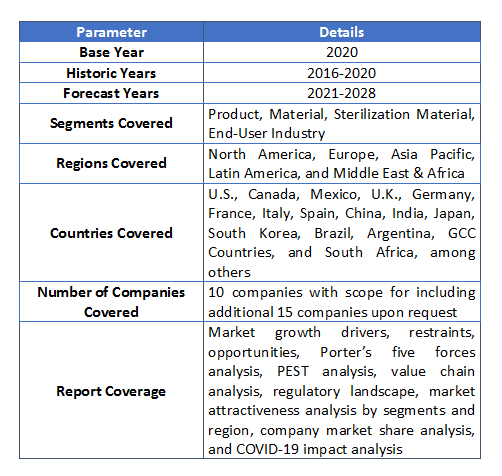 Request Free Sample
Product Segment Analysis Preview
The thermoform trays segment is expected to have the highest CAGR by type. Because of their lightweight, they are versatile and easy to transport. Thermoformed trays are made of plastic and are available in a variety of shapes and sizes. They are also equipped for internal use. Because the plastics used in trays can be molded into various shapes using the thermoforming process, plastic trays are a highly versatile style of packaging design. Because of their adaptability, they are useful in a variety of situations. The thermoform trays used in the healthcare industry are semi-rigid and flexible Packaging. Pouches, Bottles, and clamshells form the other product segments.
Material Segment Analysis Preview
During the forecast period, the plastic segment is expected to hold the largest share of the sterile medical packaging market. The sterile medical packaging market is expected to be led by the plastic sterile medical packaging segment. This expansion can be attributed to its high consumption and rising end-user demand. In the sterile medical packaging market, plastic polymers such as HDPE, polyester, and polypropylene are widely used in the production of bottles, vials & ampoules, and pre-filled syringes. Glass and metal forms other types of the material segment.
Sterilization Material Segment Analysis Preview
Chemical sterilization, radiation sterilization, and high temperature/pressure sterilization are the three types of sterilization methods used in the market. Chemical sterilization is further divided into three categories: ethylene oxide (ETO), hydrogen peroxide, and others. Similarly, the radiation sterilization segment is divided into gamma, e-beam, and other sub-segments. The steam autoclave and dry heat sterilization segments are also separated in the high-temperature/pressure sterilization segment. Chemical sterilization is the fastest-growing method in the market, with ethylene oxide being the most commonly used chemical for sterilization. It's an alkylating agent that messes with microorganisms' reproductive processes and cellular metabolism. Furthermore, it is well-suited for many materials that degrade due to radiation or heat sterilization, such as plastics and glass.
The second-largest method is radiation sterilization, with gamma radiation being the largest sub-segment. This method sterilizes and decontaminates by using cobalt-60 as a radiation source that decomposes to release high-energy gamma rays. Gamma rays kill contaminating microorganisms by breaking down bacterial DNA and inhibiting bacterial division during the sterilization process.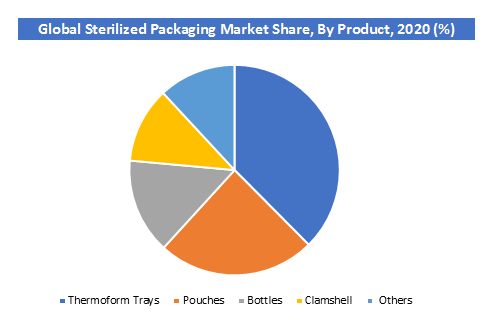 Request Free Sample
Sterilized Packaging Market: Regional Analysis Preview
North America has the largest market share for sterile medical packaging. The United States is the region's largest contributor. The rising pharmaceutical industry and rising consumer healthcare spending are both contributing to this region's growth. The pharmaceutical industry has grown as the number of patients has increased due to the rapid spread of contagious diseases such as coronavirus. This region's demand for such packaging will be fueled by these factors.
Europe is the market's second-largest contributor. The increase is due to the increased use of medical equipment in various medical applications, such as thermoform trays, sterile bottles and containers, vials and ampoules, and pre-fillable syringes. China, Japan, and India are the leading contributors to market growth in the Asia Pacific. The healthcare industry in this region has benefited from the growing population and consumer awareness of healthcare needs. Furthermore, sterile packaging systems will be in high demand due to the high demand for in-vitro diagnostic products and medical implants. The Middle East and Africa will grow due to rising product demand from medical implants and in-vitro diagnostic applications. South America's product adoption will be boosted by increased infrastructure development and product innovation.
The fastest-growing region will be Asia-Pacific at a CAGR of 10.2% in the forecast period. The sterilized packaging market in Asia-Pacific has seen positive growth and is expected to grow significantly over the forecast period. Consumers' disposable income in the region has increased significantly, raising the region's standard of living. The growing urban populations in India and China, which account for 33% and 51% of the population, respectively, are driving up the demand for high-quality medical care. In 2018, India and China together accounted for more than 70% of the total Asia-Pacific share. Due to the rise in viral infections and various stringent regulations, medical device manufacturing industries, diagnostic centers, and hospitals are now focusing more on the sterile and disinfected packaging of medical devices.
In the next ten years, ISRO plans to launch seven mega missions. The second moon mission, for example, will launch in July 2019, as will the next missions to Mars and Venus. As a result of these trends, sterilized packaging in spacecraft and space missions will become more important.
Request Free Sample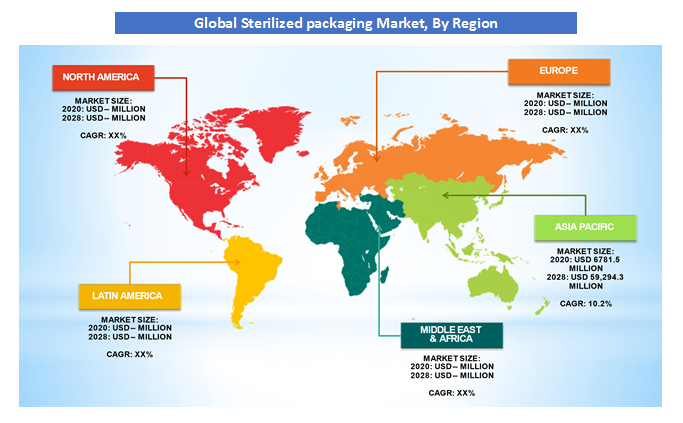 Request Free Sample
Sterilized Packaging Market: Key Players & Competitive Landscape
Some of the key players in the sterilized packaging market are Amcor Limited (U.S.), 3M (U.S.), E. I. du Pont de Nemours and Company (U.S), Bemis Company, Inc. (U.S.), West Pharmaceutical Services, Inc. (U.S.), Gerresheimer AG (Germany), SCHOTT AG (Germany), SteriPack Contract Manufacturing (U.S.), Barger Packaging Inc. (U.S.) and North American Sterilization & Packaging Company (U.S.), among others.
The competitive landscape of the market currently depicts a semi-consolidated industry, with the top 15 companies controlling the majority of the market share. The market's major players have spent a significant amount of money on the research and development of a variety of products and technologies. Market leaders' growth strategies include a diverse product portfolio supported by superior operational efficiency, as well as safe and novel technology development for sterile medical packaging applications. To expand their regional presence and product portfolio, these companies have used expansion, new product development, and acquisition strategies.
The global sterilized packaging market is segmented as follows:
By Product
Thermoform Trays

Pouches
Bottles
Clamshell
By Material
By Sterilization Method
By End-user Industry
By Region
North America
Europe

France
The UK
Spain
Germany
Italy
Rest of Europe

Asia Pacific

China
Japan
India
South Korea
Southeast Asia
Rest of Asia Pacific

Latin America

Brazil
Mexico
Rest of Latin America

Middle East & Africa

GCC
South Africa
Rest of the Middle East & Africa