Global Stem Cell Therapy Market Size
The global Stem Cell Therapy Market accrued earnings worth approximately 182 (USD Million) in 2020 and is predicted to gain revenue of about 800 (USD Million) by 2028, is set to record a CAGR of nearly 20.1% over the period from 2021 to 2028. The report offers assessment and analysis of the Stem Cell Therapy Market on a global and regional level. The study offers a comprehensive assessment of the market competition, constraints, revenue estimates, opportunities, evolving trends, and industry-validated data. The report provides historical data from 2018 to 2020 along with a forecast from 2021 to 2028 based on revenue (USD Million).
Stem Cell Therapy Market: Outlook
Stem cells possess the ability to build each tissue in the human body and possess huge potential for future therapeutic use in the regeneration & repair of tissues. Moreover, stem cells are capable of self-replication while retaining the features of a parent or host cells. In addition to this, stem cells have been intensely studied for understanding organogenesis & human growth. Due to breakthroughs in stem cell therapies, the regenerative medicine industry has witnessed massive growth. Reportedly, ophthalmic conditions, which are a major cause of blindness across the globe, are treated with stem cell therapy. Apparently, favorable outcomes have been derived while treating maxillofacial and oral deficiencies through stem cell therapy. For the record, latter possesses huge potential for treating diabetes and cardiomyopathy. Nevertheless, an exceptional feature of stem cells in migrating towards cancer cells has proved them to be key (vectors) in transporting bioactive agents as well as targeting cancer tissues.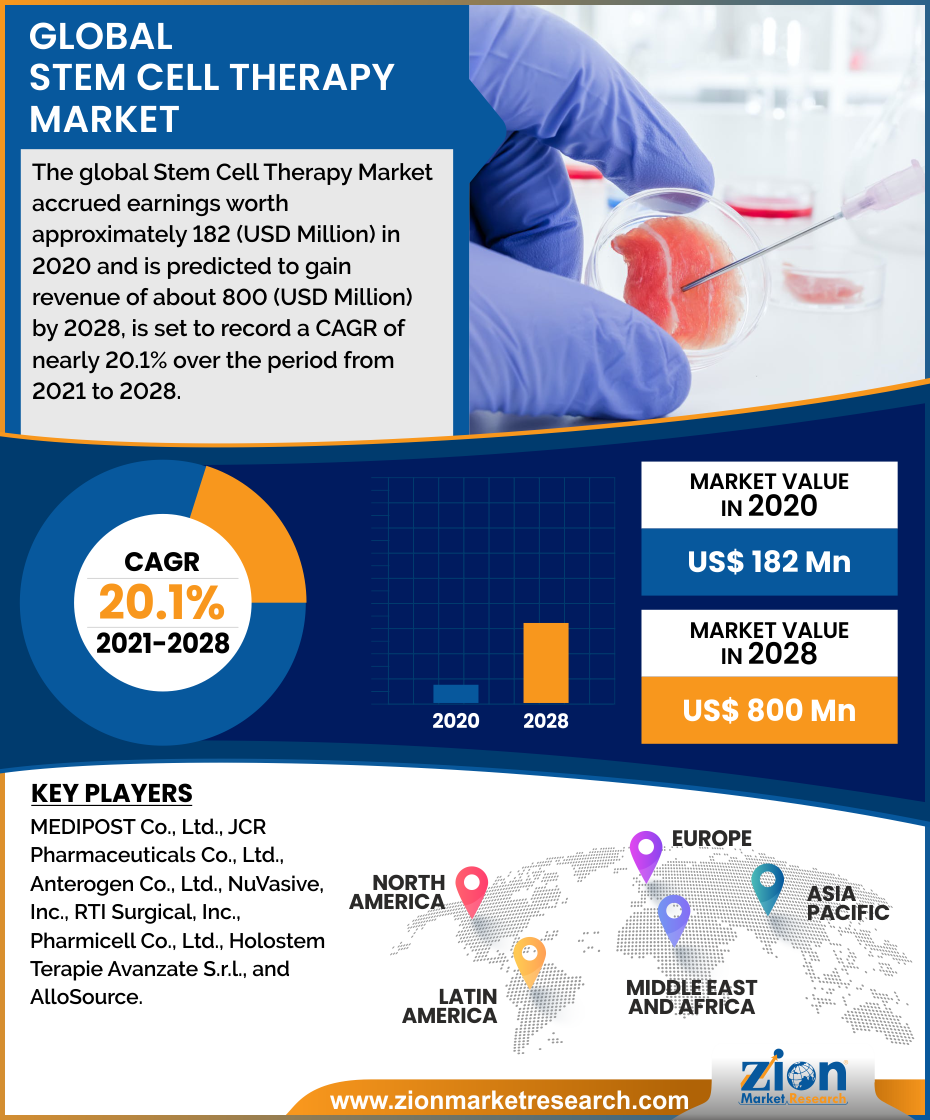 Request Free Sample
Stem Cell Therapy Market: Growth Drivers
Preclinical and medical research activities have brought enormous improvements in stem cell treatments and the latter is the best option having a high potential for treating various kinds of diseases in which current medical therapies have failed to cure, prevent disease development, and alleviate disease symptoms. This aspect is likely to offer new growth opportunities for the stem cell therapy market. Moreover, stem cells can be used as replacement cells during human organ transplantation and can be useful in treating a slew of diseases.
Stem cell therapy also finds a plethora of applications in dermatology with the former having the ability of healing wounds. It can also enable the regeneration of damaged skin tissues. This is likely to drive market trends. Furthermore, a wide variety of possibilities & potential of stem cell therapy has made it a cutting-edge therapy. Stem cell therapy has helped modern medicine enter a new era of growth while providing hope for patients suffering from chronic & incurable diseases. All these aforementioned aspects will help the stem cell therapy market explore new facades of growth in the coming decade.
Furthermore, the use of stem cell therapy in treating metabolic disorders, eye problems, musculoskeletal diseases, heart disorders, and central nervous system ailments will embellish the industry landscape. The rise in the funding of research activities pertaining to stem cell treatment will promulgate industry growth. However, high costs and ethical concerns about the origin of stem cells can lessen the implementation of stem cell therapy on large scale, thereby hindering the expansion of the stem cell therapy market.
Stem Cell Therapy Market: Regional Landscape
North America To Account Sizably Towards Overall Market Share By 2028
The growth of the stem cell therapy market in North America over the anticipated timeline is subject to rising in clinical research pertaining to stem cell therapy in countries such as the U.S. In addition to this, the rise in chronic diseases and government aid facilitating the use of stem cell treatment for these severe disorders will enlarge the scope of the market in the region. Apart from this, thriving biotechnology sector and massive research in whole genome synthesis domain and genome sequencing field will protrude expansion of the stem cell therapy market in sub-continent.
Report Scope:
Stem Cell Therapy Market: Competitive Landscape
Key players influencing growth of stem cell therapy market and profiled in report include MEDIPOST Co., Ltd., JCR Pharmaceuticals Co., Ltd., Anterogen Co., Ltd., NuVasive, Inc., RTI Surgical, Inc., Pharmicell Co., Ltd., Holostem Terapie Avanzate S.r.l., and AlloSource.
The global Stem Cell Therapy Market is segmented as follows:
By Cell Source
Adipose Tissue-Derived Mesenchymal SCs
Bone Marrow-Derived Mesenchymal SCs
Embryonic SCs
By Type
Allogenic SCs
Autologous SCs
By End-User
By Therapeutic Application
Musculoskeletal Disorders
Wounds & Injuries
Cardiovascular Diseases
Gastrointestinal Diseases
Immune System Diseases
By Region
North America

Europe

France
The UK
Spain
Germany
Italy
Rest of Europe

Asia Pacific

China
Japan
India
South Korea
Southeast Asia
Rest of Asia Pacific

Latin America

Brazil
Mexico
Rest of Latin America

Middle East & Africa

GCC
South Africa
Rest of Middle East & Africa