Spatial Light Modulators Industry Prospective:
The global spatial light modulators market size was worth around USD 227.16 million in 2022 and is predicted to grow to around USD 598.37 million by 2030 with a compound annual growth rate (CAGR) of roughly 12.92% between 2023 and 2030.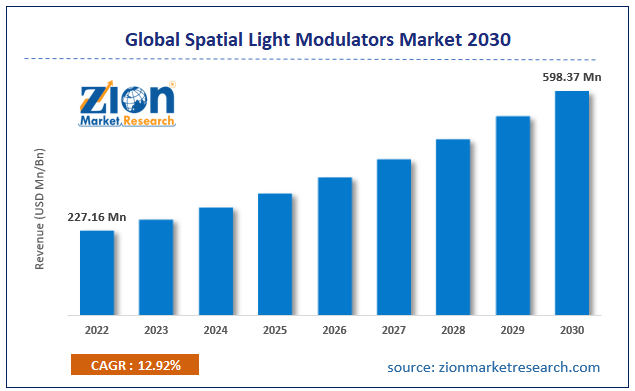 Request Free Sample
Spatial Light Modulators Market: Overview
Spatial light modulators (SLMs) are a set of optical devices that are used to impose a beam of light with some form of varying modulation. The most common and well-known application is the use of these modulators in overhead projector transparency. Modern-day projectors are generally built with SLM as a crucial component inside the projector, unlike the earlier versions where the SLM was placed above a projector to display computer content on a screen.
Typically, spatial light modulators are used for the modulation of light beam intensity. However, certain modulators can modulate the beam phase or the phase and the intensity of the beam together. They have extensive applications in holographic data storage units and they are also used in holographic display technology. In a marketing sense, these modulators are advertised as display or image projection devices and can also be used for maskless lithography. There are two main types of SLMs that are optically addressed modulators and electronically addressed variants. The spatial light modulators industry is expected to grow at a significant CAGR during the forecast period.
Key Insights:
As per the analysis shared by our research analyst, the global spatial light modulators market is estimated to grow annually at a CAGR of around 12.92% over the forecast period (2023-2030)
In terms of revenue, the global spatial light modulators market size was valued at around USD 227.16 million in 2022 and is projected to reach USD 598.37 million, by 2030.
The spatial light modulators market is projected to grow at a significant rate due to the extensive application in optical computing
Based on application segmentation, beam shaping was predicted to show maximum market share in the year 2022
Based on resolution segmentation, 1024*768 pixel resolution & more was the leading segment in 2022
On the basis of region, North America was the leading revenue generator in 2022
Spatial Light Modulators Market: Growth Drivers
Extensive application in optical computing to drive market growth
The global spatial light modulators market revenue is projected to be led by the increasingly extensive application of SLMs in optical computing. The end-user technology uses laser-produced light waves for data storage, data processing, and data communication for computing purposes. Optical computing is different from traditional electrons-based computing since this method leverages several characteristics of optical components to enhance computational performance. Certain associated advantages of optical computing involve higher energy efficiency, excellent speed, and large bandwidth that can be used for transmitting data. In June 2023, the Cambridge-based research unit of Microsoft, a technology giant, announced the launch of the world's first analog optical computer. The new system is expected to efficiently resolve optimization problems at incredible speed. The new optical computer can be used across several industries that are plagued with improving operational output with minimum resources.
Additionally, optical computing can complement the ongoing efforts to improve quantum computing processes. With the increased interest of the research community in quantum computing, the demand for advanced spatial light modulators is likely to witness exceptional growth.
Progress in the development of high-performance SLM to improve chances of higher adoption
There are several ongoing projects working toward the development of high-performance SLMs. In May 2023, NHK Science & Technology Research Laboratories (STRL), in its ongoing effort to natural 3D video and holographic display technologies, developed the world's first smallest magneto-optic spatial light modulator (MOSLM)*1 that comes with a viewing angle of 30 degrees in the horizontal direction.
Spatial Light Modulators Market: Restraints
Lack of awareness and technical expertise to limit market expansion
The global spatial light modulators market growth trend is expected to be limited due to a significant lack of awareness and technical expertise in the field of spatial light modulators especially in the emerging market. There is a significant market that exists for alternatives to SMLs and includes technologies such as liquid crystal displays (LCDs) and digital micromirror devices (DMDs). Several potential end-users are more aware of substitute techniques due to the presence of the systems in a wide range of every application such as consumer electronics resulting in higher confidence of the general population and other users in more commonly display systems. Additionally, it is easier to repair devices working with LCD technology because of higher consumer awareness which may be difficult to achieve in case SLM components stop functioning.
Spatial Light Modulators Market: Opportunities
Expanding market for virtual reality (VR) to create higher growth possibilities
SLMs have proven to improve the virtual reality experience owing to their ability to create holographic displays. The VR industry is steadily evolving as it continues to strive to create an immersive experience for its users. This trend can work in the favor of the spatial light modulators industry players since the use of advanced SLM can prove to be beneficial. Moreover, manufacturers and providers of VR technology are expanding their businesses by entering new markets. Virtual reality experience is not limited to entertainment anymore. The technology is used in medical practices, education, real estate, the automotive industry, and architecture or design sectors. The ongoing expansion of the VR industry will impact the consumption and subsequent demand for efficient spatial light modulators.
Spatial Light Modulators Market: Challenges
High cost of initial investment and functional limitations to create a challenging environment
The production cost of superior-grade and highly advanced spatial light modulators is extremely high. Additionally, the cost is further increased when producing SLMs that can function in extreme weather conditions. This is a crucial challenge for the global spatial light modulators market players to overcome since the cost of production and the product application should be justified. Moreover, the market is getting highly competitive with the addition of new players leading to intense market segmentation.
Spatial Light Modulators Market: Segmentation
The global spatial light modulators market is segmented based on application, product type, resolution, and region.
Based on application, the global market segments are laser beam steering, beam shaping, holographic data storage, display application, and others. The highest growth trend is observed in the beam shaping segment followed by display application and holographic data storage. Beam shaping is the process of modulating the amplitude or phase or both of a beam to achieve the desired output. The process is highly efficient in producing 3D images with exceptional precision. In addition to this, beam shaping has been helpful in several biomedical imaging projects. During the forecast period, the holographic data storage segment is expected to contribute significant revenue as its application in the defense and research segment continues to expand. On average, the response time of SLMs is ~2.5 ms at λ = 633 nm.
Based on product type, the spatial light modulators industry is segmented into electrically addressed and optically addressed.
Based on resolution, the global market segments are 1024*768 pixel resolution & more and less than 1024*768 pixel resolution. By the end of 2030, the segment for 1024*768 pixel resolution & more is expected to grow at a CAGR of 13.56% due to the growing demand for high-performance and advanced spatial light modulators. The segmental growth will be influenced by the growing research and development in end-user verticals causing SLM providers to ensure that their products can meet the evolving demand of their consumers.
Spatial Light Modulators Market: Report Scope
Report Attributes
Report Details
Report Name
Spatial Light Modulators Market
Market Size in 2022
USD 227.16 Million
Market Forecast in 2030
USD 598.37 Million
Growth Rate
CAGR of 12.92%
Number of Pages
219
Key Companies Covered
Boulder Nonlinear Systems, Holoeye Photonics AG, Craic Technologies, Meadowlark Optics, American Electric Control, Hamamatsu Photonics, HoloTech Switzerland AG, Forth Dimension Displays, ALPAO, Texas Instruments, IRIS AO Inc., Physical Optics Corporation, Jenoptik, Imagine Optic, Meadowlark Optics, and others.
Segments Covered
By Application, By Product Type, By Resolution, and By Region
Regions Covered
North America, Europe, Asia Pacific (APAC), Latin America, Middle East, and Africa (MEA)
Base Year
2022
Historical Year
2017 to 2021
Forecast Year
2023 - 2030
Customization Scope
Avail customized purchase options to meet your exact research needs. Request For Customization
Spatial Light Modulators Market: Regional Analysis
North America to be led by US region during the forecast period
The global spatial light modulators market will witness the highest growth in North America with the US acting as the largest contributor. During the forecast period, the US region is likely to grow at a CAGR of over 12.45% driven by the presence of key manufacturers of spatial light modulators and extensive application of the technology in several verticals. Increased regional spending on biomedical imaging along with a growing market for virtual reality in the entertainment field is expected to push higher adoption of SLM in the US. Higher technology awareness and the presence of a large pool of technical experts are also crucial for growth in North America.
Europe is expected to grow at a steady pace as regional industry players continue to focus on technological growth. The strong industrial foundation in the UK and Germany region will be helpful to Europe's expansion strategy. In 2022, the Fraunhofer Institute for Laser Technology ILT and Hamamatsu Corporation, in a joint effort, established a new application laboratory for processing advanced laser material with ultrashort pulsed (USP) laser radiation. The companies have already developed a dynamic and customizable SLM-head for a wide range of applications.
Spatial Light Modulators Market: Competitive Analysis
The global spatial light modulators market is led by players like:
Boulder Nonlinear Systems
Holoeye Photonics AG
Craic Technologies
Meadowlark Optics
American Electric Control
Hamamatsu Photonics
HoloTech Switzerland AG
Forth Dimension Displays
ALPAO
Texas Instruments
IRIS AO Inc.
Physical Optics Corporation
Jenoptik
Imagine Optic
Meadowlark Optics
The global spatial light modulators market is segmented as follows:
By Application
Laser Beam Steering
Beam Shaping
Holographic Data Storage
Display Application
Others
By Product Type
Electrically Addressed
Optically Addressed
By Resolution
1024*768 Pixel Resolution & More
Less than 1024*768 Pixel Resolution
By Region
North America
Europe

France
The UK
Spain
Germany
Italy
Rest of Europe

Asia Pacific

China
Japan
India
South Korea
Southeast Asia
Rest of Asia Pacific

Latin America

Brazil
Mexico
Rest of Latin America

Middle East & Africa

GCC
South Africa
Rest of Middle East & Africa