Sous Vide Machine Industry Prospective:
The global sous vide machine market size was worth around USD 271.46 million in 2022 and is predicted to grow to around USD 403.62 million by 2030 with a compound annual growth rate (CAGR) of roughly 5.09% between 2023 and 2030.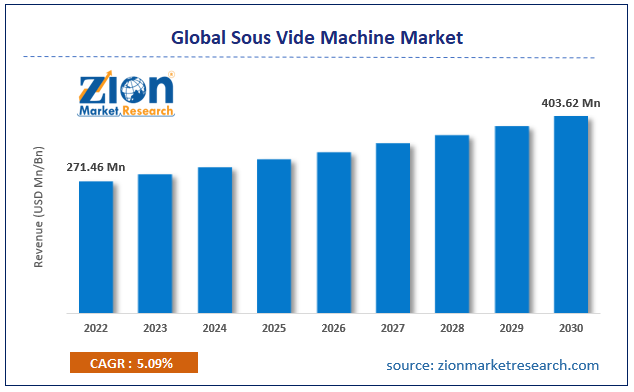 Request Free Sample
Sous Vide Machine Market: Overview
A sous vide machine is a cooking instrument used in sous vide cooking techniques that has French origins. The term sous vide translates to under vacuum. The cooking method and the machine used during the process are gaining popularity in the commercial world with increased consumer awareness. In this method, food items to be cooked are placed in a cooking pouch and are vacuum sealed. The pouch is then placed in a water bath and heated at a controlled or precise temperature until the food is completely cooked. This method and the equipment relies on a temperature control system as opposed to relying on timing which is generally a part of traditional or conventionally used cooking technique. Sous vide machines can reduce human effort in cooking since the users only have to set the machine as per instruction and the machine will take care of cooking the product delivering perfect results. Several benefits are associated with sous vide cooking that are driving the demand for under-vacuum cooking machines. During the forecast period, the sous vide machine market players can expect higher growth as compared to previous years.
Key Insights:
As per the analysis shared by our research analyst, the global sous vide machine market is estimated to grow annually at a CAGR of around 5.09% over the forecast period (2023-2030)
In terms of revenue, the global sous vide machine market size was valued at around USD 271.46 million in 2022 and is projected to reach USD 403.62 million, by 2030.
The sous vide machine market is projected to grow at a significant rate due to the health benefits offered by sous vide machine
Based on application segmentation, the commercial was predicted to show maximum market share in the year 2022
Based on distribution channel segmentation, offline was the leading segment in 2022
On the basis of region, Europe was the leading revenue generator in 2022
Sous Vide Machine Market: Growth Drivers
Health benefits offered by sous vide machine to drive market growth
The global sous vide machine market is expected to grow owing to the several health benefits associated with the cooking method. Using these machines users can cook food items in a safe environment since the food is tightly sealed in a pouch thus eliminating any contact with the external environment including oxygen. Researchers have claimed that sous vide food is healthier than traditionally cooked food. It is mainly because of the limited use of fat or salt while cooking the product in sous vide machines. The air-tight pouches are known to improve food flavors along with natural color, original weight, and aroma of the food resulting in less consumption of additional flavor-enhancing ingredients. There is minimal to no loss of minerals and essential vitamins when food is cooked in a sous vide machine that is generally lost when food products are boiled or cooked in a pan or a pressure cooker. Some other advantages of these machines include enhanced texture and food tenderness. Original food ingredients retain their texture when cooked using the sous vide technique and there is no scope for food being overcooked or undercooked. Since the method adopts a slow cooking technique at a lower temperature, food does not get burnt which generally happens when cooking on a cooktop or stove.
Sous Vide Machine Market: Restraints
Slow cooking process makes it unsuitable for everyday use in residential settings
Sous vide machines use lower temperatures for cooking. The sous vide cooking method is extremely slow, unlike more fast-paced conventional cooking. This attribute of the machine makes it unsuitable for the urban population or people who have limited time to spend on cooking thus impacting the global sous vide machine market growth trend. Sous vide machines may not match the needs of people who are living alone or students living away from home. They do not have enough time to invest in slow cooking, especially as there are other options available in the market.
Sous Vide Machine Market: Opportunities
Increasing technological innovation and rising product launches are an indication of higher expansion possibilities
The sous vide machine industry is growing at a steady pace and has recently gained high momentum thus encouraging more players to experiment with new technologies that improve product performance and manage the associated drawbacks. In the last few years, several new products have been launched and the otherwise nice market has something to offer for every consumer segment. In January 2023, Typhur announced the launch of a new sous vide cooker equipped with a 12-inch display. With this launch, the company aims to target the residential sector since the entire set comes with detailed and video-based recipes. Typhur will also be providing reusable vacuum bags along with a hand-held air extraction pump. In September 2022, The Space, a novel kitchen device manufacturer, launched a new range of sous vide cookers that are environmentally friendly and save costs. The product is called a Neovide Sous Vide cooker and does not need water immersion or vacuum bags that are typically associated with sous vide machines. In May 2023, Breville, a premium kitchen appliance provider, launched the Joule™ Turbo Sous Vide, which is packed with ChefSteps' software along with excellent recipes allowing easier cooking at all levels.
Sous Vide Machine Market: Challenges
Managing affordability factors could pose a crucial challenge for the industry players
The sous vide machine industry growth trend could be subject to certain challenges during the forecast period. The primary challenge is the current high cost of sous vide machines. For instance, the newly launched sous vide machine by Typhur is priced at USD 900 on the company website. The presale price is USD 700 making it out of reach for a large part of the population, especially for personal application. Several other issues related to the use of sous vide machines may pose growth barriers. For instance, some of these issues are higher waste generated due to the use of vacuum bags along with performance limitations in terms of achieving caramelizing effects that can be achieved using conventional cooking methods.
Sous Vide Machine Market: Segmentation
The global sous vide machine market is segmented based on application, type, distribution channel, and region.
Based on application, the global market segments are commercial and residential. In 2022, the highest growth was observed in the commercial segment since a large number of players in the food service industry use sous vide machines to achieve the same flavor and texture repeatedly. The rising number of restaurants & other eateries across the globe, expanding food tourism, and increasing demand for gourmet food are likely to impact segmental growth during the projection period. As of 2022, the global foodservice market was valued at USD 2400 billion. The rising efforts taken by market players to tap into the residential sector could work in the favor of the industry.
Based on type, the sous vide machine industry segments are immersion circulators and sous vide ovens.
Based on distribution channel, the global market is divided into offline and online. In 2022, the former segment was leading with higher revenue mainly because food service players collaborate with appliance suppliers on a more personal front. These are high-investment devices and users tend to first witness the performance firsthand before buying the product. However, the online segment is growing rapidly with an increasing number of online sales platforms. Professional grade sous vide cookers cost around USD 500 on average.
Sous Vide Machine Market: Report Scope
Report Attributes
Report Details
Report Name
Sous Vide Machine Market
Market Size in 2022
USD 271.46 Million
Market Forecast in 2030
USD 403.62 Million
Growth Rate
CAGR of 5.09
Number of Pages
218
Key Companies Covered
Breville, Anova Culinary, PolyScience Culinary, KitchenBoss, Gourmia, Wancle, Chefman, Weston Products, Sansaire, Hamilton Beach, Oliso, VacMaster, NutriChef, Monoprice, Instant Pot, and others.
Segments Covered
By Application, By Type, By Distribution Channel, and By Region
Regions Covered
North America, Europe, Asia Pacific (APAC), Latin America, Middle East, and Africa (MEA)
Base Year
2022
Historical Year
2017 to 2021
Forecast Year
2023 - 2030
Customization Scope
Avail customized purchase options to meet your exact research needs. Request For Customization
Sous Vide Machine Market: Regional Analysis
Europe to witness the highest growth result during the projected period
The global sous vide machine market will be dominated by Europe during the forecast period. The sous vide cooking technique initially originated in France and since then it has spread across European countries. In recent times, Europe has generated high revenue from international and domestic tourism with food playing a crucial role in attracting people from across the globe. The regional market is more mature as compared to other regions which continues to contribute to higher growth and adoption of sous vide machines in Europe. The rising food service sector in European nations is likely to act as a key growth driver.
Asia-Pacific is expected to witness high results with the growing number of new product launches. The Asian food sector is highly dynamic since each region has specific cooking techniques which are steadily evolving creating greater scope for regional market expansion. The rising demand for healthier food alternatives and growing focus on sustainable food practices could trigger high regional growth.
Sous Vide Machine Market: Competitive Analysis
The global sous vide machine market is led by players like:
Breville
Anova Culinary
PolyScience Culinary
KitchenBoss
Gourmia
Wancle
Chefman
Weston Products
Sansaire
Hamilton Beach
Oliso
VacMaster
NutriChef
Monoprice
Instant Pot
The global sous vide machine market is segmented as follows:
By Application
By Type
Immersion Circulators
Sous Vide Ovens
By Distribution Channel
By Region
North America
Europe

France
The UK
Spain
Germany
Italy
Rest of Europe

Asia Pacific

China
Japan
India
South Korea
Southeast Asia
Rest of Asia Pacific

Latin America

Brazil
Mexico
Rest of Latin America

Middle East & Africa

GCC
South Africa
Rest of Middle East & Africa