Global Solenoid Valve Market: Overview
According to the report published by Zion Market Research, global demand for Solenoid Valve Market was valued at approximately USD 4.1 Billion in 2019 and is expected to generate revenue of around USD 5.4 Billion by end of 2026, growing at a CAGR of around 4% between 2020 and 2026.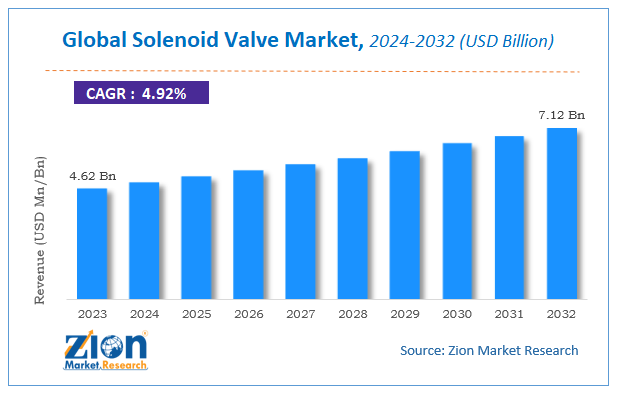 Request Free Sample
Solenoid valve refers to the system within which solenoid is used in order to control valve activation. In the solenoid valve, electrical current flows within the solenoid valve. Solenoid valves are known to be electromechanically controlled valves used to regulate gas or liquid flow. Solenoid valves are most widely used as control components in fluids. They perform a number of functions, such as releasing, shutting down, combining or distributing fluids.
Global Solenoid Valve Market: Growth Factors
As the solenoid valve industry is progressing at a fast speed, a substantial rise is anticipated in the coming years. New innovations are emerging in the solenoid valve industry due to continuous advances. The factors driving the global evolution of the solenoid valve industry are the increased use of solenoid valves in different industrial sectors, poor power usage, and lower prices. In addition, the production of new solenoid valves, such as micro-miniature, pinch, and personalized valves, has stimulated the global growth of the solenoid valve industry. Few issues have had a detrimental effect on the market development of the solenoid valve; some of them are power failure, an incorrect voltage that can impair the function of the solenoid valve, as a result of which the solenoid valve cannot be opened, and so on are typical problems associated with the solenoid valve.
Report Scope:
Global Solenoid Valve Market: Segmentation
The global solenoid valve market is segmented based on material, valve design type, and end user. By body material, the target market is segmented as stainless steel, brass, aluminum, and plastic. On the basis of valve design type, the target market is divided into 2-way, 3-way, 4-way, and 5-way. On the basis of end-user, the target market is divided into oil and gas, chemical and petrochemical, water and wastewater, food and beverages, power generation, pharmaceuticals, automotive, medical, and others.
Region-wise, the global market is segregated into North America, Europe, Asia Pacific, Latin America, and Middle East & Africa.
Global Solenoid Valve Market: Regional Analysis
The North America and Europe solenoid valve market are projected to hold a significant share globally in the future, owing to a well-established health care system, strong research & development infrastructure, technological advancements, and the presence of major players in these regions. Further, the presence of well-established domestic players is expected to fuel the growth of the market in the Asia Pacific. The MEA solenoid valve market is anticipated to grow at a moderate rate in the years ahead.
Global Solenoid Valve Market: Competitive Players
Some main participants of the solenoid valve market are ASCO Valve, Inc., Danfoss A/S, CKD Corporation, Christian Bürkert GmbH & Co. KG, SMC Corporation of America, IMI plc Company, GSR Ventiltechnik GmbH & Co. KG, ODE s.r.l., Kaneko Sangyo Co., Ltd., CEME S.p.A., Takasago Electric Industry Co., Ltd., Parker Hannifin Corp., and Ningbo Mailing Pneumatic Co., Ltd. among others. Major players in the global market are focusing on strengthening their position in the target industry by applying various business strategies.
Solenoid Valve Market: Regional Segment Analysis
North America
Europe

France
The UK
Spain
Germany
Italy
Rest of Europe

Asia Pacific

China
Japan
India
South Korea
Southeast Asia
Rest of Asia Pacific

Latin America

Brazil
Mexico
Rest of Latin America

Middle East & Africa

GCC
South Africa
Rest of The Middle East & Africa