Description
Market Overview
The global smart voice assistant speaker market accounted for USD 7,216 Million in 2020 and is expected to reach USD 58,539 Million by 2028, growing at a CAGR of 30.1% from 2021 to 2028.
A voice assistant is a digital assistant developed with the aid of artificial intelligence, voice recognition, and machine learning. Smart voice assistance speakers are smart speakers that have voice recognition technology built into them. The speaker makes use of artificial intelligence (AI) to find information, play music and control other connected devices such as lights, air conditioners and others in the house. Such technology combines the elements of interactive voice response and other artificial intelligence projects to deliver virtual identities that converse with users.
Increasing popularity of smart homes with connected devices and a growing demand for smart speaker display can be attributed as the primary factors for growth of this market. The next wave of FMCG and grocery e-commerce is expected to be driven by smart speakers. Voice technology is being considered as part of a wider cross-channel strategy. Companies are coming up with new smart speaker apps to target wider audiences by providing more information such as football updates, lottery winning numbers and others.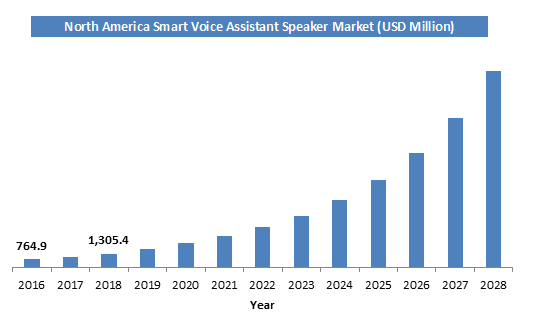 COVID-19 Impact Analysis
The rapid increase in the usage of laptops and smartphones due to the Covid-19 pandemic has also had a corresponding increase in the use of smart speakers at home. As the virus continues to persist, the usage of these devices is expected to increase as more businesses and industries try to incorporate voice assistance and smart speakers in their offerings. Voice assistance speakers have been playing a vital role in the pandemic by enabling weak and immobile patients to keep in contact with their families and keep themselves entertained. It was predicted that by the end of 2020, 30% of internet searches will be performed by a device without a screen.
Growth Factors
One of the primary reasons for growth of this market has been simply the introduction and availability of smart voice assistant speakers. Smart speakers especially Alexa and Google Assistant have become as prevalent as television sets in households. Consumers are also using smart speakers for other purposes such as online shopping and making calls. It is predicted that 2023 there will be around 8 billion voice assistant speakers in use.
Significant developments made in AI over the past decade are also driving the growth of smart speakers. Machine learning, for instance is a key AI technology for smart voice assistant speakers. It enables the device to learn on its own and get 'smarter' as more data is fed. Alexa and Google Assistant are both being enhanced to detect the emotions from the voice of the users. Such a development can be a major boon for developers and boost this market.
Additionally, a rise in the characteristics expected from smart voice assistant speakers can also augment the growth of this market. Consumers are looking to make use of smart speakers beyond just playing music or searching for information, with the increasing popularity of smart homes they are also switching to smart speakers that can be compatible with devices such as ceiling lights, air conditioners, door locks and others.
Report Scope: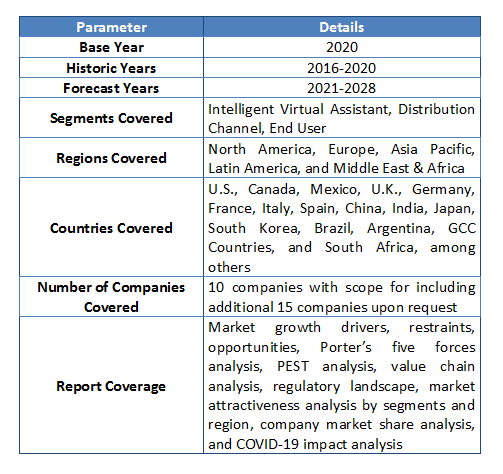 End User Segment Analysis Preview
Personal segment held a share of around 30% in 2020. This can be attributed to the proliferation of smart home devices, rising demand for multifunctional devices, changing lifestyles and increase in the disposable income of consumers, particularly millennials and gen Z age groups. With rapid advances in AI, traditional home devices are now being replaced with smart devices such as voice assistant speakers. The ability of smart speakers to seamlessly integrate with home devices is expected to give a major boost to sales within this segment.
Intelligent Virtual Assistant Segment Analysis Preview
Alexa segment is expected to grow at a CAGR of over 40% from 2021 to 2028. This growth can be attributable to its widespread market appeal and advanced features such as machine learning and semi-supervised learning techniques. Amazon first launched its Alexa IVA smart speaker Echo in 2014 and ever since has been employed in a range of smart speakers offered by other companies along with Amazon's own Echo device series.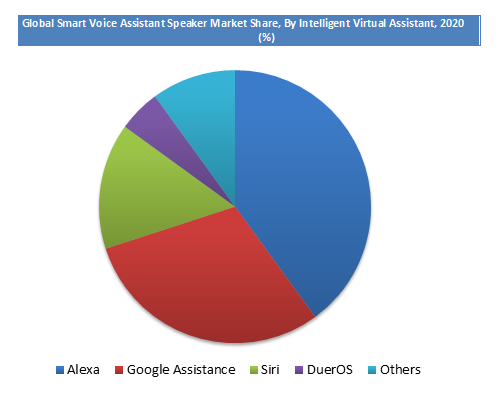 Regional Analysis Preview
The North America region held a share of around 35% in 2020. This is attributable to the presence of top companies such as Amazon, Microsoft and Apple among others. Countries such as US, Canada and Mexico have been highly receptive to smart technology devices. The proliferation of smart speakers in this region, particularly in the US is high owing to the presence of key smart speaker providers and early adopters of this technology. Around 24% American adults are predicted to own atleast one smart speaker and the average person owns more than one.
The Asia Pacific region is projected to grow at a CAGR of around 23.87% over the forecast period, owing to a rising penetration of smart devices in this region. China alone is considered to register a 13% growth in voice assistance use, owing to the proliferation of Chinese players in this market such as Alibaba and Xiaomi. The integration of a complex language such as Mandarin in the smart speakers can also be expected to further boost growth in this region.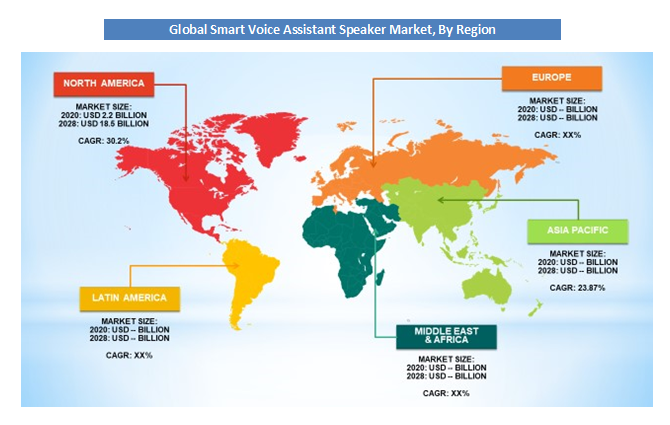 Key Market Players & Competitive Landscape
Some of key players in smart voice assistant speaker market are Amazon.com, Apple Inc, Google, Microsoft Corporation, Alphabet Inc., Lenovo, IBM Corporation, Sony, Alibaba, Xiaomi, Samsung Electronics, Sony, NVIDIA and Mattel among others.
With constant advancements in AI and speech recognition technologies, key players are expanding their business footprint and market presence by coming up with innovative features in voice assistant speakers. Google for instance, in June 2020 announced the roll out of additional features for its voice assistant, Google Assistant to various new devices. An important feature is voice match, which enables speakers to recognize the voice of the user and personalize responses accordingly.
The global smart voice assistant speaker market is segmented as follows:
By Intelligent Virtual Assistant
Alexa
Google Assistant
Siri
DuerOS
Others
By Distribution Channel
By End User
By Region
North America
Europe

France
The UK
Spain
Germany
Italy
Rest of Europe

Asia Pacific

China
Japan
India
South Korea
Southeast Asia
Rest of Asia Pacific

Latin America

Brazil
Mexico
Rest of Latin America

Middle East & Africa

GCC
South Africa
Rest of Middle East & Africa