Global Learning Management System Market Size Overview
According to Zion Market Research, The global learning management system market size was worth around USD 14.9 billion in 2021 and is estimated to grow to about USD 43.6 billion by 2028, with a compound annual growth rate (CAGR) of approximately 18.4 percent over the forecast period. The report analyzes the Learning Management System market's drivers, restraints/challenges, and the effect they have on the demands during the projection period. In addition, the report explores emerging opportunities in the Learning Management System market.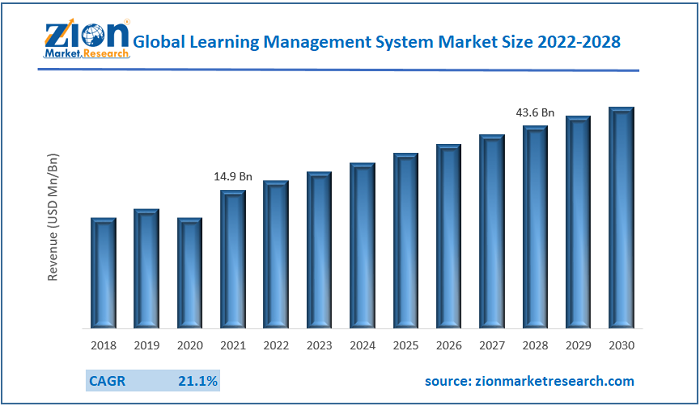 Request Free Sample
Learning Management System Market: Overview
A learning management system (LMS) is a software solution used to organize, track, analyze, automate, and provide educational courses, train programmers, and learning & development, programmers. The notion of a learning management system arose straight from e-Learning. The largest section of the learning system market is learning management systems. In the late 1990s, the LMS was initially introduced. Due to the emphasis on remote learning during the COVID-19 epidemic, learning management systems have seen a tremendous increase in usage.
COVID-19 Impact:
Due to the COVID-19 outbreak, some governments have implemented stringent lockdowns, shutdowns, and movement restrictions in order to prevent the virus from spreading. Strict lockdowns, border closures, and supply chain worries functioned as barriers to deploying LMS systems on-site. However, such restrictions triggered an urgent need for remote learning, this is why LMS systems gained a high demand in 2020. Also, the commercialization of LMS is projected to result in significant market growth. The pandemic has caused companies to rethink their strategy and place a greater emphasis on solid network connectivity in order to recover consumers' trust.
Global Learning Management System Market Size: Growth Drivers
Increasing acceptance of cloud-based LMS solutions is likely to boost the market growth
Businesses and educational institutions are in demand to observe and track their employees' or students' learning progress to improve the overall output. Traditional methods of measuring learners' progress, such as collecting questionnaires manually or using a survey tool, are wasteful and incorrect. Manual surveys have a number of drawbacks, including time consumption, poor response rates, a lack of references or standards, and the chance of wrong responses. Organizations are unable to adequately track the efficacy of their initiatives due to time constraints and a lack of suitable assessment tools. Due to such drawbacks with traditional tracking systems, companies and institutes are adopting cloud-based LMS solutions, besides additional benefits such as low-cost investments with cloud platforms and accessibility of data at any time period at any location making cloud-based LMS a better choice for investors.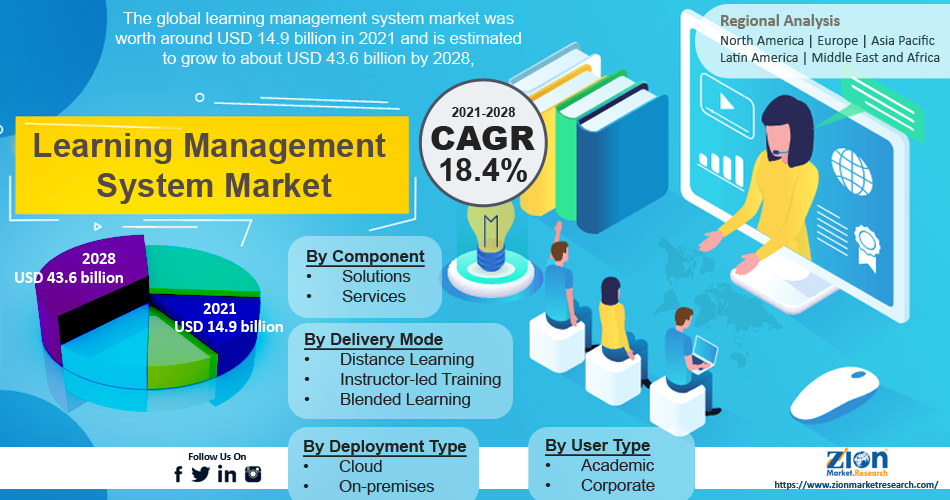 Request Free Sample
Learning Management System Market: Restraints
The dearth of performance tracking and ROI measurement may hamper the market growth
LMS suppliers are continuously seeking to add new technology to improve their products as the popularity of LMS systems grows. With more images & less text, more interesting themes & expressions, a focus on virtual immersion learning, and eventually, gamification to engage E-learners, LMS solutions enable instructors to adapt to declining attention spans. Artificial Intelligence (AI) may be used to build an AI-based mentor that can assist students in understanding ideas, recommending courses, and providing comments to help them better their grades. Other technologies, such as data analysis, assess students' mental processes and learning styles based on their everyday interactions, allowing them to give personalized courses and a personalized learning experience for them.
Report Scope:
Learning Management System Market: Opportunities
Software advancements in LMS technologies likely offer better growth opportunities
The development of 5G technology has wreaked havoc on the cloud computing industry. 5G's low latency connectivity allows for quicker data transfers and smoother conversations. 5G speeds up access to video analytics and artificial intelligence, making the city a safer place. This allows municipal administrators, building owners, and facility managers to make better decisions and deliver better public services. The entire revolutionary potential of 5G has yet to be realized, and this presents a significant growth opportunity for the LMS industry.
Learning Management System Market: Challenges.
Need for technical training for teachers and instructors
Most instructors who are used to traditional lecture delivery methods face obstacles in adopting approaches such as course design, assignment preparation, assessment & evaluation, online material distribution, and collaboration. This is an issue encountered by educational establishments and instructors all over the world, and it is not restricted to any one area or location.
Learning Management System Market: Segmentation
The global learning management system market is bifurcated based on components, delivery mode, deployment, user type, and region. By component, the market is categorized into solutions and services. The delivery mode segment of the market is bifurcated into distance learning, blended learning, and instructor-led training. Among these, the distance learning segment accounts for a large share in the overall market. By deployment, the market is split into cloud and on-premises. The user type segment of the global learning management system is divided into corporate and academic.
Recent Developments
In October 2020, Blackboard Reach, launched the company's latest solution for K-12 institutions. The goal of the solution was to make it easier for parents to communicate with instructors and have meaningful, in-person conversations.
Instructure collaborated with Amazon Web Services (AWS) in August 2020 to provide educators with significant cloud computing teaching tools. Users would be able to access materials from AWS Educate in Canvas thanks to Instructure.
Cornerstone purchased Saba in April 2020, a worldwide supplier of talent experience solutions. Cornerstone was able to expedite innovation and expand its capabilities to serve a bigger, more diversified range of clients as a result of this purchase.
Regional Landscape
Asia Pacific LMS market is expected to expand rapidly in the next years. The use of video conferencing solutions in the area is being driven by government measures to improve digital infrastructure. Increased growth possibilities in the APAC region are due to the fast use of different LMS solutions by several businesses in emerging economies. Countries such as India, China, and Japan are significantly contributing to market development in the region. Furthermore, the region has the largest student population, and with the advancement of technology, the need for E-learning and distance education is expected to increase. This propels the LMS market to satisfy a wide range of educational needs in the APAC region, comprising China, Australia, New Zealand, Japan, India, and Singapore.
Competitive Landscape
Key players operating in the global learning management system market include Blackboard, Cornerstone OnDemand, SAP, Adobe, PowerSchool, Instructure, D2L, SumTotal, LTG, IBM, Oracle, Infor, and Docebo.
Global learning management system market is segmented as follows:
Learning Management System Market By Component
By Delivery Mode
Distance Learning
Instructor-led Training
Blended Learning
By Deployment Type
By User Type
By Region
North America
Europe

France
The UK
Spain
Germany
Italy
Rest of Europe

Asia Pacific

China
Japan
India
South Korea
Southeast Asia
Rest of Asia Pacific

Latin America

Brazil
Mexico
Rest of Latin America

Middle East & Africa

GCC
South Africa
Rest of the Middle East & Africa