Industry Prospective:
The global smart toys market was worth around USD 12,525.1 million in 2021 and is estimated to grow to about USD 33640.6 million by 2028, with a compound annual growth rate (CAGR) of approximately 17.9 percent over the forecast period. The report analyzes the smart toys market's drivers, restraints/challenges, and the effect they have on the demands during the projection period. In addition, the report explores emerging opportunities in the smart toys market.
Smart Toys Market: Overview
Smart toys are toys that are connected to smart devices or the internet and provider better functional features. These smart toys are also equipped with technologies like artificial intelligence and the internet of things (IoT). They also use speech synthesizers and other speech related software to make the experience more interactive with kids.
Smart toys have also been highly popular in advanced schools as they have been used as learning aids for children in their developmental ages. Increasing adoption of Science, Technology, Engineering, and Mathematics in the educational curricula is also expected to favor smart toys market potential.
Increasing technological proliferation and rising disposable income of the general population are also expected to favor the smart toys market potential through 2028.
COVID-19 Impact:
The COVID-19 pandemic had a significantly adverse impact on the smart toys market. As coronavirus infections across the world increased rapidly, drastic measures were taken to control the pandemic and this is why multiple nations have implemented lockdown. This led to a negative impact on the smart toys market potential.
Closure of manufacturing and production facilities and shuttered sales and distribution channels majorly dragged down the smart toys market growth potential in 2020. inadequate availability of skilled labor also had a constraining effect on the smart toys market potential.
The smart toys market is expected to make a stellar comeback in the post-pandemic era as the world returns to normal and lockdown restrictions are lifted. The increasing proliferation of technology is also expected to further advance the smart toys market potential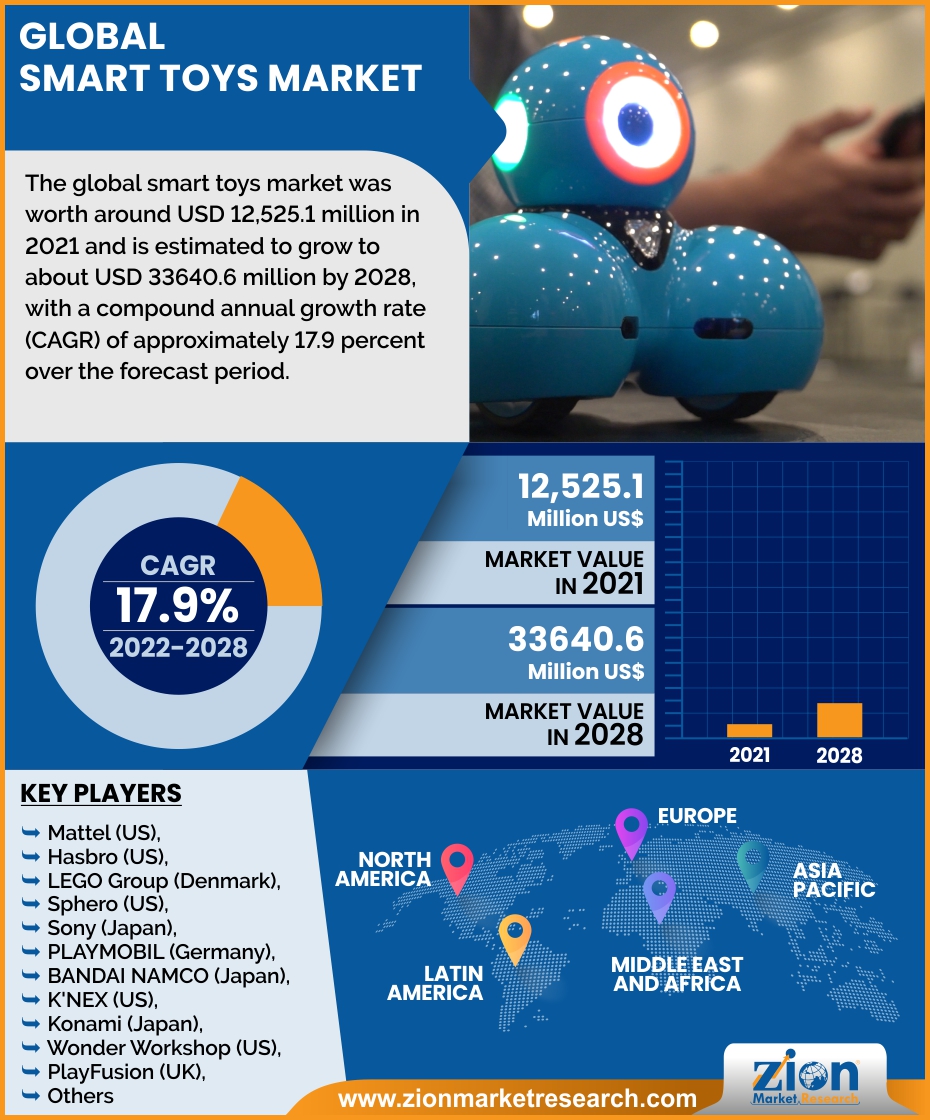 Request Free Sample
Smart toys Market: Growth Drivers
Increasing Working Population
The working women population has substantially increased over the past few years and this trend is expected to prominently drive the smart toys market potential over the forecast period. This working class population will further bolster the demand for smart toys as parents seek advanced toys that they can administer to their kids in their absence. The rising popularity of smart technology is also expected to boost the smart toys market growth over the forecast period. Increasing disposable income is also projected to positively influence the smart toys market potential through 2028.
Smart toys Market: Opportunities
Increasing Demand for Remote Learning
Smart toys are used for educational purposes and are also being recommended by teaching professionals, especially for the kids that are in their developmental years. Increasing adoption of smart toys in the education sector with the rising popularity of remote learning is expected to be a major trend that will favor smart toys market growth. Smart toys companies are expected to focus on this trend to boost their sale generation potential.
Global Smart toys Market: Segmentation
The global smart toys market is segregated based on interfacing device, product type, price, age group, technology, distribution channel, and region.
By Product Type, the market is divided into App-enabled Toys, Voice/Image Recognition Toys, Screen Less Toys, Toys-to-Life, Health Tracking Toys, and Others (Wearable, Puzzle Toys, etc.). The app enabled toys and voice/image recognition segments are expected to see a bright outlook over the forecast period as these segments promote remote learning and have an interactive nature which is preferred for kids of all ages.
By distribution channel, the smart toys market is segmented into Online, E-commerce Websites, Company Owned Websites, Offline, Hypermarket and Supermarkets, Specialty Stores, Other Retail Based Stores. The sales from offline stores hold a dominant market share but the demand from online channels is predicted to rise at the fastest CAGR through 2028.
Report Scope:
Recent Developments
In January 2020 – PlayShifu a leading name in AR based STEM toys announced the launch of its new product portfolio. These include the existing Shifu Tacto, Shifu Plugo, and a completely new Shifu Orboot.
Regional Landscape
North America region leads the global smart toys market in terms of revenue and volume share and is anticipated to maintain this dominant position over the forecast period. The presence of key smart toys companies, increasing disposable income, and the presence of a busy lifestyle are expected to be the major trends influencing growth in this region over the forecast period. The United States and Canada are projected to be the most lucrative markets for smart toys through 2028 in this region. These nations have high spending potential and a high working population which makes them a lucrative market for smart toys.
Competitive Landscape
Some of the main competitors dominating the global smart toys market include – Mattel (US), Hasbro (US), LEGO Group (Denmark), Sphero (US), Sony (Japan), PLAYMOBIL (Germany), BANDAI NAMCO (Japan), K'NEX (US), Konami (Japan), Wonder Workshop (US), PlayFusion (UK), Anki (US), WowWee (Hong Kong), DXTR Labs (Denmark), and Leka (France)
Global smart toys market is segmented as follows:
By Interfacing device
Smartphone Connected Toys
Tablet-Connected Toys
Console-Connected Toys
By Product Type
App-enabled Toys
Voice/Image Recognition Toys
Screen Less Toys
Toys-to-Life
Health Tracking Toys
Others (Wearable, Puzzle Toys, etc.)
By age group
Up to Age of 5
Age of 6 to Age of 8
Age of 8 to Age of 12
Age of 13 to Age of 18
Above Age of 18
By Price
By technology
Wi-Fi
Bluetooth
Others (RFID, NFC, etc.)
By Distribution Channel
Online
E-commerce Websites
Company Owned Websites
Offline
Hypermarket and Supermarkets
Specialty Stores
Other Retail Based Stores
By Region
North America
Europe

France
The UK
Spain
Germany
Italy
Rest of Europe

Asia Pacific

China
Japan
India
South Korea
Southeast Asia
Rest of Asia Pacific

Latin America

Brazil
Mexico
Rest of Latin America

Middle East & Africa

GCC
South Africa
Rest of Middle East & Africa