Market Overview
The global smart irrigation market accounted for USD 972.6 Million in 2020 and is expected to reach USD 2908.8 Million by 2028, growing at a CAGR of 14.7% from 2021 to 2028.
Smart irrigation is the process of combining irrigation with technology. As compared to standard automatic system timers, which irrigate on a user-determined set schedule, smart irrigation controllers and sensors have been created to reduce outdoor water use by irrigating based on plant water need. These controllers collect local weather data and change irrigation run-time accordingly, ensuring that the landscape receives the proper amount of water.
One of the primary aspects driving the global smart irrigation market is concerns about issues such as per-hectare productivity and resource wastage. One of the upcoming trends in the market is the increasing integration of modern technologies such as wireless sensors, AI with irrigation sprinklers and dripping systems, solar-powered batteries, and others. Nowadays smart irrigation even provide data analytics, thereby providing farmers with data they could not earlier access. Such data can enable the farmers better understand the water requirements and optimizing production by minimizing waste.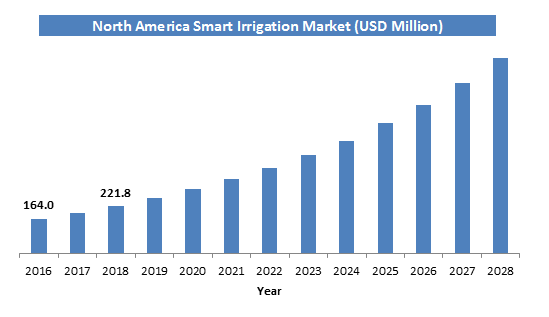 Request Free Sample
COVID-19 Impact Analysis
The Covid-19 pandemic has caused supply chain disruptions across farm ecosystems, including the smart irrigation market. Hardware equipment supply has been hampered, affecting businesses across the agriculture value chain. It has also caused a shortage of labour due to reliance on seasonal or temporary migrants, as well as a lack of access to irrigation equipment and other inputs. Furthermore, farmers' sales have suffered as a result of their limited market access.
Growth Factors
With a rising trend of smart cities around the world, the market is expected to grow as adoption of smart irrigation controllers is high in such cities. With a number of regions around the world experiencing severe weather, smart irrigation systems can be extremely efficient. Smart irrigation systems with soil and weather sensors can result in efficient results as compared to traditional irrigation systems.
Moreover, the sensor network is a vital component of the smart irrigation system as it helps monitor a variety of parameters including pH, soil moisture, rain, temperature, water flow and also enables farmers recognize a number of different nutrients in the soil which can benefit them greatly. Such factors are also expected to boost the market growth.
Report Scope: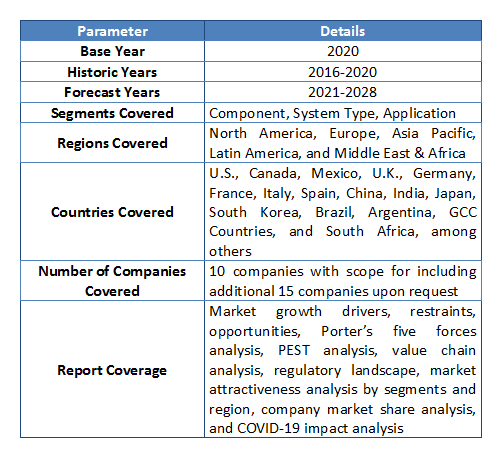 Request Free Sample
Component Segment Analysis Preview
Controllers segment held a share of around 26.2% in 2020. This can be attributable to the rising technological advancements in developing these controllers. Moreover, large commercial farms' adoption of these controllers has resulted in high demand, and advances in the field of IoT in agriculture have led to the automation of the controllers to a large extent.
Application Segment Analysis Preview
Agriculture segment will grow at a CAGR of over 13% from 2021 to 2028. This can be attributable to precision irrigation being increasingly resorted to, to offer optimum inputs owing to rising concerns about feeding a growing population and an emphasis on sustainable development. Furthermore, a growing labour shortage fueled by Covid-19 has heightened the demand for smart irrigation systems to reduce reliance on human labour.
Regional Analysis Preview
The North American region held a share of 29% in 2020. This is attributable to the presence of top companies such as The Toro Company, Hunter Industries, Rain Bird Corporation and HydroPoint among others. Moreover, the increasing usage of smart irrigation systems and IoT devices such as sensors, controllers and water flow meters by farmers in this region is expected to generate huge demand for the market in this region.
The Asia Pacific region is projected to grow at a CAGR of 14.2% over the forecast period. One of the major driving factor is the increasing investment in agricultural technology in countries such as China, India and Australia. Moreover, strong government backing, increased crop yield, and less water waste employing smart irrigation systems are some other factors expected to boost the growth in this region.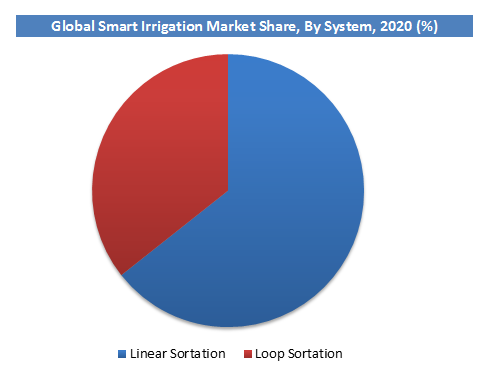 Request Free Sample
Key Market Players & Competitive Landscape
Some of key players in automated sortation system market are Rain Bird Corporation, The Toro Company, Hunter Industries, Netafim, HydroPoint Data Systems, Inc., Baseline Inc., CALSENSE, Rachio Inc., California Sensor Corporation, Banyan Water and Weathermatic among others.
Major players in the market are developing innovative strategies to make smart irrigation more feasible. Additionally, they are also introducing a new ranges of smart-irrigation systems in underdeveloped areas. These areas have large areas of agricultural land, and the smart-irrigation system aids in the management of ice and other unfavourable weather conditions. For instance, the Rain Bird Corporation is launching a new innovative smart-irrigation system with advanced tools. The features of this product include water management tools and easy diagnostic features.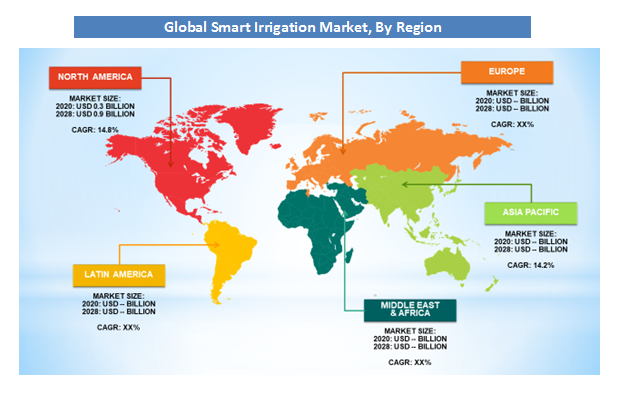 Request Free Sample
The global smart irrigation market is segmented as follows:
By Component
Controllers
Sensors
Water Flow Meters
Others
By System Type
Weather-based
Sensor-based
By Application
Agricultural
Non-Agricultural
By Region
North America
Europe

France
The UK
Spain
Germany
Italy
Rest of Europe

Asia Pacific

China
Japan
India
South Korea
Southeast Asia
Rest of Asia Pacific

Latin America

Brazil
Mexico
Rest of Latin America

Middle East & Africa

GCC
South Africa
Rest of Middle East & Africa