Sleeping Pillow Industry Prospective:
The global sleeping pillow market size was worth around USD 13.26 billion in 2022 and is predicted to grow to around USD 19.85 billion by 2030 with a compound annual growth rate (CAGR) of roughly 4.5% between 2023 and 2030.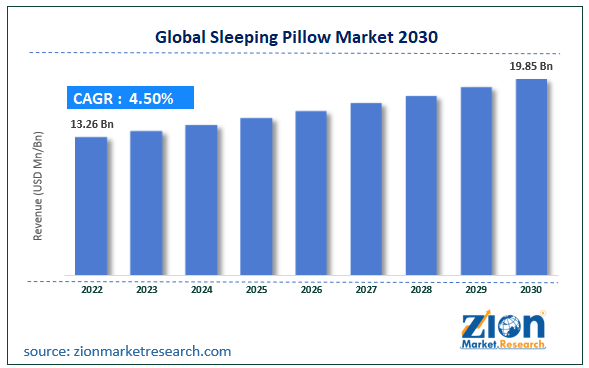 Request Free Sample
Sleeping Pillow Market: Overview
A sleeping pillow is a consumer good used by people to support the body with the purpose of resting or comfort. They are an essential part of bedding materials that help in supporting the neck and head. While pillows, in general, can be of several types including body pillows, throw pillows, and others, sleeping pillows are used when a person intends to lie down or sleep. A typical structure of a sleeping pillow includes soft material stuffed in an enclosed fabric. The stuffing can be made of different materials depending on the region or specific preference of the user. For instance, in India, the most common type of stuffing is made of fruit fibers extracted from silk-cotton trees. Additionally, the fillers can also be made of synthetic materials derived from memory foam and polyester. The classic shape of a sleeping pillow is rectangular or square and comes in varying sizes. In the US, the most common sizes are King size with dimensions 20*36 inches, Queen size with dimensions 20*30 inches, and Standard size with dimensions 20*26 inches. While comfort remains a primary influencing factor for consumers, the appearance of the sleeping pillow can be changed by choosing from a wide range of pillow covers available in the market.
Key Insights:
As per the analysis shared by our research analyst, the global sleeping pillow market is estimated to grow annually at a CAGR of around 4.5% over the forecast period (2023-2030)
In terms of revenue, the global sleeping pillow market size was valued at around USD 13.26 billion in 2022 and is predicted to grow to around USD 19.85 billion, by 2030.
The sleeping pillow market is projected to grow at a significant rate due to the rising population and increased sales in the consumer goods segment
Based on end-user segmentation, residential was predicted to show maximum market share in the year 2022
Based on type segmentation, memory foam sleeping pillows was the leading type in 2022
On the basis of region, Asia-Pacific was the leading revenue generator in 2022
Sleeping Pillow Market: Growth Drivers
Rise in population and growing demand for consumer goods to drive market growth
The global sleeping pillow market is expected to grow owing to the increasing population across the globe. Sleeping pillows are crucial products that play an important role in maintaining the overall well-being of a person. Just like bedsheet covers and mattresses, sleeping pillows are essential for a good night's sleep. As the world population continues to grow, the demand for sleeping pillows will rise. This is the current trend with almost all forms of consumer goods, especially the ones used on a regular basis. In addition to this, the availability of sleeping pillows across a large price range adds to the total sale of these goods. Since every consumer can find something for themselves in the market.
Growing incidents of injury due to improper bedding to push toward higher growth
With the rising sedentary lifestyle, people have become more vulnerable to physical injury caused by improper or uncomfortable bedding. This includes sleeping on either too soft or too hard a mattress or using an incorrect size of a sleeping pillow. Resting long hours on uncomfortable bedding can lead to tension in the neck muscles leading to severe or mild pain. For instance, professionals recommend that the neck should not be elevated over the spine when sleeping. The rise in awareness and increasing discussion over the importance of investing in accurate bedding has triggered a higher demand for good-quality sleeping pillows.
Excellent branding and marketing strategies adopted by product suppliers are important for current market trend
Companies selling bedding materials have adopted excellent marketing and branding strategies to ensure relevancy with the changing consumer preferences and expectations. For instance, in January 2023, BEDGEAR, a US-based provider of novel bedding, launched brand new Performance mattresses and pillow protectors for toddlers, children, and adults. In February 2023, SleepyCat launched a range of couple pillows in the backdrop of Valentine's Day.
Sleeping Pillow Market: Restraints
Rising inflation rate to curb the growth trajectory
The global economy is currently witnessing a steady rate of increase in the inflation rate. This has resulted in reduced spending by the general population on non-essential items including sleeping pillows. In July 2023, Europe registered an inflation rate of 6.1% as per official reports. Furthermore, the prices of bedding have increased considerably when compared to the last decade. For instance, the Legends Luxury Royal Down Pillow by The Company Store costs around USD 359. Although the company provides a lifetime guarantee, these pillows remain beyond the reach of many individuals and cater to the needs of a niche market group. Factors including growing prices of raw materials and changes in international trading relationships may impact the global sleeping pillow market growth during the forecast period.
Sleeping Pillow Market: Opportunities
Rising investments in hotel infrastructure to provide expansion opportunities
The sleeping pillow industry is likely to benefit from the growing investments in the global hotel infrastructure influenced by the rise in the tourism sector. Post COVID-19 business and personal travels have increased drastically. A June 2023 report by the Economist Intelligence Unit has stated that Europe is expected to rebound in terms of tourism this year. The region registered around 16 million tourists in April 2023. This has led to a rise in the number of accommodation facilities globally including home-style stays such as Airbnb or hotel stays. In February 2023, Turkey witnessed the inauguration of The Peninsula Istanbul Hotel with an investment of €150 million. As of 2019, Dubai was reported to have more than 500 operating hotels with over 100,700 hotel rooms.
Sleeping Pillow Market: Challenges
Impact of low-quality sleeping pillows on human health to challenge market growth
The sleeping pillow industry is expected to register growth restrictions due to the impact of low-quality sleeping pillows on human health. Sleeping or resting on poor-grade pillows can lead to back pain or it may aggravate existing physical pain. It also affects sleeping patterns which in turn leads to health issues. Managing product quality and curbing the sale of low-quality pillows is a major challenge for the players operating in the sleeping pillow sector as it impacts the market and brand perception among the end-consumers.
Sleeping Pillow Market: Segmentation
The global sleeping pillow market is segmented based on end-user, distribution channel, type, and region.
Based on end-user, the global market segments are commercial and residential. In 2022, the latter was the most dominant segment as the awareness rate among the general population about the importance of correct sleeping accessories and bedding has improved. The rise in the sale of doctor-recommended sleeping pillows and the availability of a large number of options along with the rise of product availability on online portals has created higher segmental demand. The addition of pillow ranges with durability has been essential for the growth trend. For instance, a latex pillow is known to last more than 3 years.
Based on distribution channel, the sleeping pillow industry is divided into non-store-based and store-based.
Based on type, the global market is divided into down sleeping pillows, feather sleeping pillows, microbead sleeping pillows, and memory foam sleeping pillows. The highest revenue was generated in the memory foam sleeping pillows segment. These pillows are made of polyurethane foam. They are further combined with chemicals to ensure elasticity and viscosity. This ensures that when pressure is applied, the pillow will contour as per the pressure. Most people prefer a pillow height of 4 to 6 inches.
Sleeping Pillow Market: Report Scope
Report Attributes
Report Details
Report Name
Sleeping Pillow Market
Market Size in 2022
USD 13.26 Billion
Market Forecast in 2030
USD 19.85 Billion
Growth Rate
CAGR of 4.5%
Number of Pages
228
Key Companies Covered
My Sleeping Pillow Inc., Hollander Sleep and Decor, Comfy Quilts Ltd., Wendre AS, Magniflex, American Textile Company, Tempur-Pedic International Inc., Romantic Home Textiles, Paradise Sleeping Pillow Inc., Luolai Lifestyle Technology Co. Ltd., Hunan Mendale Hometextile Co. Ltd., and others.
Segments Covered
By End-User, By Distribution Channel, By Type, and By Region
Regions Covered
North America, Europe, Asia Pacific (APAC), Latin America, Middle East, and Africa (MEA)
Base Year
2022
Historical Year
2017 to 2021
Forecast Year
2023 - 2030
Customization Scope
Avail customized purchase options to meet your exact research needs. Request For Customization
Sleeping Pillow Market: Regional Analysis
Asia-Pacific to register the highest growth rate in the near future
The global sleeping pillow market is expected to be led by Asia-Pacific during the forecast period. This trend will be a result of the escalating population of Asian countries including China and India along with other nations. The market for consumer goods in Asia-Pacific continues to dominate resulting from a large pool of consumers along with a growing rate of product providers. India is a well-known destination for textile products and remains a major exporter in the segment. China, on the other hand, has thrived in recent times led by its ability to mass produce several products including sleeping pillows and supplying the items to other countries.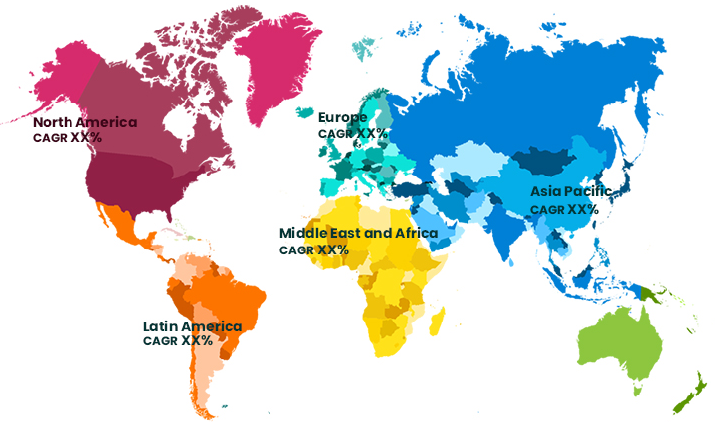 Request Free Sample
Europe is a crucial market for sleeping pillows due to the growing number of elderly population and increasing cases of people with neck pain. A study by The BMJ found that age-associated neck pain per 100,000 population increased at a rate of 2% in Western Europe. Additionally, the region is home to some of the largest and most coveted suppliers of bedding covers and pillows. In July 2023, Simba, a hybrid mattress maker, launched a new range of pillows called the Cooling Body Pillow for people who prefer to sleep on the side. The product showcases cool-tough technology and is shaped as a gentle curve.
Sleeping Pillow Market: Competitive Analysis
The global sleeping pillow market is led by players like:
My Sleeping Pillow Inc.
Hollander Sleep and Decor
Comfy Quilts Ltd.
Wendre AS
Magniflex
American Textile Company
Tempur-Pedic International Inc.
Romantic Home Textiles
Paradise Sleeping Pillow Inc.
Luolai Lifestyle Technology Co. Ltd.
Hunan Mendale Hometextile Co. Ltd.
The global sleeping pillow market is segmented as follows:
By End-User
By Distribution Channel
Non-Store-Based
Store-Based
By Type
Down Sleeping Pillows
Feather Sleeping Pillows
Microbead Sleeping Pillows
Memory Foam Sleeping Pillows
By Region
North America
Europe

France
The UK
Spain
Germany
Italy
Rest of Europe

Asia Pacific

China
Japan
India
South Korea
Southeast Asia
Rest of Asia Pacific

Latin America

Brazil
Mexico
Rest of Latin America

Middle East & Africa

GCC
South Africa
Rest of Middle East & Africa