The global Sirolimus market, which accrued nearly 282.06 (USD Million) in 2019, is set to record the CAGR of nearly 1.1% over the period from 2020 to 2026. The report offers assessment and analysis of the Sirolimus market on a global and regional level. The study offers a comprehensive assessment of the market competition, constraints, sales estimates, opportunities, evolving trends, and industry-validated data. The report offers historical data from 2017 to 2019 along with a forecast from 2020 to 2026 based on revenue (USD Million).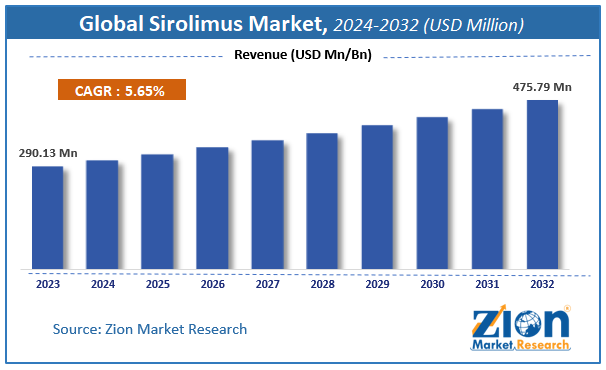 Request Free Sample
A Brief Overview of Sirolimus
Sirolimus is a macrolide compound that is utilized for coating coronary stents and for avoiding the rejection of transplanted of organ by human internal body system. It is also utilized for treating lung ailment termed as lymphangioleiomyomatosis. Moreover, it acts as immunosuppressant in humans and is used for preventing the kidney transplant rejection. Additionally, the compound is manufactured through Streptomyces hygroscopicus strain that is isolated from soil from Rapa Nui. It has antifungal, antitumor, and anticandida properties. It has proved successful in treating colon 26 tumor, colon 38 solid tumor, B16 43 melanocarcinoma, and mammary tumors. Apparently, Sirolimus inhibits antigen-induced multiplication of T-cells, antibodies production, and B-cell production.
Market Growth Dynamics
High incidences of kidney transplantations as well as lifestyle-related disorders will steer the growth of Sirolimus market over the estimated timespan. Apart from this, enhancement in the healthcare infrastructure will leverage the business expansion in the years ahead. Technological breakthroughs in transplantation of organs will further embellish the business growth in the years to come.
Apparently, the compound is used for effectively treating refractory severe rejections as well as allograft dysfunctions. In addition to this, the effective healing ability of Sirolimus and the absence of nephrotoxicity will impel the growth of Sirolimus industry over the estimated timespan.
Few of the recent events taking place across the globe are likely to influence growth of Sirolimus market in the foreseeable future. Let us discuss few of these events.
MedAlliance Acquires Approval For Novel Sirolimus Drug Eluting Balloon
In July 2020, MedAlliance – a medical tech firm based in Switzerland- declared that it has received a green signal for its Sirolimus Drug Eluting Balloon, a second CE mark, for treating coronary arterial disorder. Additionally, the approval is applied to balloon of myriad sizes ranging from 1.5 x 10mm up to 5.0 x 40mm.In February 2020, the firm had received a nod of approval for its CE Mark for SELUTION SLRTM for treating peripheral artery disorder. Such breakthroughs can encourage the market growth trends in the coming years.
North America To Dominate Overall Market Growth By 2026
The growth of the market in North America during the period from 2020 to 2026 is due to large-scale presence of key market players and use of new technologies in the nations like Canada and the U.S. Apparently, high funding of healthcare sector with a view of improving medical & healthcare facilities will prop up the market expansion over the estimated timespan.
Key players influencing the market growth include Biocon, Intas Pharmaceuticals Ltd., Pfizer, Inc., Concept Medical, Inc., Torrent Pharmaceuticals Ltd., Dr. Reddy's Laboratories Ltd., Stentys SA, and Zydus Cadila.
The global Sirolimus market is segmented as follows:
By Application
Organ Transplant Rejection
Lymphangioleiomyomatosis (LAM)
Sirolimus Coated Balloons & Catheter Devices
By Distribution Channel
Hospital Pharmacies
Retail Pharmacies
Online Pharmacies
By Region
North America
Europe

France
The UK
Spain
Germany
Italy
Rest of Europe

Asia Pacific

China
Japan
India
South Korea
Southeast Asia
Rest of Asia Pacific

Latin America

Brazil
Mexico
Rest of Latin America

Middle East & Africa

GCC
South Africa
Rest of Middle East & Africa