Industry Prospective:
The global security labels market size was worth around USD 24.5 billion in 2021 and is predicted to grow to around USD 39.6 billion by 2030 with a compound annual growth rate (CAGR) of roughly 5.5% between 2022 and 2030. The report analyzes the global security labels market's drivers, restraints/challenges, and the effect they have on the demands during the projection period. In addition, the report explores emerging opportunities in the security labels market.
Security Labels Market: Overview
Security labels are used to safeguard goods against intentional modification, theft, unpacking, and alteration. These security labels stop the leakage of sensitive information. In the manufacturing and beverage industries, the demand for security labels is extremely strong. Security labels are frequently used in bottles in these industries to improve brand positioning and aesthetic appeal. Security labels are also used by manufacturers to prevent product theft, tampering, and counterfeiting. It not only safeguards the products but also the company's revenue and brand image. Additionally, the business can maintain a record of tracking the entire supply chain.
Key Insights
As per the analysis shared by our research analyst, the global security labels market is estimated to grow annually at a CAGR of around 5.5% over the forecast period (2022-2030).
In terms of revenue, the global security labels market size was valued at around USD 24.5 billion in 2021 and is projected to reach USD 39.6 billion, by 2030.
The main factor driving the demand growth for security labels is the expansion of the food and beverage industry, which is fueled by the rise in packaged goods demand.
Based on the identification type, the barcode segment accounted for the largest market share in 2021.
Based on the application, the food & beverages segment is expected to dominate the market over the forecast period.
Based on region, the Asia Pacific region is expected to dominate the market during the forecast period.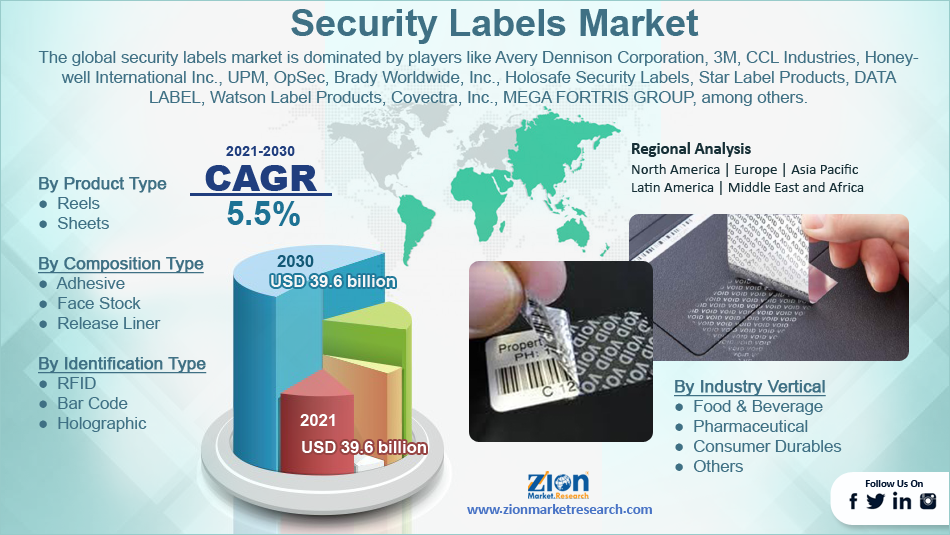 Security Labels Market: Growth Drivers
Increasing use of security labels in computer hardware security to drive the market growth
As this electronic gadget stores significant and sensitive data, computers are possibly one of the most precious assets of enterprises. Securing electronic information is now more crucial due to the adoption of the general data protection regulation (GDPR) and the rise in data security breaches and frauds that have the potential to affect everything from access to private or sensitive information to election results. Security labels support escalating security breach issues while securing the server, hardware access, and private hard drives. Thus, this is expected to propel the global security labels market growth over the forecast period.
Security Labels Market: Restraints
Growing environmental concerns is the major restraining factor
Customers are actively focused on making sustainable shopping selections as they become more conscious of the environmental impact of the products they buy. Labels can be made from a variety of raw materials, including vinyl, foam, polypropylene, and polystyrene film sheets. These goods have substantial carbon footprints and are difficult to biodegrade. Additionally, a lot of greenhouse gases are released during the label's production process.
Security Labels Market: Opportunities
Growing urbanization is expected to provide an attractive opportunity for the market expansion
The demand for goods with self-adhesive labels, such as medications, drinks, FMCGs (fast-moving consumer goods), and consumer durables, is influenced by the growing urban population. The demographic transition from rural to urban areas in Asia-Pacific has accelerated growth. According to the United Nations Population Division, the population of Asia-Pacific is projected to reach 5.1 billion by 2050, with at least 68% of that number residing in cities. Population growth might result in 2.5 billion more people living in cities by 2050, with up to 90% of that increase happening in Asia and Africa. The demand for branded goods will expand as living standards rise, which will raise the need for security labels.
Security Labels Market: Challenges
Volatility in the price of crude oil act as a major challenge for the market growth
The volatility in the price of raw material act as a major challenge for global security labels market expansion as labels are made from a variety of raw materials, including vinyl, foam, polypropylene, and polystyrene film sheets, and these compounds are a byproduct of crude oil. Thus, the volatility in the price of crude oil might be impeding the market growth during the forecast period.
Security Labels Market: Segmentation
The global security labels market is segmented based on product type, composition type, identification type, industry vertical, and region
Based on identification type, the global market is bifurcated into RFID, bar code, and holographic. The bar code segment held the largest market share in 2021 and is expected to dominate the market during the forecast period. The bar code is extensively used in a variety of industries, such as consumer goods, medicines, transportation and logistics, and retail, to keep track of all of their items and identify departing shipments of both equipment and merchandise.
Barcodes are regarded as the ideal method for gathering the required data because they are reliable, economical, and effective. On the other hand, the RFID segment is growing rapidly owing to its substantial demand in supply chains. Moreover, the growing application of RFID in various businesses such as retail, jewelry, cosmetics, and others. For example, three primary advantages of implementing RFID technology for the retail sector. In the first place, they reduce the number of stolen or lost goods. It results in less financial loss. Because they have real-time stock information in the second place, they can avoid a stockout. As a result, they benefit economically more since they are conscious of the need to exist and meet demand. Finally, the workforce is relieved of tedious manual activities like counting and feeding inventories. There are consequently fewer human errors. Thus, owing to these advantages RFID is growing significantly over the forecast period.
Based on the application, the global security labels are categorized into food & beverage, pharmaceutical, consumer durables, and others. The food and beverages segment is expected to dominate the market during the forecast period. The food & beverages industries have extensive use of high-tech security labels and the growing importance of labeled items with the appropriate information provided on the label. Barcodes and labeling are crucial for both sellers and customers because the food and beverage packaging industry is heavily regulated and subject to numerous government regulations and standards.
Recent Developments:
In September 2021, a Digital Security Label (DSL) was introduced by U-Nica, a Swiss firm that specializes in digital trademark protection, to give brand owners cost-effective technology that enables them to safeguard and trace their products using a cloud-based management system. DSL is a customizable adhesive label that interacts with the product and packaging and permits uninterrupted manufacture. A scryptoTRACE code, serialization, and PixelCloud are its three main components.
In June 2021, the acquisition of Security Label, a leader in Europe and one of the largest manufacturers of luggage tags for the aviation industry, was announced by Paragon ID. With the acquisition of the Security Label, Paragon ID has the opportunity to surpass its competitors and take the top spot in the world for luggage tags used in the airline industry. As evidenced by the exclusive contract signed in 2019 with Air France for the supply of RFID baggage tags to the French airline, Security Label's reputation and its strong connections with the world's largest airlines will combine with Paragon ID's expertise in RFID technologies to enable the group to accelerate its development in this field. Paragon ID aims to dominate the market for RFID luggage tags for air travel as airlines implement RFID tags more frequently. This acquisition also represents a new geographical expansion for Paragon ID, as well as the opportunity to build on a solid foundation for future growth in other activities in the German market (RTLS, Mobile and Account Based Ticketing, Payment, etc.).
Security Labels Market Report Scope:
Report Attributes
Report Details
Report Name
Security Labels Market Research Report
Market Size in 2021
USD 24.5 Billion
Market Forecast in 2030
USD 39.6 Billion
Compound Annual Growth Rate
CAGR of 5.5%
Number of Pages
290
Forecast Units
Value (USD Billion), and Volume (Units)
Key Companies Covered
Avery Dennison Corporation, 3M, CCL Industries, Honeywell International Inc., UPM, OpSec, Brady Worldwide, Inc., Holosafe Security Labels, Star Label Products, DATA LABEL, Watson Label Products, Covectra, Inc., MEGA FORTRIS GROUP, Label Lock, All4Labels Smart + Secure GmbH, Smartrac Technology GmbH, Invengo Technology Pte. Ltd, CILS International, and Tamperguard, among others.
Segments Covered
By Product Type, By Composition Type, By Identification Type, By Industry Vertical And By Region
Regions Covered
North America, Europe, Asia Pacific (APAC), Latin America, Middle East and Africa (MEA)
Countries Covered
North America: U.S and Canada
Europe: Germany, Italy, Russia, U.K, Spain, France, Rest of Europe
APAC: China, Australia, Japan, India, South Korea, South East Asia, Rest of Asia Pacific
Latin America: Brazil, Argentina, Chile
The Middle East And Africa: South Africa, GCC, Rest of MEA
Base Year
2021
Historical Year
2016 to 2020
Forecast Year
2022 - 2030
Customization Scope
Avail customized purchase options to meet your exact research needs. Request For Customization
Security Labels Market: Regional Analysis
The Asia Pacific region is expected to dominate the market during the forecast period
The Asia Pacific region is expected to dominate the global security labels market during the forecast period. The growth in the region is attributed to the easy availability of raw materials and growing demand for security labels from various end-use industries such as food & beverages, consumer electronics, and others. Due to the cheap accessibility of raw materials including adhesives, paper, plastic films, and others, manufacturing activities in China and India would likely increase, which will likely accelerate regional market growth.
A big portion of the regional market for food packaging—nearly 50%—is accounted for by China, attributable to the existence of significant producers there. An improved lifestyle and increased consumer spending on packaged foods will also increase the region's product demand. The Chinese mainland's packaged food business is expanding steadily as a result of rapid urbanization and rising incomes. For instance, according to Euromonitor International estimates, the sales volume of packaged food on the mainland reached some $227.8 billion in 2017, representing an average annual growth rate of 6.6% since 2012.
Furthermore, a large customer base for goods like consumer electronics, healthcare, and medical equipment exists in the highly populated Asia-Pacific nations of India, China, Indonesia, Bangladesh, and others, which will further support regional demand. For instance, New statistics from the International Data Corporation show that in the first quarter of 2022, the traditional PC market in India expanded by 37.7%. According to the research, consumers kept purchasing PCs for remote work and school, which increased demand. In Q1 the government sector improved (Jan-Mar). Purchases by businesses and SMEs increased by 47.2% and 31.7% annually. Retailers stocked up in anticipation of supply disruptions brought on by Chinese lockdowns. Offline channels increased by 41.4% YoY compared to internet channels' 17.5% YoY growth. Thus, the aforementioned facts support the market growth during the forecast period.
Besides, North America will hold a significant market share over the forecast period. With applications in snack foods, ready-to-eat meals, frozen foods, and more, North America stands to gain from the rising need for security labels in the pharmaceutical and food and beverage industries. Additionally, the booming pharmaceutical sector promotes business expansion. For instance, according to Zippia, Inc., in 2021, the US pharmaceutical industry generated $550 billion in yearly revenue. Additionally, the $625 billion global biopharmaceutical market represents around 3.2% of the US GDP. In terms of sales, the U.S. pharmaceutical business represents up to 48% of the entire worldwide pharmaceutical market. Moreover, with the growing preference for smart labels over traditional barcode data, the US industry is incredibly lucrative. Thus, driving the growth of the security labels market in the North American region.
Security Labels Market: Competitive Analysis
The global security labels market is dominated by players like:
Avery Dennison Corporation
3M
CCL Industries
Honeywell International Inc.
UPM
OpSec
Brady Worldwide Inc.
Holosafe Security Labels
Star Label Products
DATA LABEL
Watson Label Products
Covectra Inc.
MEGA FORTRIS GROUP
Label Lock
All4Labels Smart + Secure GmbH
Smartrac Technology GmbH
Invengo Technology Pte. Ltd
CILS International
Tamperguard
The global security labels market is segmented as follows:
By Product Type
By Composition Type
Adhesive

Face Stock
Release Liner
By Identification Type
RFID
Bar Code
Holographic
By Industry Vertical
Food & Beverage
Pharmaceutical
Consumer Durables
Others
By Region
North America
Europe

France
The UK
Spain
Germany
Italy
Rest of Europe

Asia Pacific

China
Japan
India
South Korea
Southeast Asia
Rest of Asia Pacific

Latin America

Brazil
Mexico
Rest of Latin America

Middle East & Africa

GCC
South Africa
Rest of Middle East & Africa