The global Seasonings and Spices Market accrued earnings worth approximately 14.1 (USD Billion) in 2020 and is predicted to gain revenue of about 23.78 (USD Billion) by 2028, is set to record a CAGR of nearly 5.1% over the period from 2021 to 2028. The report offers assessment and analysis of the Seasonings and Spices Market on a global and regional level. The study offers a comprehensive assessment of the market competition, constraints, revenue estimates, opportunities, evolving trends, and industry-validated data. The report provides historical data from 2018 to 2020 along with a forecast from 2021 to 2028 based on revenue (USD Billion).
Seasonings and Spices Market: Overview
Seasonings and spices are necessary for each cuisine as they provide exceptional aroma & peculiar taste to every cuisine. Additionally, seasonings & spices find widely utilized to add taste, flavor, color, and aroma to food & beverages. Some of the spices & seasonings are also used as preservatives. Furthermore, seasonings comprise of various kinds of spices & herbs. Seasonings & spices are used immensely in commercial sector as well as households. Escalating use of exquisite spices & seasonings for in-home culinary preparations will provide new growth avenues for seasonings and spices business across globe in upcoming years. Spices such as ginger, curcuma, dried capsicum, cloves, uncrushed pepper, and cinnamon provide nutritional benefits. This is likely to prop up expansion of seasonings and spices industry.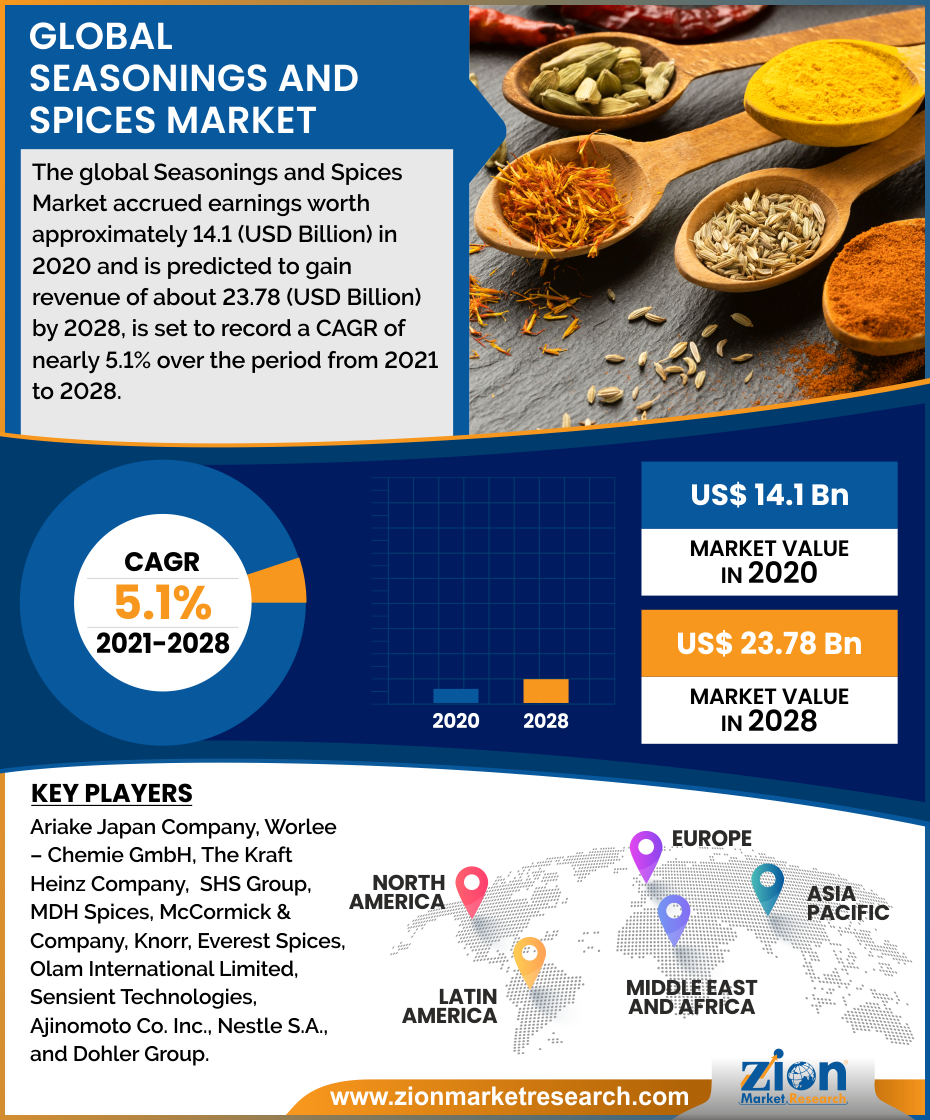 Request Free Sample
Seasonings and Spices Market: Growth Drivers
Altering dietary habits and customers in search for novel mouth feels will create lucrative growth avenues for seasonings and spices industry over assessment period. Surge in use of salt by food processors due to growing demand for salt will proliferate size of seasonings and spices market over forecasting timeframe. Rise in product line expansion and need for increasing production capacity will prompt seasonings and spices market growth in ensuing years. Increase in utilization of spices & seasonings by convenience food producers for enhancing shelf life of products and product quality will steer expansion of seasonings and spices market over forecasting timespan.
Report Scope:
Furthermore, rise in consumption of processed meat and convenience food items as well as prominent increase in clean labels will promulgate scope of business growth over upcoming years. Increase in use of flavors and natural ingredients are predicted to prop up growth of seasonings and spices market during forthcoming years.
Regional Landscape
European Seasonings And Spices Market Set To Expand Rapidly Over 2021-2028
Seasonings and spices market in Europe is anticipated to expand swiftly over assessment period subject to rise in demand for ethnic flavors along with awareness about medical features of spices & seasonings in European countries. Apart from this, adding of various kinds of spices in ready-to-drink products as well as ready-to-eat items in countries of Europe are predicted to create new growth avenues for seasonings and spices market over forecasting timespan. Changes in food habits of customers in Germany, the UK, Belgium, and France will steer growth of regional market over assessment period.
Competitive Landscape
Key players profiled in study and strongly influencing market size are Ariake Japan Company, Worlee – Chemie GmbH, The Kraft Heinz Company, SHS Group, MDH Spices, McCormick & Company, Knorr, Everest Spices, Olam International Limited, Sensient Technologies, Ajinomoto Co. Inc., Nestle S.A., and Dohler Group.
The global Seasonings and Spices Market is segmented as follows:
By Application
Bakery & Confectionery
Sauces & Dressings
Frozen Products
Convenience Food & Snacks
Meat & Poultry Products
By Product Type
SALT SUBSTITUTES
Dried Herbs
Salt
Individual &Mixed Spices
Pepper
By Region
North America
Europe

France
The UK
Spain
Germany
Italy
Rest of Europe

Asia Pacific

China
Japan
India
South Korea
Southeast Asia
Rest of Asia Pacific

Latin America

Brazil
Mexico
Rest of Latin America

Middle East & Africa

GCC
South Africa
Rest of Middle East & Africa