Market Overview
The global Rubber Processing Chemicals Market accounted for USD 4.87 Billion in 2020 and is expected to reach USD 6.72 Billion by 2028, growing at a CAGR of 4% from 2021 to 2028.
The worldwide rubber processing chemicals market is expanding progressively all across the globe as a result of the rising stipulation across the tires industry and from other different end-use industries. Key firms are involved in constant R&D activities and product innovation on account of strict environmental guidelines. The market is distinguished by new product expansions and launches, as companies are attempting to enlarge their customer base. For example, Chemtura, in April 2016, declared the capacity extension of Adiprene LF MDI polyurethane elastomers production unit in Latina, Italy. This project will provide enhanced processing over MbOCA-free alternatives in the urethane applications.
Request Free Sample
COVID-19 Impact Analysis:
Due to government-imposed lockdowns to prevent the spreading of COVID, the Rubber Processing Chemicals industry has seen a small decrease in revenues in the short term. Because of the increasing infections and curbs, sales of chemicals are likely to suffer across the globe. Owing to the pandemic, paints & coatings, adhesives, composites, and electronic encapsulation industries have been shut down across all economies, potentially reducing the production and its usage. However, amid the pandemic, there has been a surge in product demand for applications such as paints and coating, and electronic encapsulation, which in turn, provides an opportunity post covid. Various scenarios have been analyzed based on inputs from various secondary sources and the current data available about the situation.
Growth Factors
Rubber is used to manufacture a variety of products such as gloves, tires, mats, flooring, pipes, and belts. Its improved resistance against the effects of heat, sunlight, oxygen, mechanical stress, and ozone is leading the global market growth. Owing to growing domestic demand for automobiles and an extensive network of automotive manufacturers, the rubber processing chemical market in the U.S. is witnessing a surge.
Report Scope:
Segment Analysis Preview
The rubber processing chemicals market can be segmented based on type and application. On the basis of types, the rubber processing chemicals market can be segmented as flame retardants, anti-degradants, processing aid and accelerators. Some of the wide spread applications of rubber processing chemicals are non tire and tire.
Regional Analysis Preview
North America and Europe were the primary markets in 2018 for the rubber processing chemicals market and Europe is projected to observe considerable expansion over the near future. Nevertheless, strict regulations passed by North America's government on the rubber processing may hamper the rubber processing chemicals market growth in this region.
The rising requirement for rubber processing chemicals in Germany as a result of its numerous end-user applications like automobile industry might propel the growth of the rubber processing chemicals market in Europe. The mounting R&D spending for rubber processing chemicals owing to laws implemented by the government and strong friendship owing to the existence of several substitute products and vendors is anticipated to drive the rubber processing chemical market.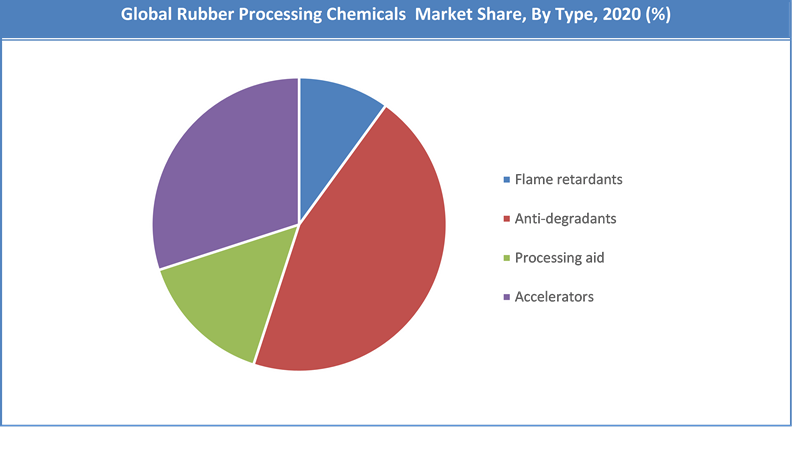 Request Free Sample
Key Market Players & Competitive Landscape
Key participants profiled in the report include R.T. Vanderbilt Company, Inc, Emerald Performance Materials, LANXESS Corporation, Chemtura Corporation, Solvay SA, Eastman Chemical Company, Emery Oleochemicals Llc, Behn Meyer Group, Akzonobel N.V, China Petroleum & Chemical Corporation are some of the major players in the rubber processing chemical market.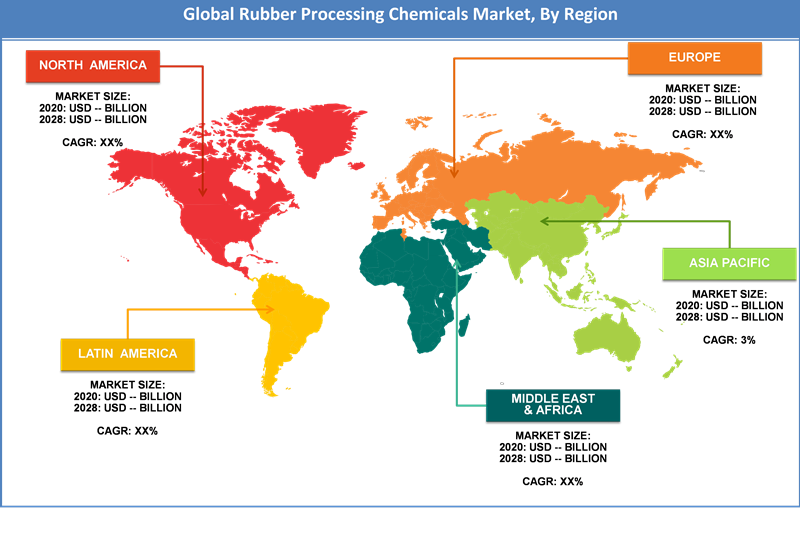 Request Free Sample
The global Rubber Processing Chemicals Market are segmented as follows:
By Application
By Type
Flame retardants
Anti-degradants
Processing aid
Accelerators
By Region
North America
Europe

France
The UK
Spain
Germany
Italy
Rest of Europe

Asia Pacific

China
Japan
India
South Korea
Southeast Asia
Rest of Asia Pacific

Latin America

Brazil
Mexico
Rest of Latin America

Middle East & Africa

GCC
South Africa
Rest of Middle East & Africa