Description
According to the report published by Zion Market Research, global demand for Rubber Additives Market was valued at approximately USD 4.5 Billion in 2019, and is expected to generate revenue of around USD 6.6 Billion by end of 2026, growing at a CAGR of around 5.5 % between 2020 and 2026.
Global Rubber Additives Market: Overview
Adoption of rubber additives is constantly increasing from the rubber and tire industry. Rubber additives are nothing but of specific chemicals that are used in order to enhance the strength and durability of rubber. Rubber additives include sulfonamid, black carbon, silica, thiazole, amines, aliphatic esters and among others. Rubber compounds are applied to the finished product during the vulcanization process to have strength and specific properties.
Global Rubber Additives Market: Growth Factors
Construction, tyres and tubing, electrical insulation, consumer goods and are the major industries in which rubber additives are used. Since rubber is a poor conductor of electricity, it is extremely favourable for insulation materials. Electrical insulation in household and commercial buildings also fuels global demand for rubber additives. Oil extenders use rubber additives extensively in order to help to reduce the overall cost of insulation. Adding stabilisers such as fatty acid esters increases the heat and voltage strength of the rubber. The tyre and tubing business has the highest market share. They are used for the manufacture of car tyres in the automotive industry. Demand for automobiles has increased in recent years, boosting the global market for rubber additives. However, new environmental protocols implemented by the government could impede business development.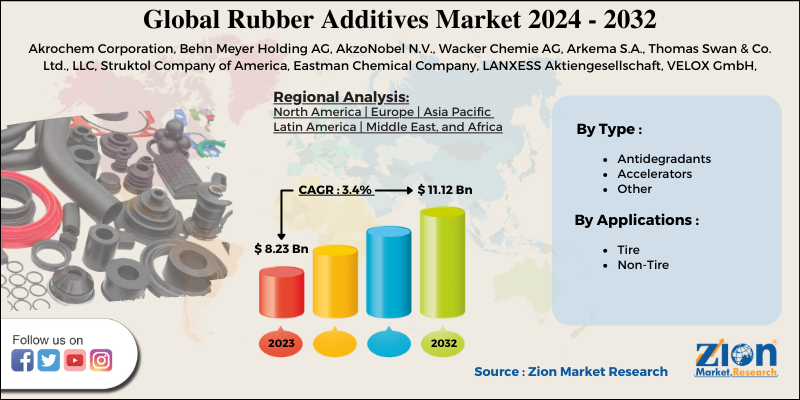 Global Rubber Additives Market: Segmentation
The global rubber additives market is segmented based on product, application. On the basis of product, the rubber additives market is segmented into tire and non-tire. On the basis of application the target market is segregated into anti-degrades, accelerators, and other. Region-wise, the global market is segregated into North America, Europe, Asia Pacific, Latin America, and Middle East & Africa.
Global Rubber Additives Market: Regional Analysis
The Asia Pacific rubber additives market is projected to hold the significant share globally in the future, owing to rapid growth in the country's automotive industry in the China and India of the region. Other reasons that are responsible for promoting the industry growth include increasing demand for green tires is anticipate in the North America region. The Europe rubber additives market is anticipated to grow at a rapid rate in the years ahead. Middle East and Africa region is projected to witness higher growth in the demand for rubber additives over the forecast period, owing to the initiatives by various Middle Eastern countries towards making a diversified economy.
Global Rubber Additives Market: Competitive Players
Some main participants of the rubber additives market are Akrochem Corporation, Behn Meyer Holding AG, AkzoNobel N.V., Wacker Chemie AG, Arkema S.A., Thomas Swan & Co. Ltd., LLC, Struktol Company of America, Eastman Chemical Company, LANXESS Aktiengesellschaft, VELOX GmbH, and among others. Major players in the global market are focusing on strengthening position in the target industry by applying various business strategies.
Rubber Additives Market: Regional Segment Analysis
North America
Europe

France
The UK
Spain
Germany
Italy
Rest of Europe

Asia Pacific

China
Japan
India
South Korea
Southeast Asia
Rest of Asia Pacific

Latin America

Brazil
Mexico
Rest of Latin America

Middle East & Africa

GCC
South Africa
Rest of Middle East & Africa