Residential Water Treatment Market Size: Overview
The global residential water treatment market size was USD 8.23 billion in 2019 and is expected to generate revenues of around USD 10.32 billion by the end of 2028, growing at a CAGR of around 4.17% between 2020 and 2028.
Every living organism on earth needs water. The water available in the storage tanks is not suitable for daily use, whether for drinking or other use because of the presence of bio waste, chemicals, parasites, and other several factors. Impurities must be removed and the untreated surface or ground water must be purified. A water treatment plant is an extensive treatment facility for water purification, involving various processes like filtration, sedimentation, and distillation, depending entirely on the type of primary process used. Many consumers have installed in their homes secondary filtration equipment.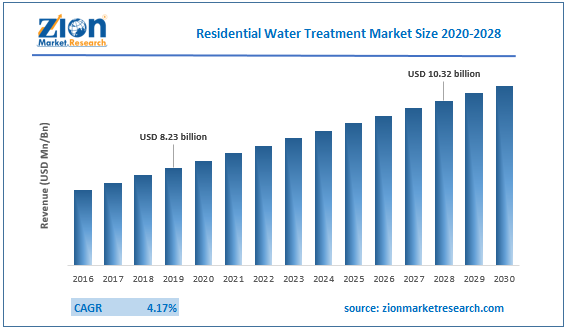 Request Free Sample
Global Residential Water Treatment Market: Growth Factors
The global residential water treatment market is expected to witness growth due to increased awareness, a rise in population, and growing water pollution. Moreover, the rising number of water-borne diseases is also augmenting the growth of the market. Furthermore, strict government regulations to control water contamination are planned to reinforce the business landscape. High costs and regular maintenance of the water treatment equipment may limit the growth of the residential water treatment market. The easy availability of purification technology and a significant reduction in production and operating costs will enhance the industry perspective.
Global Residential Water Treatment Market: Segmentation
Residential water treatment is widely divided into two product segments based on the point of entry and the point of use. Input devices are systems used for the elimination of contaminants in water intended to be washed, showered, and cleaned for all purposes. Depending on the various treatment processes the point of entry category is further bifurcated into tank filters, inline filtration, and water softeners. The water softeners segment is projected to grow during the forecast period owing to the increasing demand for water softening processes i.e. exclusion of calcium, magnesium, and another material from the hard water is expected to witness substantial growth. Point of Use (POU) devices is utilized where water is consumed. Moreover, the Point of Use (POU) segment is classified into RO units, gravity devices, UV units, and distilleries.
Global Residential Water Treatment Market: Regional Analysis
In developed regions such as North America and Europe, sales of residential water treatment equipment are likely to increase. Due to the increasing demand for high-grade water and strict environmental protection regulations, the residential water treatment industry is expected to grow. The business outlook will be driven by rising surface and groundwater pollution coupled with water security issues. The growth of Asia-Pacific residential water treatment market is projected to expand as the depletion of water resources is demanding for the water treatment process. Additionally, strict environmental regulation to control water safety issues by the respective government authorities encourages product adoption. Furthermore, the growing population in the region is a key driver of the industrial landscape.
Report Scope:
Global Residential Water Treatment Market: Competitive Players
Some main participants of the residential water treatment market are
KENT RO Systems Ltd.
Ultra Tec Water Treatment LLC
Britannic Water Treatment Company W.L.L.
Eureka Forbes
LG Electronics
Pure It LLC
Waterlife
Panasonic Corporation
AQUA PRO UAE
Coolpix Pure Water System
among others.
Residential Water Treatment Market: Regional Segment Analysis
North America

Europe

France
The UK
Spain
Germany
Italy
Rest of Europe

Asia Pacific

China
Japan
India
South Korea
Southeast Asia
Rest of Asia Pacific

Latin America

Brazil
Mexico
Rest of Latin America

Middle East & Africa

GCC
South Africa
Rest of The Middle East & Africa