Abstract
Global pyrometer market was valued at around USD 513.48 Million in 2018, and is expected to reach approximately USD 839.71 Million in 2025, at a CAGR slightly above 7.28% between 2018 and 2025.
Pyrometer is a kind of remote sensing thermometer that is used to measure the temperature of a thing or surface. Numerous types of pyrometers have existed historically. In the current usage, it is considered to be a device that determines the temperature of a surface from a distance by the amount of thermal radiation it discharges.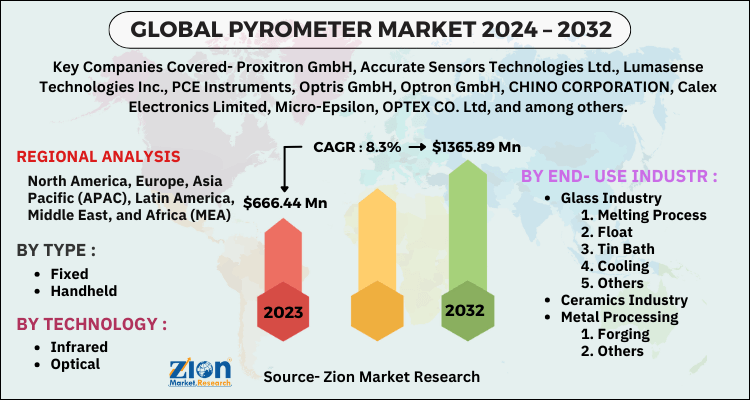 The pyrometer market will show growth in the anticipated timeframe. Due to its rapid adoption by end use industry such as glass industry, ceramics industry and metal processing among others will drive the market demand for pyrometer globally. The pyrometer has played a vital role in achieving high level of accuracy in automation sensing technology. Also, growing trends towards automation in numerous manufacturing industries is also expected to stimulate market demand for pyrometer. Moreover, the pyrometers are used in several applications, amongst several industrial holding a large share of the market. The pyrometers have its uses in petrochemical industry. The temperature measuring with absolutely no contact with the surface of subject is expected to boost the pyrometer market as it leads to longer durability and ease of use.
Rising use of pyrometer in boilers, furnaces and temperature controlled rooms are some of the drivers of the market. Ongoing automation in several industries is driving market demand for the pyrometers which is expected to be one of the fastest rising technologies among several pyrometers. Additionally, the increasing importance of safety, security issues, quality and standards during the manufacturing and production process in the industries are further assisting the growth of pyrometer market.
The pyrometer market is segmented into type, technology and end-use. The technology is segmented into glass industry, ceramics industry and metal processing. Forging industry under metal processing is likely to hold substantial share during the anticipated period. This industry is growing at a fast pace. For instance, forging industry grew by 12.0% in 2017-2018 in India alone. This was majorly due to the several government initiative taken by the government such as "Made in India" and Skill India scheme launched by the government to encourage manufacturing sector.
On the basis of region, the pyrometer market is segmented into North America, Asia Pacific, Europe, Latin America and Middle East and Africa. The pyrometer market in Asia Pacific is likely witness growth in the forecast period. China's forging industry is also growing at a fast pace due to rapid production in the country, owing to the large-scale import and production of steel. The use of pyrometers by several manufacturing, forging and casting industries is anticipated to create new opportunities for the key market players during the forecast period.
Renowned pyrometer market players are Proxitron GmbH, Accurate Sensors Technologies Ltd., Lumasense Technologies, Inc., PCE Instruments, Optris GmbH, Optron GmbH, CHINO CORPORATION, Calex Electronics Limited, Micro-Epsilon, and OPTEX CO. Ltd among others.
The report segments pyrometer market as follows:
Global Pyrometer Market: Type Segment Analysis
Global Pyrometer Market: Technology Segment Analysis
Global Pyrometer Market: End- Use Industry Segment Analysis
Glass Industry

Melting Process
Float
Tin Bath
Cooling
Others

Ceramics Industry
Metal Processing
Global Pyrometer Market: Regional Segment Analysis
North America
Europe
Asia Pacific
Latin America
Middle East and Africa