PTZ Camera Industry Prospective:
The global PTZ camera market size was worth around USD 1569.74 million in 2022 and is predicted to grow to around USD 4026.51 million by 2030 with a compound annual growth rate (CAGR) of roughly 12.57% between 2023 and 2030.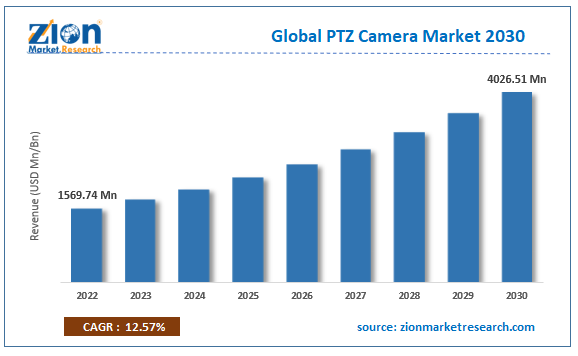 Request Free Sample
PTZ Camera Market: Overview
A pan-tilt-zoom (PTZ) camera is a scanning and recording device mounted to a surface but the camera lens is capable of moving in multiple directions including swiveling right to left, zooming in and out of space, and tilting up and down. These devices are typically used to scan wide areas and are equipped to manage a 180 to 360-degree viewing angle. PTZ cameras can be mostly found in spaces that require constant monitoring as responsible personnel can control the camera remotely and view transmitted information on screens installed in a safe and private facility.
These cameras are considered, by many, as the most versatile cameras currently available especially for security purposes. Furthermore, depending on the model and software of the PTZ camera, they can be triggered to follow motion-dependent activity or follow a pre-set schedule for recording and transmitting captured images and video. In most cases, PTZ cameras are part of a larger surveillance infrastructure and are used to take detailed shots of specific areas. The growing demand in the PTZ camera industry is expected to continue during the forecast period.
Key Insights:
As per the analysis shared by our research analyst, the global PTZ camera market is estimated to grow annually at a CAGR of around 12.57% over the forecast period (2023-2030)
In terms of revenue, the global PTZ camera market size was valued at around USD 1569.74 million in 2022 and is projected to reach USD 4026.51 million, by 2030.
The PTZ camera market is projected to grow at a significant rate due to the growing sports and live entertainment industry
Based on application segmentation, large-scale venues was predicted to show maximum market share in the year 2022
Based on type segmentation, HD PTZ cameras was the leading segment in 2022
On the basis of region, North America was the leading revenue generator in 2022
PTZ Camera Market: Growth Drivers
Growing sports and live entertainment industry to directly impact market demand
The global PTZ camera market is projected to grow owing to the increasing investments in the sports and entertainment industry across the globe. In recent times, several nations have invested higher resources in encouraging sports tourism as a means to boost their respective regional economies. The growing number of people actively following sports and entertainment events or personalities plays a crucial role in putting a country or region on the global map. In order to attract more people toward the thriving industry, building a supporting infrastructure is the primary concern resulting in higher investments in world-class and state-of-the-art stadiums or venues that can host thousands of people at once.
These facilities are equipped with PTZ cameras at multiple checkpoints including parking lots, entry and exit points, and other corners or areas of the large facility. Since PTZ cameras are extremely versatile and can be controlled remotely to zoom in or zoom out, they have proven to enhance security-related aspects of large crowd gatherings. As the number of venue infrastructure development projects grows, the demand for powerful PTZ cameras will continue to rise. In June 2023, the Saudi Arabian government was reported to hold multiple discussions with construction companies that can contribute to the country's Stadiums Development Program. In February 2023, Saudi Arabia announced that it would be hosting the 33rd Asian Football Federation Congress to be held in 2027. More investments are expected to construct new stadiums while renovating existing ones.
Growing national security threats to create scope for efficient surveillance-facilitating devices
A pan-tilt-zoom camera offers excellent assistance in surveying surrounding areas as it can focus on people, objects, and products with detailed video or images. They are one of the best and most-suited recording devices currently available in the market for surveillance purposes. The recent and ongoing war between Russia-Ukraine and Iraq-Hamas along with other terrorism-related incidents has resulted in countries upgrading surveillance systems for national security reasons. PTZ cameras are deployed on crosswalks and other spaces that are generally accessed by many people to track and avoid any unwanted incident thus impacting the demand in the global market.
PTZ Camera Market: Restraints
Technical challenges in terms of field of view may restrict market growth
Pan-tilt-zoom cameras have a large field of view and although the devices can move along 3 axes, they can simultaneously pan, tilt, or zoom. This lack of features can lead to significant gaps in coverage since the camera cannot record areas where the lens is not pointed. This leads to a dangerous possibility of an incident occurring in a particular area when the camera is turned in another direction. Intruders may remain undetected if they succeed in avoiding the camera's field of view. Manufacturers of PTZ cameras are continuously working toward working on these drawbacks such as the launch of automatic motion detection and panning capabilities, however, the cost of advanced cameras is too high, further creating growth barriers.
PTZ Camera Market: Opportunities
Market players offering advanced and new camera features may lead to a higher consumption rate
The global PTZ camera industry players are expected to encounter new expansion avenues due to the latest advancements made in terms of PTZ camera features and capabilities. In October 2023, Canon India announced the launch of a new range of remote PTZ cameras including outdoor CR-X300 and CR-X500 remote PTZ cameras and CR-N100 remote PTZ cameras. They are equipped with 4K video capturing technology and can be used in several settings such as theme parks, animal observatories, sports broadcasting, and others. In June 2023, i-PRO Co. Ltd., a global leader providing professional security solutions for public safety and surveillance, launched Rapid PTZ. It is a high-speed PTZ camera with 4K resolution and infrared (IR) illumination.
The camera range is the smallest in its category and is equipped with a large range of resolution options along with artificial intelligence (AI) capabilities. In October 2022, Panasonic took a similar leap in terms of PTZ technology when it launched the AW-UE160W/K camera range. It is the industry's first Society of Motion Picture and Television Engineers (SMPTE ST2110) compatible PTZ camera and is expected to help reduce the burden on shooting units thus catering to the evolving needs of the broadcasting industry and the entertainment industries.
PTZ Camera Market: Challenges
Reducing latency period and tough competition from alternate solutions to challenge market growth rate
The PTZ camera market growth rate will be limited since most PTZ cameras have significant latency periods. It is the time lag between an operator issuing a command and the camera acting on it. However, market players are working on ensuring more precise and smooth control which can be challenging to achieve. Additionally, there are multiple other options available for recording and capturing videos and images such as rotating cameras, network cameras, and others. These units also enjoy significant market share leading to industry fragmentation.
PTZ Camera Market: Segmentation
The global PTZ camera market is segmented based on application, type, and region.
Based on application, the global market segments are commercial centers, public spaces, government offices, housing & residential units, large-scale venues, and others. In 2022, the highest growth was observed in the large-scale venues segment. The wide application of pan-tilt-zoom cameras in sports and entertainment stadiums, auditoriums, and other spaces meant for large numbers of people to visit at once is the primary reason for higher segmental growth. PTZ cameras are helpful in monitoring large crowds as they offer greater flexibility and remote monitoring. Premium grade PZ cameras can cost as high as USD 10,000 or even higher.
Based on type, the PTZ cameras industry divisions are full HD PTZ cameras, HD PTZ cameras, SHD PTZ cameras, and UHD PTZ cameras. In 2022, the demand for high-definition (HD) PTZ cameras and full HD cameras was higher since they are suited for wider applications while offering cost-efficiency. The growing number of new HD and full HD PTZ cameras will help the market expand further. Certain camera brands can capture up to 1080p at 60 fps.
PTZ Camera Market: Report Scope
Report Attributes
Report Details
Report Name
PTZ Camera Market
Market Size in 2022
USD 1569.74 Million
Market Forecast in 2030
USD 4026.51 Million
Growth Rate
CAGR of 12.57%
Number of Pages
220
Key Companies Covered
Panasonic, Axis Communications, Bosch Security Systems, Sony, Vaddio, Hikvision, Canon, Dahua Technology, Marshall Electronics, Pelco, and others.
Segments Covered
By Application, By Type, and By Region
Regions Covered
North America, Europe, Asia Pacific (APAC), Latin America, Middle East, and Africa (MEA)
Base Year
2022
Historical Year
2017 to 2021
Forecast Year
2023 - 2030
Customization Scope
Avail customized purchase options to meet your exact research needs. Request For Customization
PTZ Camera Market: Regional Analysis
North America to continue its dominance streak during the forecast period
The global PTZ camera market is projected to witness the highest growth in North America. The US and Canada regions are the leading revenue generators due to the extensive application of advanced and superior-grade pan-tilt-zoom cameras across end-user verticals. These devices are widely used by the national security forces to prevent potential threats against national security. As per research reports, the US uses at least one surveillance-facilitating camera for every 4.6 citizens.
Furthermore, the growing number of sports and entertainment events in the US region with each event hosting more than a few thousand people is a leading consumer segment for the regional market. The US is currently hosting the Eras Tour by popular singer Taylor Swift. As per official status, the average number of people per show was 72,460.
Europe is projected to register a significant growth rate driven by the growing number of PTZ camera manufacturers. In April 2023, Canon Europe launched a new downloadable driver for its PTZ cameras focusing on the education industry as 4k video streaming and conferencing using CR-X300, CR-N500, and CR-N300 will become seamless.
PTZ Camera Market: Competitive Analysis
The global PTZ camera market is led by players like:
Panasonic
Axis Communications
Bosch Security Systems
Sony
Vaddio
Hikvision
Canon
Dahua Technology
Marshall Electronics
Pelco
The global PTZ camera market is segmented as follows:
By Application
Commercial Centers
Public Spaces
Government Offices
Housing & Residential Units
Large-Scale Venues
Others
By Type
Full HD PTZ Cameras
HD PTZ Cameras
SHD PTZ Cameras
UHD PTZ Cameras
By Region
North America
Europe

France
The UK
Spain
Germany
Italy
Rest of Europe

Asia Pacific

China
Japan
India
South Korea
Southeast Asia
Rest of Asia Pacific

Latin America

Brazil
Mexico
Rest of Latin America

Middle East & Africa

GCC
South Africa
Rest of Middle East & Africa