Abstract
The report covers a detailed analysis and forecast for the protein supplements market on a global and regional level from 2015 to 2024. The study offers historic data of 2015-2017 along with a forecast from 2018 to 2024 based on revenue (USD Billion). The study comprises a comprehensive view of the market with the review of market drivers, restraints, and opportunities. It also provides the level of impact of drivers and restraints on the protein supplements market between 2015 and 2024.
The study includes a detailed competitive scenario and type portfolio of key vendors. The report evaluates Porter's Five Forces model to analyze the different factors affecting the growth of the protein supplements market. Moreover, the study encompasses a market attractiveness analysis, which provides the most attractive and least attractive market segments information by product, raw material, source, distribution channel, and region.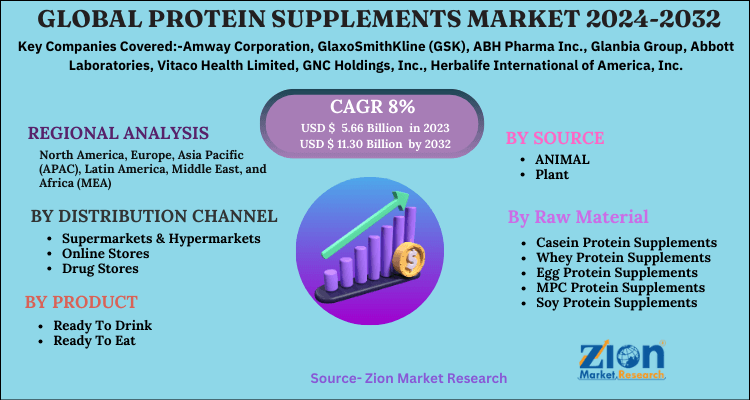 The report includes detailed segmentation of protein supplements market based on product type, raw material, source, distribution channel, and region. Ready to drink and ready to eat is the key product type in the protein supplements market. On the basis of raw material, the market can be classified into casein protein supplements, whey protein supplements, egg protein supplements, MPC protein supplements, and soy protein supplements. On the basis of source, the market can be classified into animal and plant. On the basis of the distribution channel, the market can be classified into supermarkets and hypermarkets, online stores, and drug stores. Major regional segment analyzed in this report include North America, Europe, Asia Pacific, Latin America, and the Middle East & Africa with its further divided into major countries including the U.S. Germany, France, UK, China, Japan, India, and Brazil.
The report provides detailed competitive outlook including market share and company profiles of the key players operating in the global market. Some of the key participants in the report include Amway Corporation, Abbott Laboratories, ABH Pharma Inc., Glanbia Group, Vitaco Health, GlaxoSmithKline (GSK), GNC Holdings, Herbalife International of America, Inc., Makers Nutrition, Suppleform, and others.
This report segments the global protein supplements market as follows:
Global Protein Supplements Market: Product Type Segment Analysis
Ready To Drink
Ready To Eat
Global Protein Supplements Market: Source Type Segment Analysis
Global Protein Supplements Market: Raw Material Type Segment Analysis
Casein Protein Supplements
Whey Protein Supplements
Egg Protein Supplements
MPC Protein Supplements
Soy Protein Supplements
Global Protein Supplements Market: Distribution Channel Segment Analysis
Supermarket & Hypermarket
Online Stores
Drug Stores
Global Protein Supplements Market: Regional Segment Analysis
North America
Europe
Asia Pacific
Latin America
The Middle East and Africa