Global Portable Printer Market: Size
The size of the global portable printer market was estimated to be approximately USD 1,200.90 million in 2021 which is expected to grow at the rate (CAGR) of 10.4% to attain a value of USD 16,900.11 million by end of 2028. This report focuses on the Portable Printer market, its market growth factors, and challenges. The report also outlines the opportunities available for investors and manufacturers in the portable printer market, discussing the recent changes due to the pandemic.
Portable Printer Market: Overview
Portable printers are small and compact peripheral computer devices that generate a hard copy of data stored. These devices can be connected to laptops, mobiles, computers, and other processing units, either through a wireless mode like Wi-Fi or Bluetooth or through wired means of USB or other connectors. These devices being lightweight and mobile, can be easily carried around and transported from one location to another.
Compared to traditional printers, portable printers are more convenient due to their ease of use, lightweight structure, high-speed printing, variety of paper options, and flexible functions. These are widely used in transportation, logistics, medical, manufacturing, retail, education, and other industries. Widely used for printing tags, barcodes, labels, receipts, and tickets, these printers also provide the option for users to fine-tune the settings through inbuilt software or mobile applications.
COVID-19 Impact:
Globally digital transformation was accelerated in 73.28% of organizations to sustain lockdowns and withstand the negative effects of affected economy. Larger enterprises started creating remote work units, and also providing employees office appliances to set up work stations at their residences. For instance, Amazon started a whole virtual office for Virtual Customer Service Department, where all employees were connected over a cloud network. This increased the sales of portable printers, given their ease of use, small size, and lightweight nature.
Portable Printer Market: Growth Drivers
Popularity of work-from-home and remote working to boost market growth
At least 62% of companies in the Asia Pacific region switched to remote working during the pandemic. Transition to mobile workforce required providing the right tools to employees. Especially for sectors such as sales, logistics, and retail require instant printing or receipts, tokens, tickets, invoices, shipping labels, barcodes, etc. driving the demand for portable printers.
Further, the global portable printer market is likely to be driven by the rising internet penetration all across the world. By 2025, an estimate of 75.58 billion IoT devices (smart devices connected over the internet), will be installed worldwide. Also, the increased use of smart devices and portable electronics will positively affect the market growth during the coming period.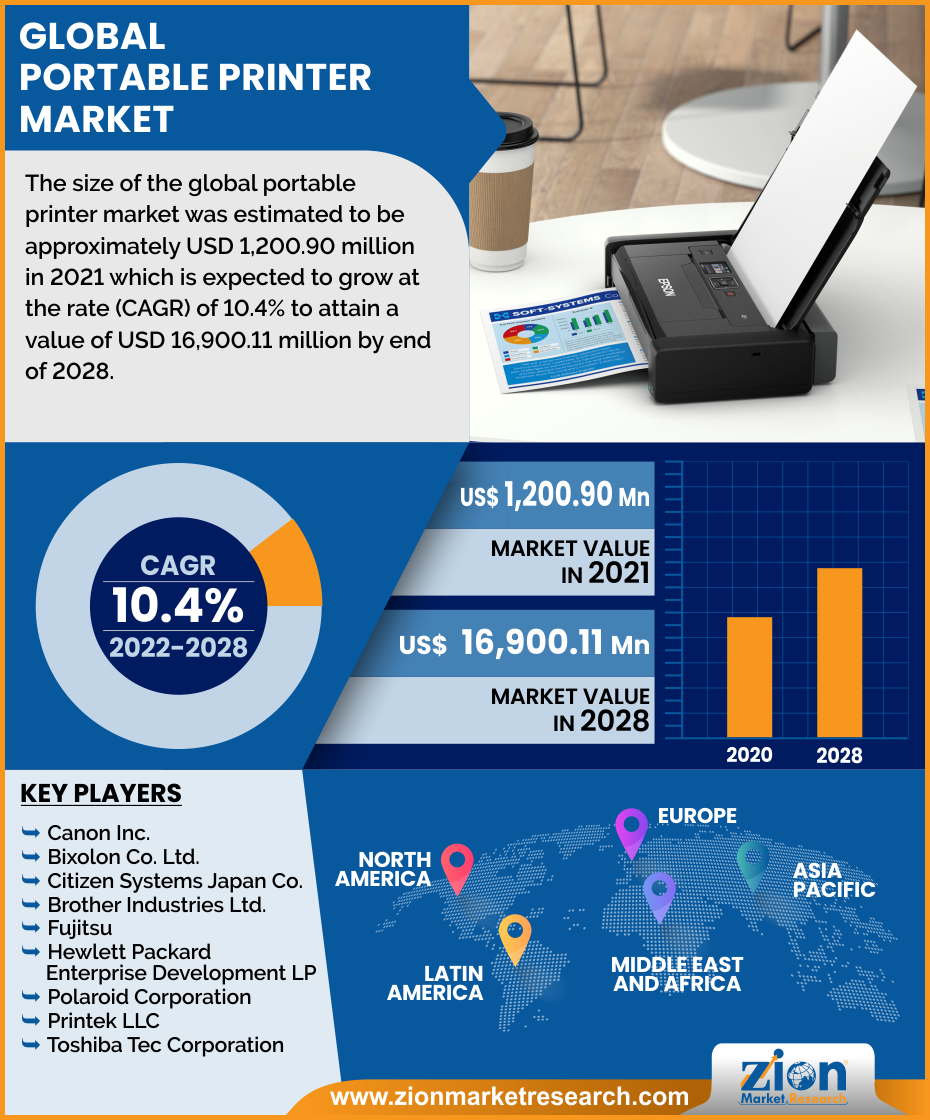 Request Free Sample
Portable Printer Market: Restraints
High cost of research likely to restrict global market growth
For utilizing the market trend for benefits, innovation is mandatory for the portable printer market. This requires design centers and an established R&D team. The costs for research vary in different regions, and similarly, the cost of manufacturing varies. This is likely to hamper the market growth to some extent. However, given the established research centers in Europe and USA, these regions are expected to lead the market. Asian countries such as China, Taiwan, and the Philippines, recently have started to increase innovation centers and units to develop technologically advanced portable printers, which will help the market overcome the restraints.
Portable Printer Market: Report Scope
Report Attributes
Report Details
Report Name
Portable Printer Market Research Report
Market Size in 2021
USD 1,200.90 million
Market Forecast in 2028
USD 16,900.11 million
Growth Rate
CAGR of 10.4%
Number of Pages
147
Key Companies Covered
Canon Inc., Bixolon Co. Ltd., Citizen Systems Japan Co., Brother Industries Ltd, Hewlett Packard Enterprise Development LP, Polaroid Corporation, Printek LLC, Toshiba Tec Corporation, HP Inc, Seiko Epson Corporation, Zebra Technologies Corporation, Honeywell International Inc, Fujitsu Limited, Oki Electric Industry, Co. Ltd., TSC Auto ID Technology Co. Ltd., Xiamen Rongta Technology Co. Ltd., Woosim Systems Inc, SATO Holdings Corporation, Avery Dennison Corporation, Star, Micronics Co. Ltd., Intermec Inc, Datamax-O'Neil Corporation.
Segments Covered
By Technological Type, By Connectivity, By Application, By Distribution Channel And By Region
Regions Covered
North America, Europe, Asia Pacific (APAC), Latin America, Middle East, and Africa (MEA)
Base Year
2021
Historical Year
2018 to 2021
Forecast Year
2022 - 2028
Customization Scope
Avail customized purchase options to meet your exact research needs. Request For Customization
Portable Printer Market: Opportunities
Automation and growth of Transportation & Logistics Industry
Though Logistics were hit badly during the pandemic, the industry is resuming smooth operations. The need for transparency and real-time updates will increase the need for documentation in the logistics sector. Consolidated revenue of the logistics segment grew by 38% in 2021, which is expected to positively impact the global portable printer market as well.
Portable Printer Market: Challenges
Increased need for IT servicing and security concerns
Given the portability of printers, integrating it into systems adds up as a challenge for the IT team. Hacking into devices became a rising concern for organizations, increasing the need for cyber security services to protect sensitive data from being hacked. This will also pose as a major concern and challenge for the market growth.
Portable Printer Market: Segmentation Analysis
The global portable printer market can be segmented –based on technology, connectivity, application, distribution channel, and geography. The market can be divided into three categories based on technology: thermal, inkjet, and impact. Thermal segment revenue is expected to increase with a CAGR of 10.89% during the forecast period.
The worldwide portable printer market can be split into wireless, USB, Bluetooth, and Ethernet based on connection. Transportation & logistics, retail, medical services, communications sector, manufacturing, and others are some of the applications of portable printers. The largest revenue share was attributed to the transportation & logistics segment which will rise to USD 4.8 billion by 2028. The manufacturing segment contributed to 18.78% share in 2021.
The portable printer market can be divided into two categories based on distribution channels: online and offline. Given the rise in online shopping and digitalization, consumers have started preferring online distribution channels over offline ones. COVID-19 and lockdowns forced all businesses to operate online. Online sales also permit the consumers to get access to products that are unavailable in their regional markets. All these factors will help the segment to boost over the coming period.
Recent Developments
In February 2022, Canon declared the launch of new MAXIFY GX5070 ink tank business printer, which is the extension to its MAXIFY Ink Efficient GX Series line-up. The printer merges low color printing costs with paper handling, speed, and networking abilities to provide businesses and offices a boost in productivity and efficiency.
In May 2021, the launch of new wireless label printers was announced by Zebra. These are meant for small businesses and are named the ZSB series. These new printers are developed to print labels with more affordability and efficiency.
Portable Printer Market: Regional Landscape
Geographically, Europe has the largest market segment for portable printers accounting for over 34.15%, followed by North America with 26.45%. The growth of these regions can be attributed to the increasing focus on improving mobile workforce productivity and consumer experience. The Middle East is known to have the smallest market share of just 5.59%. Expanding mobile workforce and increased demand in simplified receipts for order management have resulted in a steady growth of the market in the Asia Pacific region. China alone is expected to grow at a CAGR of 30% during the 2022-2028 period. An increased number of small businesses operating online and start-ups are another factor that adds to growth in this region.
Portable Printer Market: Competitive Landscape
Key players are known in the market for their quality prints and technologically advanced products with new features. This will help retain the consumer base and hold a major share of the market. The important providers in the global portable printer market are:
Canon Inc.
Bixolon Co. Ltd.
Citizen Systems Japan Co.
Brother Industries Ltd
Hewlett Packard Enterprise Development LP
Polaroid Corporation
Printek LLC
Toshiba Tec Corporation
HP Inc
Seiko Epson Corporation
Zebra Technologies Corporation
Honeywell International Inc
Fujitsu Limited
Oki Electric Industry Co. Ltd.
TSC Auto ID Technology Co. Ltd.
Xiamen Rongta Technology Co. Ltd.
Woosim Systems Inc
SATO Holdings Corporation
Avery Dennison Corporation
Star Micronics Co. Ltd.
Intermec Inc
Datamax-O'Neil Corporation.
The global portable printer market is segmented as follows:
By Technological Type
By Connectivity
Wireless
Bluetooth
USB
Ethernet
By Application
Transportation & Logistics
Retail
Medical Services
Telecommunication Industry
Manufacturing
Others
By Distribution Channel
By Region
North America
Europe

France
The UK
Spain
Germany
Italy
Rest of Europe

Asia Pacific

China
Japan
India
South Korea
Southeast Asia
Rest of Asia Pacific

Latin America

Brazil
Mexico
Rest of Latin America

Middle East & Africa

GCC
South Africa
Rest of Middle East & Africa