Description
Market Overview
The polyester coating market accounted for USD 14,250 Million in 2020 and is expected to reach USD 19,804 Million by 2028, growing at a CAGR of 4.2% during the forecast period 2021 to 2028.
Polyester coatings become increasingly popular in recent years owing to their low cost, flexibility, and general acceptance. This can be customised with additives to meet the needs of any end-use application. Polyester coatings have been a favourite of the building and construction industry due to their high flexibility, chemical resistance, toughness, and high strength. Polyester coatings are used in a variety of industries, including automotive, OEM coatings, aviation, industrial coatings, aviation, and packaging.
The report represents a historic summary of the worldwide polyester coatings market complete with study into the prevalent trends, key growth drivers, and major restraints, and supported in-depth analysis. The report provides market projections for the forecast amount from 2021 to 2028.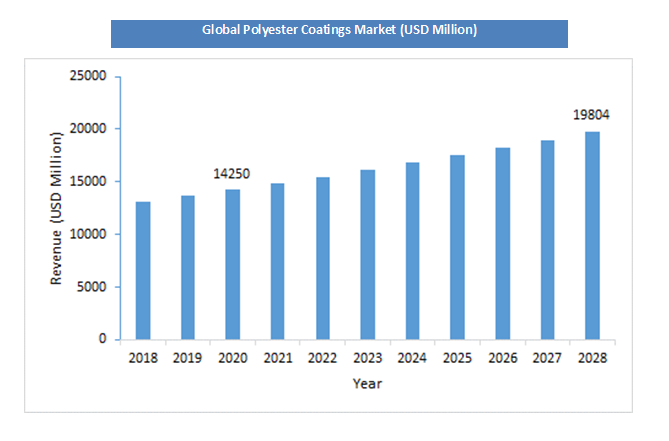 COVID-19 Impact Analysis
Due to COVID-19, thanks to lockdown regulations and a deficient number of workers, the assembly in various industries has decreased, and therefore the supply of raw materials has been disrupted. Automotive and construction are one among the main applications of polyester coating. The COVID-19 pandemic has affected the sales of paints because the construction activities were halted. India's second-largest paint company, Berger Paints, reported approximately a 6.5 percent fall in its consolidated net income to INR 1,032 million for the fourth quarter ended March 31, 2020. Also, the sales of automobiles have witnessed a decline and badly impacted the automotive coating producers. However, there is a rise within the home decorative coating segments because the people were confined to their homes thanks to lockdown.
Growth Factors
Construction industry possess a huge demand for the polyester coatings owing to the increasing construction activities and demand for the OEM coating.
People are choosing second home plans as investments because of the rise in their income. Thus, the increasing investments within the infrastructure are leading to the polyester coatings market growth. Constructions in not only residential but also commercial sectors. The rise in development and innovations within the industries are directly increasing the possibilities of the usage of polyester coatings.
The polyester coatings have properties like chemical, abrasion, and salt resistance which makes them an ideal material for coating. OEM coating is expected to elevate the polyester coating market owing to better efficiency over various other coating in excellent corrosion and chemical resistant properties.
Report Scope :
Application Segment Analysis
Based on application, the market is segmented into Automotive, Infrastructure, Industrial Coatings and Packaging, Construction, OEM Coatings, and Aviation. Among these applications we will discuss about only two.
Automotive coating is used in automobiles for both protection and decoration purposes. The demand for various colour & texture, enhancement of sales supportive policies, and increasing purchasing power parity (PPP) in emerging economies is driving the automotive coating market. The high growth is as attributed to new and innovative technologies are being developed by automotive coating producers. Technological developments is expected to support the automotive coating segment in the market.
Aviation coating market is projected to succeed at a CAGR 3.8% between 2020 and 2028. A coating may be a covering that is applied to the surface of an object, usually mentioned as a substrate. The aim of applying the coating could also be decorative, functional, or both. The aviation coatings market is essentially driven by increased demand for aerospace coatings from various end users, like commercial aviation, military aviation, and general aviation.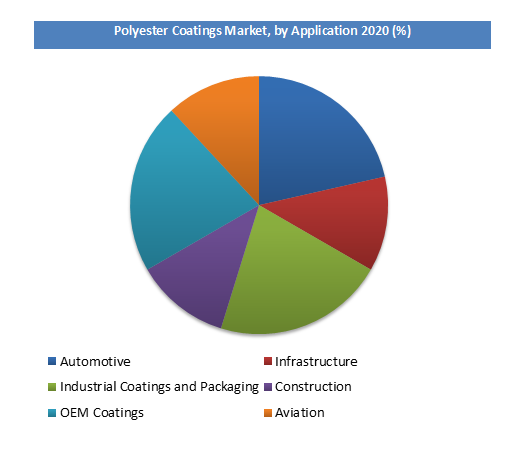 Region Segment Analysis
The polyester coatings market has been studied for five regions, namely North America, Europe, Asia-Pacific, Latin America, and therefore the Middle East & Africa.
Asia Pacific dominates the global polyester coatings market thanks to the high consumption of polyester coatings in China. With an aim of capitalizing on prevailing opportunities, several players have begun operations in China subsequently giving thrust to the already established polyester coatings market. Much of growth witnessed in Asia Pacific is ascribable to the expansion of construction and hybrid coatings industry within the region. Outbreak of COVID-19 is severely affected the worldwide industrial sector. Production and operation, infrastructural development activities, have bogged down globally aimed to limit the spread of coronavirus, which is further anticipated to impact the demand of commercial coatings. But, from 2021 to 2028, the Asia Pacific market is projected to expand significantly.
Besides this, Europe sales of polyester coatings have also declined thanks to enacted legislations. However, with players developing novel products to cohere with such regulations, in future the demand for polyester coatings is presumably to extend.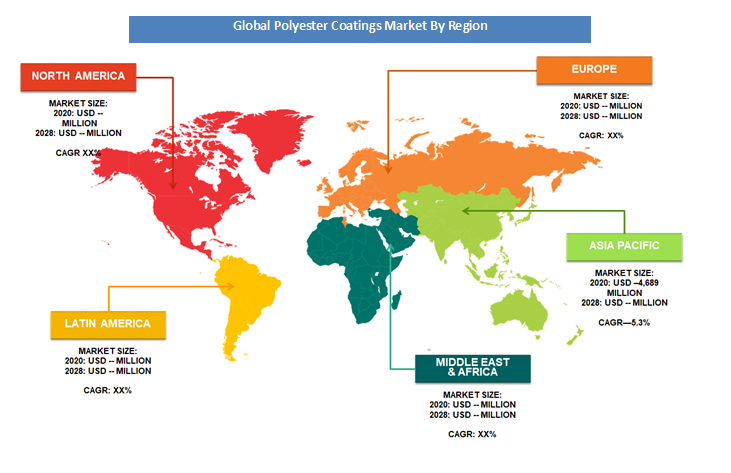 Key Market Players & Competitive Landscape
Despite the highly competitive seller environment of the global polyester coatings industry, companies including The Dow Chemical Company, Du Pont, Huntsman Corporation, AGC Chemicals, Momentive Chemicals, BASF SE, and 3M Company have solidified their positions as major players.
The Automotive Aftermarket Industry Market is segmented as follows:
By Application
Automotive
Infrastructure
Industrial Coatings and Packaging
Construction
OEM Coatings
Aviation
By Regions
North America
Europe

France
The UK
Spain
Germany
Italy
Rest of Europe

Asia Pacific

China
Japan
India
South Korea
Southeast Asia
Rest of Asia Pacific

Latin America

Brazil
Mexico
Rest of Latin America

Middle East & Africa

GCC
South Africa
Rest of Middle East & Africa