Global Plant Growth Regulators Market: Overview
Plant growth regulators are termed as the compounds that positively impact the plant physiological process and are provided in low concentrated solutions. These products are found in plants and are plant-made. They are also referred to as plant hormones.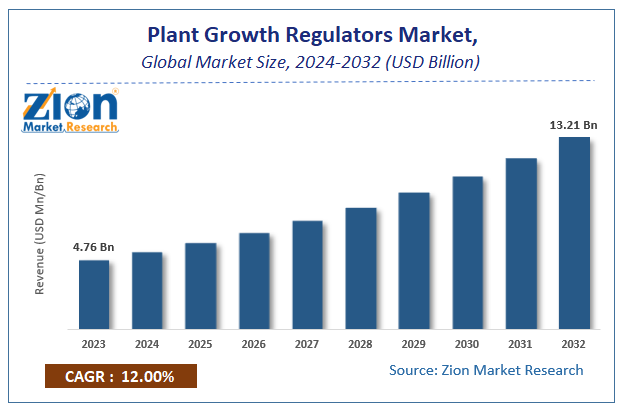 Request Free Sample
Global plant growth regulators market was USD 5.91 billion in 2019 and is likely to reach USD 9.11 billion by 2026 with a CAGR of 6.39%.
Global Plant Growth Regulators Market: Growth Factors
The plant growth regulators industry is predicted to gain traction over the coming years, owing to massive inclination towards organic foods as well as products by the health conscious population across the globe. Apart from this, the growing trend of consuming cereals during breakfast along with food is slated to boost business trends. Moreover, the growing need to find ways to protect and enhance the nutritive value of cereals and grains along with focusing on increasing their output forms a vital aspect as well as the remarkable platform for the growth of plant growth regulators market.
Additionally, with the rapidly increasing global population resulting in food scarcity and inequality in the distribution of food across the globe, it has become necessary for taking more cereals and crops in the year. This has resulted in more demand for the product. These products not only help in crop cultivation or getting more crop yield but also supplement the rapid growth of fruits, grains, flowers, and vegetables.
The breakthroughs witnessed in biotechnology and microbiology and massive investments by Pharma firms to cater to the research demands of plant extracted drugs & herbal medicines will impel the business scope. However, strict legislation governing the application of the product will decline the plant growth regulators market surge.
Global Plant Growth Regulators Market: Segmentation
The overall plant growth regulators market can be segmented into the formulation type, hormone type, crop type, and function. Based on the hormone type, the market is sectored into Auxin, Abscisic Acid Gibberellin, Ethylene, and Cytokinin. Crop Type wise, the market is segregated into Oilseed & Pulses, Vegetables, Turf & Ornamentals, Fruit, and Cereals & Grains. Formulation type wise, the industry is segmented into Water Dispersible Solutions, Tablets, Wettable powder, and Soluble Powder. Function wise, the plant growth regulators market is segmented into Inhibitors and Promoters.
Global Plant Growth Regulators Market: Regional Analysis
Based on region, the global plant growth regulators market can be divided into five main regions: North America, Latin America, Europe, the Middle East and Africa, and Asia Pacific. Europe is projected to gain a notable share in global plant growth regulators market in terms of revenue. Massive demand from Nordic countries such as Norway, Finland, Sweden, and Denmark are expected to drive the expansion of the plant growth regulator industry in Europe. Moreover, Asia Pacific region is anticipated to dominate the overall market growth, subject to massive demand to increase the crop yield in order to fulfill the food requirements of the swiftly rising population majorly in the countries such India, Bangladesh, China, and Indonesia.
North America and Latin America markets have huge growth prospects and are likely to make major contributions towards the overall plant growth regulators market revenue over a couple of next few years.
Global Plant Growth Regulators Market: Competitive Players
Few of the main participants in plant growth regulators market prevalent, Fine Americas, Bayer CropScience, Helena Chemical, FMC, DuPont, GroSpurt, BASF SE, Amvac, Acadian Seaplants, Agri-Growth International, ArystaLifeScience, Syngenta, and Nufarm.
Global Plant Growth Regulators Market: Regional Segment Analysis
North America
Europe

France
The UK
Spain
Germany
Italy
Rest of Europe

Asia Pacific

China
Japan
India
South Korea
Southeast Asia
Rest of Asia Pacific

Latin America

Brazil
Mexico
Rest of Latin America

Middle East & Africa

GCC
South Africa
Rest of Middle East & Africa