Phytosterols Market Size & Industry Prospective:
The global phytosterols market size was worth around USD 757 million in 2021 and is predicted to grow to around USD 1398 million by 2030 with a compound annual growth rate (CAGR) of roughly 10.21% between 2022 and 2030. The report analyzes the global phytosterols market drivers, restraints/challenges, and the effect they have on the demands during the projection period. In addition, the report explores emerging opportunities in the phytosterols market.
Phytosterols Market: Overview
Phytosterols, similar to cholesterol, are plant steroids that occur naturally. Some examples of such steroids are guggulsterone, digitoxin, and digoxin to name a few. Phytosterols are essential because they provide structure to the biological membrane of any plant. Phytosterols are made of stanols and sterols. Esters derived from stanols are chemical compounds that help to reduce low-density lipoprotein cholesterol (LDL) levels amongst animals upon consumption. But the intensity may be less as compared to medicines prescribed by medical professionals that are made of statins.
Sterol is a naturally occurring organic compound with the chemical formula C17H28O. Sterol molecule is derived by a hydrogen atom in gonane with a hydroxyl group, in the 3rd position. Hence, upon deduction, it can also be considered by the alcohol of gonane. Any compound that is made of a gonane structure or exhibits any modified ring systems that are gonane derivatives can be considered a steroid. As of 2022, more than 250 types of phytosterols have been identified by the scientific community.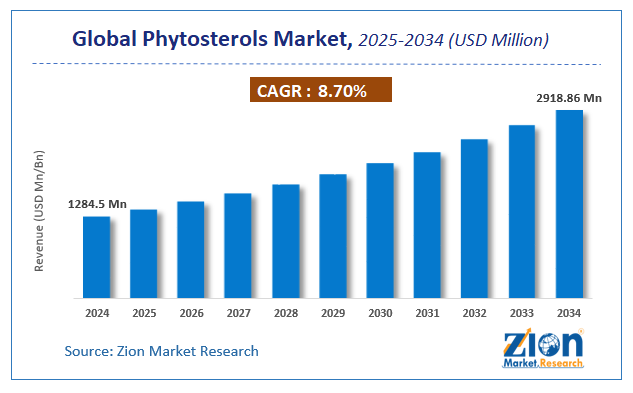 Request Free Sample
To know more about this report, request a sample copy.
Key Insights
As per the analysis shared by our research analyst, the global phytosterols market is estimated to grow annually at a CAGR of around 10.21% over the forecast period (2022-2030)
In terms of revenue, the global phytosterols market size was valued at around USD 757 million in 2021 and is projected to reach USD 1398 million, by 2030.
The global phytosterols market is projected to grow driven by the increasing application of phytosterols in food & beverages.
Based on type segmentation, beta-sitosterol was predicted to show maximum market share in the year 2021
Based on application segmentation, food product was the leading application in 2021
On the basis of region, Europe was the leading revenue generator in 2021
Phytosterols Market: Growth Drivers
Growing applications in the food industry to drive market demand
The global phytosterols market is projected to grow driven by the increasing application of phytosterols in food & beverages. As companies invest heavily in developing and launching new edible items that cater to the demand of more aware consumer segments, the requirement for healthy ingredients is projected to reach newer heights. Post Covid-19, more people are inclined toward consuming food products that help them improve the overall quality of living by helping the body build a better immune system.
As phytosterols are known to have a positive impact on the reduction of bad cholesterol levels, the compounds are in high demand from the end-consumer groups as well as food manufacturers. With the internet, consumers have become more aware of the food ingredients that they consume regularly and the impact these ingredients may have on human health. Due to the growing awareness, businesses are required to stay true to their end-users to stay ahead in the game. As per a press release on Nextbite, around 49% of the respondents claimed that they will be ordering healthier food items when purchasing online, whereas 46% claimed that they would start eating healthy items in 2022.
Phytosterols Market: Restraints
Uncertainty over the actual impact on LDL cholesterol to restrict market expansion
Although, for many years, phytosterols have been marketed as an ingredient that can potentially reduce LDL cholesterol levels, allowing the consumer to live a healthy life. But in recent times, many researchers and medical professionals have questioned this claim as there is a lack of sufficient research that can help the community come to a definite conclusion on the authenticity of the marketing campaign. Until the global market players conduct more data-backed research and draw results, there will be a significant number of consumers that would refrain from consuming phytosterols in any form.
Phytosterols Market: Opportunities
Newer regional markets to provide growth opportunities
The global phytosterols market players could garner expansion opportunities by entering lesser-known regions or the unexplored markets of underdeveloped economies. Most of the less-advanced regions are known to have a shortage of sufficient nutritious supply of food products. Businesses and large corporations are expected to modify their products to cater to the needs of consumers in remote locations and market them using various strategies. The global market may generate more revenue due to the growing investment in the research & development of phytosterols, mostly undertaken by multinational corporations.
Phytosterols Market: Challenges
Strict laws relating to the use of phytosterols to challenge market growth
Food ingredients in any form are highly regulated by international and national bodies responsible for promoting regional health. Since phytosterols claim to directly impact health, they are always under the radar of monitoring authorities. This acts as a major challenge for businesses as they are required to conduct extensive research before entering a new market. For instance, in September 2015, the Food Safety and Standards Authority of India (FSSAI) changed guidelines about the use of phytosterols.
Phytosterols Market: Segmentation
The global phytosterols market is segmented based on application, type, and region.
Based on application, the global market divisions are supplements, food products, pharmaceuticals, and cosmetics. The global market was dominated by the food segment in 2021 due to the compound's ability to be used as a substitute for conventional cholesterol. The segmental growth may further be driven by the growing awareness amongst the population about heart health and its correlation with eating habits. As per research studies, consuming 2 grams of phytosterols can help reduce LDL cholesterol by 8% to 10%. The highest concentration of phytosterols can be found in olive oils, nuts, and vegetables.
Based on type, the global market is divided into stigmasterol, beta-sitosterol, and campesterol. In 2021, the global market witnessed the highest revenue in the beta-sitosterol segment due to the high application rate of the compound in the pharmaceutical industry as it is used in the treatment of cervical and colon cancer. As per the research report submitted to the National Library of Medicine, the conclusion drawn was that beta-sitosterol had a positive effect against cervical, breast, prostate, and colon cancer. In 2022, more than 150,000 American citizens were diagnosed with colorectal cancer.
Recent Developments:
In June 2022, Kensing Group, a US-based provider of high-grade healthy related ingredients, announced the acquisition of Spanish firm Vitae Naturals. The move was driven by the company's ambition to dominate the global market of plant-bases sterol esters and naturally occurring vitamin E
In July 2022, on Top Cosmetics became the first Chinese beauty company to collaborate with Eastman Cristal to launch sustainable packaging for the cosmetic industry. onTop creams are known to use ingredients like fatty acids, phytosterols, and ceramide 2
Phytosterols Market Report Scope:
Report Attributes
Report Details
Report Name
Phytosterols Market Research Report
Market Size in 2021
USD 757 Million
Market Forecast in 2030
USD 1398 Million
Compound Annual Growth Rate
CAGR of 10.21%
Number of Pages
287
Forecast Units
Value (USD Million), and Volume (Units)
Key Companies Covered
Pharmachem Laboratories, Cargill Inc., Raisio Plc., Archer-Daniels-Midland Company, Arboris, and BASF SE amongst others.
Segments Covered
By Application, By Type and By Region
Regions Covered
North America, Europe, Asia Pacific (APAC), Latin America, Middle East and Africa (MEA)
Countries Covered
North America: U.S and Canada
Europe: Germany, Italy, Russia, U.K, Spain, France, Rest of Europe
APAC: China, Australia, Japan, India, South Korea, South East Asia, Rest of Asia Pacific
Latin America: Brazil, Argentina, Chile
The Middle East And Africa: South Africa, GCC, Rest of MEA
Base Year
2021
Historical Year
2016 to 2020
Forecast Year
2022 - 2030
Customization Scope
Avail customized purchase options to meet your exact research needs. Request For Customization
Phytosterols Market: Regional Analysis
Europe to lead with the highest market share
The global phytosterols market is projected to be dominated by Europe during the projection period due to high product penetration and the wide use of phytosterols in the food industry. Germany is anticipated to become the most significant contributor as it is one of the highest consumers of external health-related supplements. According to the German Federal Institute of Risk Management (BfR), more than one-third of the German population is known to consume different forms of food supplements for vitamins every week. As the research & development (R&D) in the European food industry grows, along with a high rate of product innovation, the demand for health-related food ingredients is expected to grow. In 2021, Europe was estimated to spend around USD 310 €310 billion on activities related to R&D. North America may also generate high revenue due to the presence of the largest food industry in the US.
Phytosterols Market: Competitive Analysis
The global phytosterols market is dominated by players like:
Pharmachem Laboratories
Cargill Inc.
Raisio Plc.
Archer-Daniels-Midland Company
Arboris
BASF SE
The global phytosterols market is segmented as follows:
By Application
Supplements
Food Products
Pharmaceuticals
Cosmetics
By Type
Stigmasterol
Beta-Sitosterol
Campesterol
By Region
North America
Europe

France
The UK
Spain
Germany
Italy
Rest of Europe

Asia Pacific

China
Japan
India
South Korea
Southeast Asia
Rest of Asia Pacific

Latin America

Brazil
Mexico
Rest of Latin America

Middle East & Africa

GCC
South Africa
Rest of Middle East & Africa