Abstract
The report covers forecast and analysis for the photovoltaic (PV) tracker market on a global and regional level. The study provides historic data of 2015 along with a forecast from 2016 to 2021 based on both installed capacity (MW) and revenue (USD Million). The study includes drivers and restraints for the photovoltaic tracker market along with the impact they have on the demand over the forecast period. Additionally, the report includes the study of opportunities available in the photovoltaic tracker market on a global level.
In order to give a comprehensive view on photovoltaic tracker market, we have included a detailed competitive scenario and product portfolio of key vendors. To understand the competitive landscape in the market, an analysis of Porter's five forces model for the photovoltaic tracker market has also been included. The study includes a market attractiveness analysis, wherein application segments are benchmarked based on their market size, growth rate, and general attractiveness.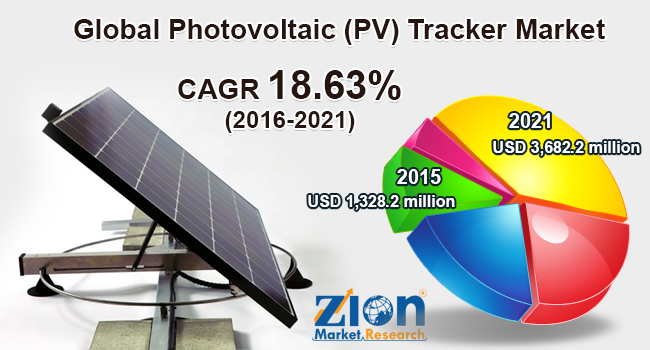 The study provides a decisive view on the photovoltaic tracker market by segmenting the market based on application. All the application segments have been analyzed based on present and future trends and the market is estimated from 2015 to 2021. Key application markets covered under this study includes utility and non-utility applications. The regional segmentation includes the current and forecast demand for North America, Europe, Asia-Pacific, Latin America and the Middle East and Africa with its further bifurcation into major countries including U.S. Germany, France, UK, China, Japan, India, and Brazil.
The report covers detailed competitive outlook including company profiles of the key participants operating in the global market. Key players profiled in the report include Wuxi Hao Solar Technology Co. Ltd., Abengoa Solar, S.A., AllEarth Renewables, Inc., Array Technologies, Inc., DEGERenergie GmbH, SunPower Corporation, Grupo Clavijo Elt SL, Titan Tracker SL, SmartTrak Solar Systems Pvt. Ltd., Powerway Renewable Energy Co., Ltd., Energia Ercam SL, Mecasolar Espana SL, First Solar, Inc., and Mechatron S.A.
The report segments the global photovoltaic tracker market into:
Global Photovoltaic Tracker Market: Application Segment Analysis
Global Photovoltaic Tracker Market: Regional Segment Analysis
North America
Europe
Asia Pacific
Latin America
Middle East and Africa