Global Pharmaceutical Pouches Market Overview
The global pharmaceuticals pouches market accounted for USD 9.27 Billion in 2020 and is expected to reach USD 11.92 Billion by 2028, growing at a CAGR of 3.4% from 2021 to 2028.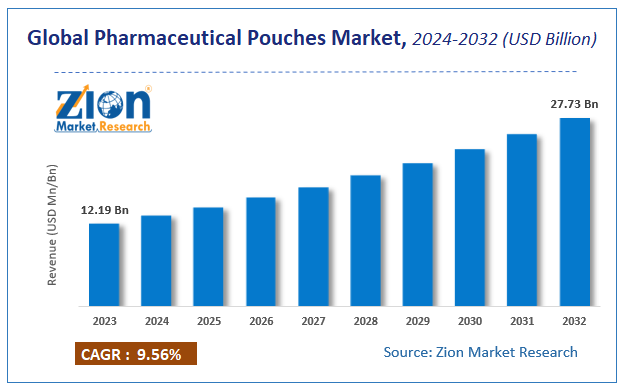 Request Free Sample
Pharmaceutical pouches are the packages and packaging processes for pharmaceutical products. The pouch can be made of several materials such as Polyethylene, Polyvinyl Chloride, Polypropylene, and Polyethylene. , Its application is based on the responsiveness of the pharmaceutical products to be packaged. The pouch must ensure that the pharmaceutical product remains firm throughout its shelf life. Well-organized packaging of medicines is important in maintaining sterility and free from any kind of infection which may otherwise be harmful for the patients. Proper pharmaceutical packaging also provides the medicines a protection from physical damage and is crucial to maintain the functionality of them.
Rising awareness of environmental issues due to old-age packaging material, increasing safety concerns and the adoption of new regulatory standards for packaging recycling is also driving the pharmaceutical pouches industry worldwide.
COVID-19 Impact Analysis
The COVID-19 pandemic has brought loud focus on the need for health care reforms to endorse universal availability to affordable care and bridge geographic, economic, and social divisions. Most countries may have experienced disruption in pharma supply chain because of their dependency on China for APIs and excipients but countries and companies do have supply chain resilience as one of the near-term priorities. COVID-19 has highlighted issues like re-shoring, near-shoring and shortening supply chains. COVID-19 has clearly highlighted the importance of a strong health care system, the lack of which can put the global pharmaceutical pouches market and society at risk. Industry players need to learn from the challenged faced during pandemic and promptly develop the required healthcare infrastructure and make it available to the entire population. The consumers have become more aware and demanding of proper and safe packaging due to the pandemic. The supply chain may have been hampered because of the lockdown situation in many countries but the smooth and steady supply is still the focus and market has seen a sharp increase than before.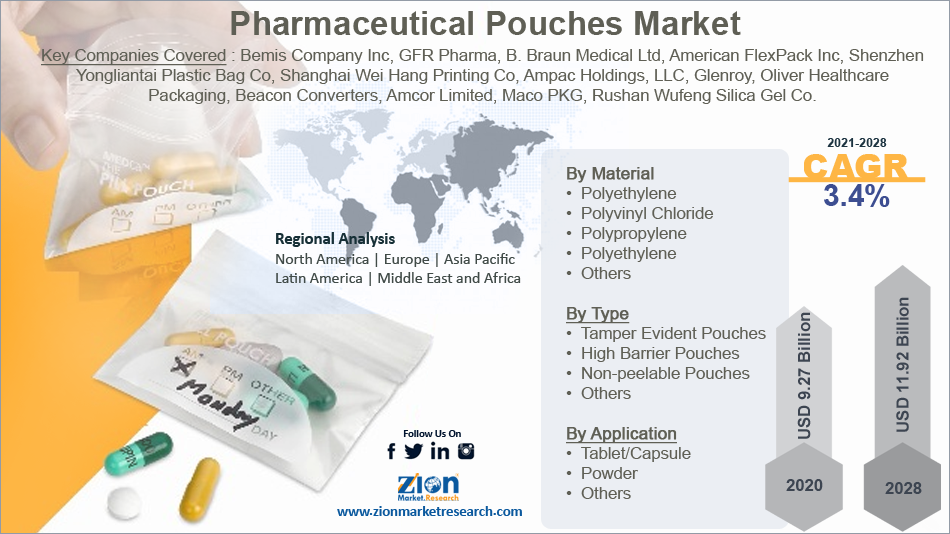 Request Free Sample
Growth Factors
There has been a growth in the pharmaceutical industry and in demand of healthcare products in emerging economies like India, China, and Brazil with an increase in population, disposable income and growing focus on increasing life expectancy. With the increase in pharmaceutical industry, proper packaging in pharmaceutical is on the rise with focus on sustainability by adoption of biodegradable and recyclable materials. Also, the growing demand or convenient packaging is expected to create new growth opportunities for the manufacturers. The busy schedule and rapidly changing lifestyle will lead to increasing consumers' adoption of easy-to-swallow medicines, leading to the growth in demand for the powdered and liquid form of medicine, which will give rise to those pouches used for powdered and liquid medicines such as sachets. However, because of non-biodegradable features plastic packaging is expected to face a hindrance in growth. The rise in diseases such as cancer, diabetes, obesity, and spread of sudden COVID-19 has opened an opportunity for new healthcare initiatives.
Pharmaceutical Pouches Market Report Scope :
Report Attributes
Report Details
Report Name
Pharmaceutical Pouches Market Research Report
Market Size in 2020
USD 9.27 Billion
Market Forecast in 2028
USD 11.92 Billion
Compound Annual Growth Rate
CAGR of 3.4%
Number of Pages
174
Forecast Units
Value (USD Billion)
Key Companies Covered
Bemis Company Inc, GFR Pharma, B. Braun Medical Ltd, American FlexPack Inc, Shenzhen Yongliantai Plastic Bag Co, Shanghai Wei Hang Printing Co, Ampac Holdings, LLC, Glenroy, Oliver Healthcare Packaging, Beacon Converters, Amcor Limited, Maco PKG, Rushan Wufeng Silica Gel Co, Qingdao Huakang Plastic Packaging Co, Shandong Mingda Packing Product Co, and Dongguan Hehui Packaging Materials
Segments Covered
By Material, By Type, By Application and By Region
Regions Covered
North America, Europe, Asia Pacific (APAC), Latin America, Middle East and Africa (MEA)
Countries Covered
North America: U.S and Canada
Europe: Germany, Italy, Russia, U.K, Spain, France, Rest of Europe
APAC: China, Australia, Japan, India, South Korea, South East Asia, Rest of Asia Pacific
Latin America: Brazil, Argentina, Chile
The Middle East And Africa: South Africa, GCC, Rest of MEA
Base Year
2022
Historical Year
2018 - 2022
Forecast Year
2023 - 2030
Customization Scope
Avail customized purchase options to meet your exact research needs. Request For Customization
Material Segment Analysis Preview
The global market for the pharmaceuticals pouch is fragmented into its material type, product type, and application. On the basis of the type of the material, the segment is sub-segmented into polyethylene, polyvinyl chloride, polypropylene, polyethylene terephthalate, and others which include coated paper, aluminum, and plastic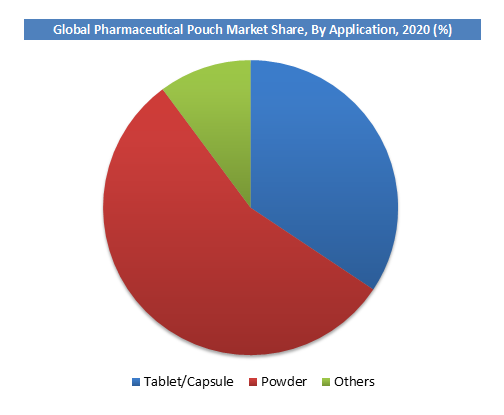 Request Free Sample
Type Segment Analysis Preview
On the basis of the type of the product, the market is categorized into tamper evident pouches, high barrier pouches, and non-peelable pouches and some others like breathable plastic pouches.
Regional Analysis Preview
European region held a share of over 20% in 2020. This is attributed to the presence of major market players and dominance in the market such as Amcor PLC. Growing demand in the pharmaceutical sector is anticipated to propel the market growth from 2021 to 2028.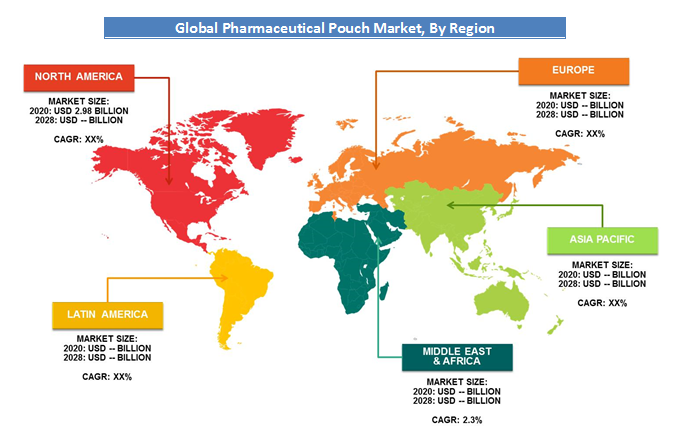 Request Free Sample
Asia Pacific region is projected to grow at a CAGR of over 4% during the forecast period. This surge is due to the increasing concern in safe and proper packaging in the region. This is attributed to the increasing demand from China and India.
In the Middle-East region, Saudi Arabia is the largest economy both by GDP and population, it has one of the largest pharmaceuticals market in the Gulf Cooperation Council (GCC) region. There is a positive impact on Saudi Arabia pharmaceutical pouch market. Opportunities for pharmaceutical pouch manufacturers are expected to grow significantly in Asia Pacific because of untapped market and rising demand in pharmaceutical products.
Key Market Players & Competitive Landscape
The key market players that are involved in the pharmaceuticals pouch market include Bemis Company, Inc., GFR Pharma, B. Braun Medical Ltd., American FlexPack, Inc., Shenzhen Yongliantai Plastic Bag Co., Shanghai Wei Hang Printing Co., Ampac Holdings, LLC, Glenroy, Oliver Healthcare Packaging, Beacon Converters, Amcor Limited, Maco PKG, Rushan Wufeng Silica Gel Co., Qingdao Huakang Plastic Packaging Co., Shandong Mingda Packing Product Co., and Dongguan Hehui Packaging Materials, among others.
The companies are engaged in several growth and expansion strategies to gain a competitive advantage. Industry players also follow value chain integration with business operations in multiple stages of the value chain. The market players are benefiting from innovation, primarily due to the presence of semi-differentiated offerings among the players in the different regions.
The global pharmaceutical pouch market is segmented as follows:
By Material
Polyethylene
Polyvinyl Chloride
Polypropylene
Polyethylene
Others
By Type
Tamper Evident Pouches
High Barrier Pouches
Non-peelable Pouches
Others
By Application
Tablet/Capsule
Powder
Others
By Region
North America
Europe

France
The UK
Spain
Germany
Italy
Rest of Europe

Asia Pacific

China
Japan
India
South Korea
Southeast Asia
Rest of Asia Pacific

Latin America

Brazil
Mexico
Rest of Latin America

Middle East & Africa

GCC
South Africa
Rest of Middle East & Africa