PET Preforms Industry Prospective:
The global PET preforms market size was worth around USD 28.01 billion in 2022 and is predicted to grow to around USD 39.54 billion by 2030 with a compound annual growth rate (CAGR) of roughly 4.39% between 2023 and 2030.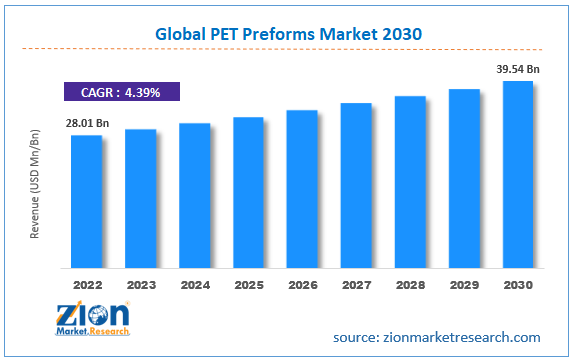 Request Free Sample
PET Preforms Market: Overview
PET preforms are made of polyethylene terephthalate (PET), a thermoplastic resin. PET preforms are defined as intermediate materials used in the production of PET containers that have applications across a wide range of industries. These preforms are smaller in size as compared to the final PET bottle but are available in varying sizes, neck finish, shape, and color. They are specially designed to meet consumer requirements in industries such as food & beverages, personal care & cosmetic products, and others. PET preforms are produced using a highly advanced and accurate injection molding process and they further undergo other procedures to produce the ultimate PET bottles. PET polymer starting material is first heated and subjected to a molding unit using the injection molding process. This step produces PET preforms in the desired shape and size. In the second step, the stretch blow molding method is deployed for stretching the PET preforms in the shape of the final PET bottle. Advanced machines are used for the process that also impacts the growth trajectory of the PET preforms industry. The forecast period may deliver high growth opportunities while also being affected by certain challenges.
Key Insights:
As per the analysis shared by our research analyst, the global PET preforms market is estimated to grow annually at a CAGR of around 4.39% over the forecast period (2023-2030)
In terms of revenue, the global PET preforms market size was valued at around USD 28.01 billion in 2022 and is projected to reach USD 39.54 billion, by 2030.
The PET preforms market is projected to grow at a significant rate due to the increasing demand for PET bottles in the food & beverages (F&B) sector
Based on application segmentation, carbonated soft drinks was predicted to show maximum market share in the year 2022
Based on type segmentation, standard PCO was the leading type in 2022
On the basis of region, Asia-Pacific was the leading revenue generator in 2022
PET Preforms Market: Growth Drivers
Increasing demand for PET bottles in food & beverages (F&B) sector may drive market growth
The global PET preforms market is projected to grow owing to the increasing demand for PET bottles in the expanding food & beverages industry. PET bottles are transparent and hence make an ideal choice for beverages especially colored products since these bottles act as a highly effective advertising technique as well. Furthermore, PET bottles are lightweight as compared to some of the other packaging options thus reducing freight expenses. Research indicates that PET packaging is highly energy efficient since it uses less natural resources for production when compared to glass packaging. PET containers are recyclable making them highly preferred in modern times when recycling is an important aspect of business survival. Other benefits of PET bottles include shatterproof features, chemical resistance, and higher flexibility. The expansion of the F&B sector and the positive attributes of PET bottles are working in tandem to deliver exceptional results for PET preforms.
The rising population rate as well as growing disposable income are causing more demand for packaging foods and beverages. On the other hand, companies operating in the F&B market are constantly investing in product portfolio diversification to meet the demands of wider consumer groups. In addition to this, the rising number of online platforms providing doorstep delivery for food products has created an extended market base for food companies.
In September 2023, Uber Technologies, a global technology provider, announced a partnership with The Save Mart. The companies will launch on-demand and scheduled grocery delivery services in the US market. Uber Technologies will deliver for more than 190 stores of The Save Mart brand. Such creative strides in the food market are projected to further the demand and consumption of PET bottles resulting in a higher need for PET bottles.
PET Preforms Market: Restraints
High investment in PET preform processing may restrict market growth
The global PET preforms market growth is projected to be restricted due to the high investment required for producing and processing PET preforms. These products are highly resource-intensive and there are multiple volatile factors that need to be taken into consideration when producing PET preforms. The primary is the extensive reliance on the availability of PET raw materials. The secondary tedious aspect is the use of sophisticated machinery to produce PET preforms and convert them into PET bottles. For instance, an automatic PET preform molding machine may cost around USD 30,000 to USD 50,000 and go upward depending on production capacity and other features especially if the machine has to be customized.
PET Preforms Market: Opportunities
Increasing launch of new PET preform molding machines to create higher growth opportunities
The PET preforms industry size will be further fueled by the rising investments in technology and machine innovation in terms of PET preform molding. The changing end-user demands and rising production volume has led to the development of machines with higher performance rate. In October 2023, Sipa, a leading PET packaging technology producer, unveiled its latest offering aimed at moving toward the future bottle production plant. The machine is called the XTREME Sincro bringing together the stretch-blow molding unit and Sipa's preform compression molding system into a single machine. The company states that the machine is the world's first-of-its-kind and converts a 2-stage process into a single-stage method. In December 2021, SACMI, a company with a history of over 100 years, launched the IPS 300. It is the latest addition to the existing portfolio of Injection Preform System platforms and is equipped with features such as better performance, reliability, user-friendliness, and flexibility. The range offering of the new tool includes IPS 220 providing 72 cavities, and IPS 400 with around 128 cavities.
PET Preforms Market: Challenges
Growing concerns over excessive plastic waste globally to pose as a severe threat
One of the major pressing concerns worldwide is the increasing volume of plastic waste generated by all industries. Additionally, the rapidly rising rate of consumerism has resulted in the piling of massive and uncontrolled plastic waste without any proper disposal or recycling measures. Plastic waste in turn impacts the environmental conditions and is a leading cause of water, soil, and air pollution. As per official data, around 3 million tons of plastic waste was generated in 2022 and the number only considers the Extended Producer Responsibility (EPR) of registered producers, importers, and brand owners for plastic packaging. These factors are likely to impede global market growth trends.
PET Preforms Market: Segmentation
The global PET preforms market is segmented based on application, neck size, type, and region.
Based on application, the global market segments are cosmetics & chemicals, non-carbonated drinks, carbonated soft drinks, food, water, and others. In 2022, the highest growth was registered in the carbonated soft drinks segment, and during the forecast period, it is expected to grow at a CAGR of more than 4.88%. The rising consumption of carbonated drinks and the extensive market presence of global food & beverages companies such as PepsiCo and others are driving forces for segmental expansion.
Based on neck size, the PET preforms industry segments are 30 Mn, 29 Mm, 28 Mm, 25 Mm, and others.
Based on type, the PET preforms industry divisions are CTC preforms, Alaska, standard PCO, ROPP, and others. CTC stands for Continuous Thread Closure, PCO stands for Plastic Closure, and ROPP stands for Roll-On Pilfer-Proof. The demand for standard PCO was the highest in 2022 and is projected to deliver a CAGR of 4.92% during the forecast period since it is one of the most widely used types of PET preforms for packaging products such as industrial chemicals and carbonated soft drinks.
PET Preforms Market: Report Scope
Report Attributes
Report Details
Report Name
PET Preforms Market
Market Size in 2022
USD 28.01 Billion
Market Forecast in 2030
USD 39.54 Billion
Growth Rate
CAGR of 4.39%
Number of Pages
216
Key Companies Covered
RETAL Industries, Amcor, Sidel Group, Plastipak Holdings Inc., Manjushree Technopack Limited, ALPLA Group, Gepack, GTX HUB, Silgan Holdings Inc., Bericap, Resilux, Zijiang Enterprise Group, Eskapet, INOAC Packaging Group, Koksan Pet Packaging Industry Co., Constar International, Chemco Group, Nampak Plastics Europe, Graham Packaging Company, Indorama Ventures Public Company Limited, and others.
Segments Covered
By Application, By Neck Size, By Type, and By Region
Regions Covered
North America, Europe, Asia Pacific (APAC), Latin America, Middle East, and Africa (MEA)
Base Year
2022
Historical Year
2017 to 2021
Forecast Year
2023 - 2030
Customization Scope
Avail customized purchase options to meet your exact research needs. Request For Customization
PET Preforms Market: Regional Analysis
Asia-Pacific to register the highest growth rate during the forecast timeline
As per research-based projections, Asia-Pacific is projected to lead the global PET preforms market growth during the forecast period. The primary driver is the presence of an extensive number of PET preforms producing companies. Countries such as India, China, and South Korea are the leading nations in terms of the global chemical industry with China exporting the highest number of polymer-based products on a global scale. In July 2023, the Odisha region of India announced the launch of 11 industrial projects worth INR 3266 crore. One of the launches deals with Purv Packaging Private Limited investing in setting up a new manufacturing facility of PET preforms, plastic caps, and other ancillary products. Furthermore, the number of chemical and plastic producers in Asian countries is rising rapidly. The regional growth rate is propelled by the extensive range of consumer markets as China and India house around one-third of the world population. Increasing demand in the F & B sector and growing foreign investments are essential growth propellers.
PET Preforms Market: Competitive Analysis
The global PET preforms market is led by players like:
RETAL Industries
Amcor
Sidel Group
Plastipak Holdings Inc.
Manjushree Technopack Limited
ALPLA Group
Gepack
GTX HUB
Silgan Holdings Inc.
Bericap
Resilux
Zijiang Enterprise Group
Eskapet
INOAC Packaging Group
Koksan Pet Packaging Industry Co.
Constar International
Chemco Group
Nampak Plastics Europe
Graham Packaging Company
Indorama Ventures Public Company Limited
The global PET preforms market is segmented as follows:
By Application
Cosmetics & Chemical
Non-Carbonated Drinks
Carbonated Soft Drinks
Food
Water
Others
By Neck Size
30 Mm
29 Mm
28 Mm
25 Mm
Others
By Type
CTC Preforms
Alaska
Standard PCO
ROPP
Others
By Region
North America
Europe

France
The UK
Spain
Germany
Italy
Rest of Europe

Asia Pacific

China
Japan
India
South Korea
Southeast Asia
Rest of Asia Pacific

Latin America

Brazil
Mexico
Rest of Latin America

Middle East & Africa

GCC
South Africa
Rest of Middle East & Africa