PET Felt Panels Industry Prospective:
The global PET felt panels market size was worth around USD 94.61 million in 2022 and is predicted to grow to around USD 143.69 million by 2030 with a compound annual growth rate (CAGR) of roughly 5.39% between 2023 and 2030.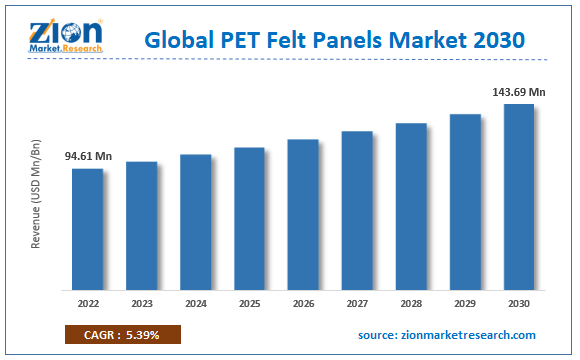 Request Free Sample
The study tries to explore crucial aspects of the global PET felt panels market. The means adopted include a detailed research discussion of existing growth factors and restraints. The report also includes topics of future growth opportunities and challenges that impact the PET felt panels industry.
PET Felt Panels Market: Overview
Felt is a part of the larger textile industry. It is produced by condensing, matting, and pressing a large number of fibers into a single unit. Felt is available in various materials including wool, animal fibers, and synthetic material. PET felt is made of synthetic materials and is also known as polyester felt due to the manufacturing process including recycled polyester. The product derives its name from Polyethylene Terephthalate (PET). It is used extensively to produce a wide range of packaging materials and plastic bottles. PET felt panels, on the other hand, are longer sheets or panels made using PET felt fibers. Although felt has been in existence for more than 1000 years, the PET version including panels has gained widespread popularity in the last decade. They are used as interior design materials since they exhibit excellent acoustic properties. The industry for PET felt panels has gained a higher number of consumers in recent times and during the forecast period, the market is expected to register steady growth.
Key Insights:
As per the analysis shared by our research analyst, the global PET felt panels market is estimated to grow annually at a CAGR of around 5.39% over the forecast period (2023-2030)
In terms of revenue, the global PET felt panels market size was valued at around USD 94.61 million in 2022 and is predicted to grow to around USD 143.69 million, by 2030.
The PET felt panel market is projected to grow at a significant rate due to the growing demand in the food service industry
Based on application segmentation, workspace application was predicted to show maximum market share in the year 2022
Based on type segmentation, 10 to14 mm was the leading type in 2022
On the basis of region, Asia-Pacific was the leading revenue generator in 2022
PET Felt Panels Market: Growth Drivers
Growing use of PET felt panels in the food service industry to drive market growth
The global PET felt panels market is projected to grow owing to the increasing use of PET felt panels in the food service industry. The sector is gaining rapid growth momentum after being one of the most significantly impacted sectors during COVID-19. PET felt panels offer multiple advantages to hotels, restaurants, and cafes that are seeking measures to not only improve customer experience but also contribute to the ecosystem by using recycled materials. PET felt panels are extremely versatile as they offer higher customization opportunities. PET felt is highly durable. It can be recycled numerous times without impacting the quality. Due to the excellent attributes of this material, companies have invested heavily in providing consumers, especially the ones operating in the food service industry, with options such as wall coverings, systems, partitions, tiles, and panels made of PET felt. They also help in improving the acoustic design of the unit they are used in, making them ideal decorative items for commercial spaces. The global food service industry growth is driven by factors such as increasing disposable income, the unveiling of new restaurants and eateries across price ranges, the rising international market presence of cafes & restaurant chains, and the changing lifestyle of the general population.
For instance, in June 2023, Firehouse Subs, a sandwich-offering food retail chain mainly operating in the North American market, opened its first outlet outside North America. The new location is in Zurich, Europe. Additionally, Middle Eastern countries including the United Arab Emirates (UAE), Saudi Arabia, and others are witnessing a host of new high-end hotels. The much-anticipated inaugurations included Fairmont Ramla Serviced Residences Riyadh, Raffles Jeddah, and many more.
PET Felt Panels Market: Restraints
Higher dependency on recycled materials to restrict market expansion
The global PET felt panel market is not shielded completely from issues that could potentially restrict its growth trajectory. For instance, one of the key attributes of PET felt panels that include the use of recycled material could work against its expansion rate. This is mainly due to the high dependency of the products on recycled polyester fibers. While the product is available in abundance, there are serious concerns surrounding the consistent supply of these raw materials. In addition to this, several other industries including outdoor or sport apparel brands are competing for the use of recycled polyester as a way to reduce carbon footprint which could further cause producers of PET felt panels to witness surging demand but limited supply in the coming years.
PET Felt Panels Market: Opportunities
Growing innovation in the field of PET felt panels to provide growth opportunities
The PET felt panel industry could register higher growth opportunities owing to the increasing research and innovation directed toward the development of highly efficient PET felt panels with more versatility and applications. The trend is especially seen in the development of acoustic panels. For instance, in February 2022, Output, a US-based producer of music creation systems including Portal, Exhale, and Arcade, announced the launch of Eco Acoustic Panels which is a comprehensive acoustic treatment system. Output built the new tool in association with De-Fi, a renowned sound science expert. The PET felt panels used in the system are excellent for removing low-frequency build-up and unwanted reflections. In April 2023, Spigogroup launched SPIGOLINE PET made of wood slat cladding with PET felt insulation. The product is made of 80% recycled polyester fibers while being 100% recyclable.
PET Felt Panels Market: Challenges
Availability and consumption of alternate materials to challenger market expansion
One of the key challenges faced by the PET felt panel industry is the availability and growing consumption of alternate materials that offer similar performance. This includes wool-based felt since it is a natural alternative. Other examples include products such as cork panels and wood-based fiber panels. Other forms of felt panels offer a mix of advantages and disadvantages over PET-based panels. Wood-based panels are known to be more sustainable, durable, and resistant to moisture. Since end-users have a range of options to choose from, the industry share for PET-felt panels remains restricted.
PET Felt Panels Market: Segmentation
The global PET felt panels market is segmented based on application, type, and region.
Based on application, the global market segments are entertainment application, home application, industrial application, workspace application, and others. In 2022, the highest growth was observed in the entertainment application segment followed by workspace application. The growth trend was led by the increasing use of PET felt panels in developing and launching superior acoustic systems made of PET felt panels due to their excellent acoustic attributes and the ability to eliminate unwanted sounds. Workspace application included commercial spaces such as offices. The higher demand for coworking space during 2021 and 2022 was the main reason for higher segmental growth. In 2021, the global coworking space was worth up to USD 7 billion.
Based on type, the PET felt panel industry segments are above 25 mm, 15 to 25 mm, 10 to 14 mm, 7 to 9 mm, and less than 7 mm. In 2022, the 10 to 14 mm segment registered the highest growth as PET felt panels in this thickness range offer an excellent balance between performance and durability. Moreover, they are easier to handle and the installation complexities are relatively low. However, the demand for other types of PET felt panels was also considerable as the selection depends on the individual final application of the material. While an ideal PET felt panel is made of 100% recycled polyester fibers, companies are now using a mixture of recycled fibers and other materials for improved performance.
PET Felt Panels Market: Report Scope
Report Attributes
Report Details
Report Name
PET Felt Panels Market Report
Market Size in 2022
USD 94.61 Million
Market Forecast in 2030
USD 143.69 Million
Growth Rate
CAGR of 5.39%
Number of Pages
228
Key Companies Covered
Soften Oy, De Vorm, Ideal Felt, Suzhou Greenish New Material Technology, Woven Image, Silent PET, 3 Form LLC, Unika VAEV, Echo Jazz, Intermedius, Shenzhen Vinco Soundproofing Materials, Avenue Interior Systems, Feltkutur, Kingkus, and Nantong Ofisolution New Material.
Segments Covered
By Application, By Type, and By Region
Regions Covered
North America, Europe, Asia Pacific (APAC), Latin America, Middle East, and Africa (MEA)
Base Year
2022
Historical Year
2017 to 2021
Forecast Year
2023 - 2030
Customization Scope
Avail customized purchase options to meet your exact research needs. Request For Customization
PET Felt Panels Market: Regional Analysis
Asia-Pacific to register higher demand during the forecast period
The global PET felt panels market is expected to witness the highest growth in Asia-Pacific during the forecast period. The growth will be led by countries such as China, India, Japan, and South Korea as some of these nations have a dominating textile industry, especially India and Japan. By 2030, more than 44.5% of the global market share will be led by Asia-Pacific as per studies. Furthermore, the nations are registering a growing demand for eco-friendly solutions as they have a higher consumption of plastic bottles made of PET. For instance, in April 2022, Japan launched the Act on the Promotion of Resource Circulation for Plastics. With this, the country wishes to further promote plastic circulation in the country. As indicated by research, Japan recycles more than 82% of the total plastic consumed in the country. The growing shared space work culture will help drive the regional market.
North America is projected to grow at a steady rate during the projection period led by the US as the country has a growing demand for superior acoustic systems and solutions especially in commercial spaces including hotels, offices, and other facilities. Europe is home to some of the main producers and consumers of PET felt panels. The recent launch of Double Acoustic Baffles by ReFelt is an example of the research undertaken by European manufacturers.
PET Felt Panels Market: Competitive Analysis
The global PET felt panels market is led by players like:
Soften Oy
De Vorm
Ideal Felt
Suzhou Greenish New Material Technology
Woven Image
Silent PET
3 Form LLC
Unika VAEV
Echo Jazz
Intermedius
Shenzhen Vinco Soundproofing Materials
Avenue Interior Systems
Feltkutur
Kingkus
Nantong Ofisolution New Material.
The global PET felt panels market is segmented as follows:
By Application
Entertainment Application
Home Application
Industrial Application
Workplace Application
Others
By Type
Above 25 mm
15 to 25 mm
10 to14 mm
7 to 9 mm
Less than 7 mm
By Region
North America
Europe

France
The UK
Spain
Germany
Italy
Rest of Europe

Asia Pacific

China
Japan
India
South Korea
Southeast Asia
Rest of Asia Pacific

Latin America

Brazil
Mexico
Rest of Latin America

Middle East & Africa

GCC
South Africa
Rest of Middle East & Africa