Industry Prospective:
The global perioral dermatitis treatment market size was worth around USD 67 Million in 2022 and is predicted to grow to around USD 112 Million by 2030 with a compound annual growth rate (CAGR) of roughly 6.71% between 2023 and 2030.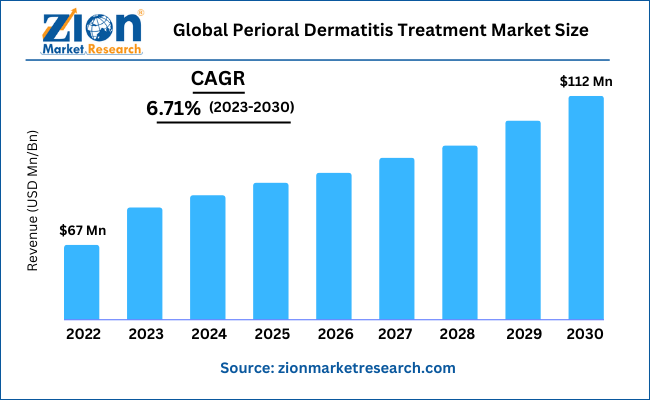 Request Free Sample
The report analyzes the global perioral dermatitis treatment market drivers, restraints/challenges, and the effect they have on the demands during the projection period. In addition, the report explores emerging opportunities in the perioral dermatitis treatment market.
Perioral Dermatitis Treatment Market: Overview
The perioral dermatitis treatment industry refers to the market for therapies and products that are used for the treatment of perioral dermatitis. It is a common skin medical condition that generally affects the area around the mouth also known as the perioral region. The condition is characterized by the appearance of inflamed, red papules, and small pustules. It may lead to dryness, itching, and a burning sensation. The market includes a range of treatment options which includes topical medications, oral antibiotics, and other therapeutic interventions.
The end goal of the treatment methodology is to ensure reduced inflammation and control of bacterial growth. Some medicines are recommended for alleviating the pain associated with the condition. The market also deals with complementary products such as cleansers, moisturizers, and sunscreens that are designed specifically for patients suffering from perioral dermatitis.
Key Insights:
As per the analysis shared by our research analyst, the global perioral dermatitis treatment market is estimated to grow annually at a CAGR of around 6.71% over the forecast period (2023-2030)
In terms of revenue, the global perioral dermatitis treatment market size was valued at around USD 0.067 billion in 2022 and is projected to reach USD 0.112 billion, by 2030.
The perioral dermatitis treatment market is projected to grow at a significant rate due to the increasing number of patients
Based on diagnosis segmentation, physical examination was predicted to show maximum market share in the year 2022
Based on end-user segmentation, specialty clinics was the leading user in 2022
On the basis of region, North America was the leading revenue generator in 2022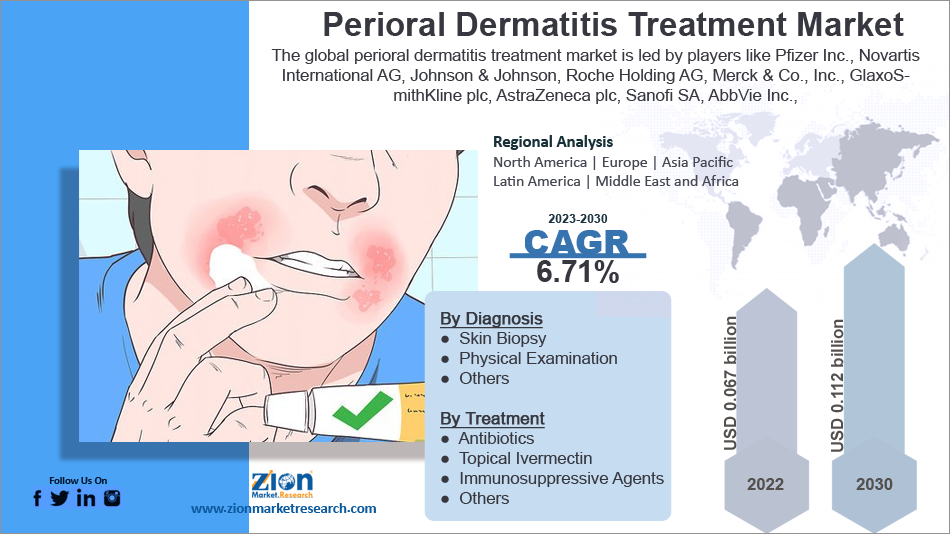 Request Free Sample
Perioral Dermatitis Treatment Market: Growth Drivers
Increasing number of patients to propel market growth
The global perioral dermatitis treatment market is projected to grow owing to the increasing number of patients suffering from the condition. It is a common skin condition. Studies have suggested that it normally affects women between the age group of 16 to 45 years, however, it can be diagnosed in genders including children.
The exact prevalence of the condition is dependent on several factors such as geographic location and population demographics. Although the exact reasons that trigger the disease remain a topic to be thoroughly researched, some of the known factors include disruption in the skin barrier which can be caused by excessive use of harsh cosmetic products, cleansers, and corticosteroids. Microbial factors are also considered to play a preliminary role in triggering the condition. With the growing population across the globe, the list of potential patients is also growing which could cause higher demand in the market.
Perioral Dermatitis Treatment Market: Restraints
Limited understanding of the condition to restrict market expansion
The global perioral dermatitis treatment market could witness certain growth restrictions owing to the limited understanding of the condition especially in remote or underdeveloped areas. People in such areas do not have access to information and common conditions such as perioral dermatitis may often go undiagnosed due to the less severity of the disease as compared to other medical concerns that are considered more serious. This trend is further worsened by the lack of an adequate number of dermatologists who diagnose the disease.
Perioral Dermatitis Treatment Market: Opportunities
Increasing investment toward targeted therapies to provide growth opportunities
The perioral dermatitis treatment industry may be subject to higher growth opportunities owing to the increasing investment toward the development of targeted therapies specifically designed for perioral dermatitis. Several research studies are being conducted to understand more about the underlying causes of the disease, mechanisms, and specific pathways involved in the development of perioral dermatitis. With the development of novel treatments, the market is expected to open more doors for higher growth.
Perioral Dermatitis Treatment Market: Challenges
Lack of standard treatment protocol to create challenges
Since there is limited information available on the underlying reasons for the condition, the effectiveness of the treatment methodology largely depends on the expertise and experience level of the medical professional handling the case. Furthermore, patients may exhibit different responses to the same treatment depending on other factors such as hormonal and lifestyle issues. The lack of standard treatment protocol greatly challenges the perioral dermatitis treatment industry's growth.
Perioral Dermatitis Treatment Market: Segmentation
The global perioral dermatitis treatment market is segmented based on diagnosis, treatment, end-user, and region.
Based on diagnosis, the global market segments are skin biopsy, physical examination, and others. The industry witnessed the highest growth in the physical examination segment since perioral dermatitis is most effectively diagnosed when the dermatologist and the patient can come face to face.
The detection of characteristic appearance and distribution of the rash around along with an absence of the vermillion border is most likely to be effectively concluded in physical examination. However, certain cases may need more assistance and in such situations, a skin biopsy can be used along with a physical examination. A skin biopsy can help differentiate perioral dermatitis from other skin conditions that have similar conditions. As per the American Academy of Dermatology, there are 24 skin disease categories in recent times.
Based on treatment, the global perioral dermatitis treatment industry segments are antibiotics, topical ivermectin, immunosuppressive agents, and others.
Based on end-user, the global market segments are homecare, specialty clinics, hospitals, and others. The industry registered the highest growth in specialty clinics as generally the first point of diagnosis and medical care is dermatologists who have gained a certain level of expertise in the topic and can differentiate effectively between other similar skin conditions and perioral dermatitis. Furthermore, they are equipped with the medical tools necessary to carry out other additional treatments when required. The Indian Association of Dermatologists, Venereologists, and Leprologists (IADVL) is home to more than 12,500 registered practitioners.
Recent Developments:
In August 2022, AbbVie, a US-based pharmaceutical company, showcased real-world data on multiple immune-mediated skin conditions. The information exchange occurred at the 31st event of the European Academy of Dermatology and Venereology (EADV) Congress. The presentation spoke at length on the efficacy of SKYRIZI® (risankizumab) which is used in psoriatic arthritis
In January 2022, Almirall, S.A. (ALM) and IRB Barcelona (the Institute for Research in Biomedicine) announced a partnership. The former is a global biopharmaceutical company focusing on skin health while the latter is an independent research center with biomedicine at its core. The partnership aims to make a significant contribution to developing oral treatments that can treat immune-inflammatory skin diseases with the aid of molecular glue degraders
Perioral Dermatitis Treatment Market: Report Scope
Report Attributes
Report Details
Report Name
Perioral Dermatitis Treatment Market Research Report
Market Size in 2022
USD 67 Million
Market Forecast in 2030
USD 112 Million
Growth Rate
CAGR of 6.71%
Number of Pages
220
Key Companies Covered
Pfizer Inc., Novartis International AG, Johnson & Johnson, Roche Holding AG, Merck & Co., Inc., GlaxoSmithKline plc, AstraZeneca plc, Sanofi SA, AbbVie Inc., Gilead Sciences, Inc., Bristol Myers Squibb Company, Eli Lilly and Company, Novo Nordisk A/S, Amgen Inc., Teva Pharmaceutical Industries Ltd., Bayer AG, Takeda Pharmaceutical Company Limited, Moderna, Inc., Vertex Pharmaceuticals Incorporated, Regeneron Pharmaceuticals, Inc., Biogen Inc., Celgene Corporation, Astellas Pharma Inc., and Alexion Pharmaceuticals, Inc.
Segments Covered
By Diagnosis, By Treatment, By End-User, and By Region
Regions Covered
North America, Europe, Asia Pacific (APAC), Latin America, Middle East, and Africa (MEA)
Base Year
2022
Historical Year
2017 to 2021
Forecast Year
2023 - 2030
Customization Scope
Avail customized purchase options to meet your exact research needs. Request For Customization
Perioral Dermatitis Treatment Market: Regional Analysis
North America to witness the highest growth
The global perioral dermatitis treatment market is projected to witness the highest growth in North America mainly due to the presence of pharmaceutical giants who are working excessively toward developing novel medications and therapies targeting a large group of medicinal problems including perioral dermatitis.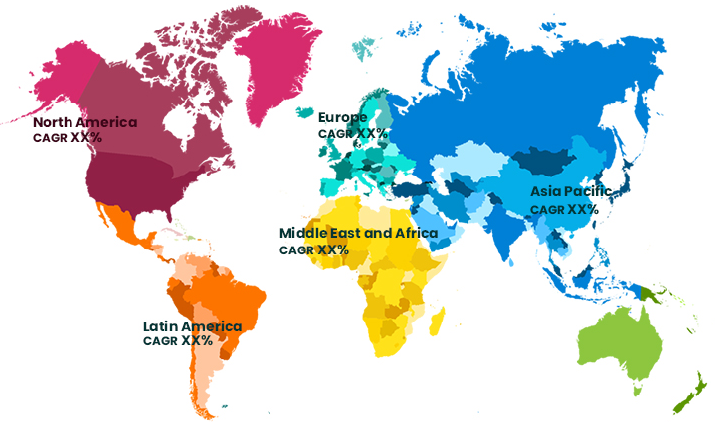 Request Free Sample
The Congressional Budget Office claimed that the regional pharmaceutical companies spent nearly USD 83 billion in research & development (R&D) in 2022. In addition to this, the governments have been helpful by promoting more research with the aid of funds and other resources. The high prevalence of the condition along with greater awareness rate and high disposable income allows more patients to undertake medication for treating perioral dermatitis. Moreover, favorable medical reimbursement policies have worked in favor of the regional market. During the forecast period, North America may continue its dominance.
Perioral Dermatitis Treatment Market: Competitive Analysis
The global perioral dermatitis treatment market is led by players like:
Pfizer Inc.
Novartis International AG
Johnson & Johnson
Roche Holding AG
Merck & Co. Inc.
GlaxoSmithKline plc
AstraZeneca plc
Sanofi SA
AbbVie Inc.
Gilead Sciences Inc.
Bristol Myers Squibb Company
Eli Lilly and Company
Novo Nordisk A/S
Amgen Inc.
Teva Pharmaceutical Industries Ltd.
Bayer AG
Takeda Pharmaceutical Company Limited
Moderna Inc.
Vertex Pharmaceuticals Incorporated
Regeneron Pharmaceuticals Inc.
Biogen Inc.
Celgene Corporation
Astellas Pharma Inc.
Alexion Pharmaceuticals Inc.
The global perioral dermatitis treatment market is segmented as follows:
By Diagnosis
Skin Biopsy
Physical Examination
Others
By Treatment
Antibiotics
Topical Ivermectin
Immunosuppressive Agents
Others
By End-User
Homecare
Specialty Clinics
Hospitals
Others
By Region
North America
Europe

France
The UK
Spain
Germany
Italy
Rest of Europe

Asia Pacific

China
Japan
India
South Korea
Southeast Asia
Rest of Asia Pacific

Latin America

Brazil
Mexico
Rest of Latin America

Middle East & Africa

GCC
South Africa
Rest of Middle East & Africa