Pain Management Therapeutics Market: Industry Prospective
The global pain management therapeutics market was valued over USD 70.96 billion in 2021 and is expected to increase to around USD 92.63 billion by 2028, with a CAGR of roughly 4.1 percent during the forecast period. The study examines the drivers, constraints, and challenges in the pain management therapeutics market, as well as their impact on demand throughout the forecast period. In addition, the report looks into potential opportunities in the market for pain management therapies.
Pain Management Therapeutics Market: Overview
Pain is a stressful emotional and sensory experience that occurs as a result of tissue injury or illness. Various conditions, such as multiple sclerosis, stomach ulcers, osteoarthritis, diabetic neuropathy, chronic arthritis, fibromyalgia, and cancer can also cause discomfort. The duration of the pain varies from short-term acute pain to long-term chronic pain. Acute pain might be modest and last a few seconds or weeks or months. Chronic pain can occur due to elderly joints and bone, nerve loss, or injury. Pain caused by tissue injury, nerve damage, or nociceptive pain is treated with a range of medicines. The majority of medications work by binding to protein targets on cell membranes and influencing the body's metabolic processes.
COVID-19 Impact:
During the initial years of the forecast period, the impact of COVID-19 is expected to have an influence on the pain management therapeutics market. The COVID-19 pandemic had put a strain on healthcare systems throughout the world, and as a result of government-imposed safety precautions, many clinics and pain services remained unavailable to the public. To reduce the threat of the virus spreading, most chronic pain clinics were declared non-urgent, and both outpatient and elective interventional operations were curtailed or canceled during the COVID-19 pandemic. However, demand for pain management medications is likely to increase in the second half of the forecast period, attributed to factors such as telemedicine and digital health which have emerged as suitable and effective means to provide critical medical services to patients with chronic pain.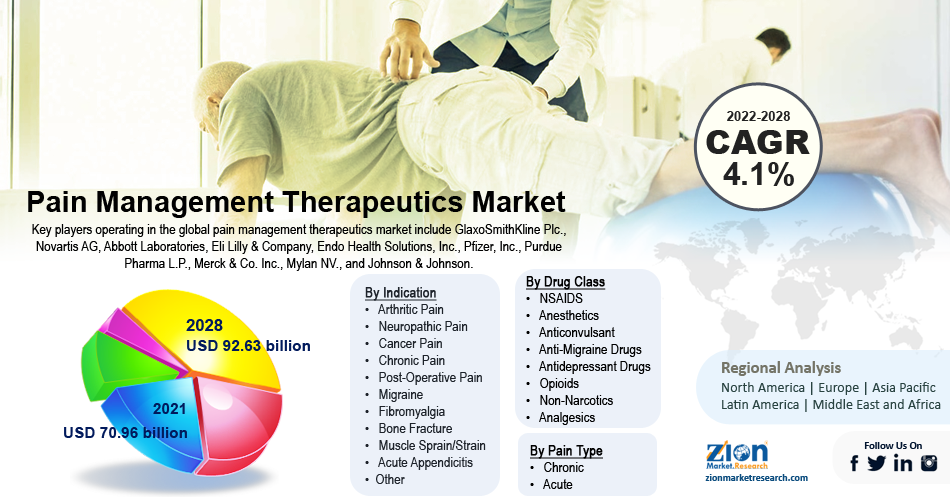 Request Free Sample
Pain Management Therapeutics Market: Growth Drivers
Demand for pain management therapeutics is expected to rise as osteoarthritis, chronic diseases, and sports or accident injuries become more common.
According to research by the World Health Organization, rheumatoid arthritis affects 0.2 to 1% of the world's 7.9 billion people. Rheumatoid arthritis is an inflammatory disease that causes a variety of symptoms ranging from joint pain to immunological problems. This proportion is expected to rise dramatically in the near future. Furthermore, as a result of the prevalent sports culture, sports injuries are on the rise. According to WHO research, nearly 1 million people are killed or injured in road accidents each year, with the bulk of these deaths occurring in poor and developing nations. As a result, the number is expected to exceed 2 to 2.5 million as people's spending power rises and they become more affluent. Moreover, the rapid increase in the geriatric population also contributes to the expansion of the global pain management therapeutics market.
Pain Management Therapeutics Market: Restraints
The availability of alternate pain management systems may hamper the market growth.
The rise in issues about drug exploitation, as well as the expiration of patents on prescription pain medicine pharmaceuticals, are likely to impede the expansion of the pain management therapeutics market. In addition to that, the availability of replacements such as pain relief devices is expected to pose a barrier to the global pain management therapeutics market.
Pain Management Therapeutics Market: Opportunities
The launch of affordable and more effective drugs is expected to offer better growth opportunities to market growth.
The biggest cause of impairment in the world is pain, which is the most prevalent reason individuals seek medical attention. Chronic pain for instance is defined as pain that lasts longer than three months and affects more than one-third of the world's population. However, the advent in the pharmaceutical sector and increased research activities have boosted the market reach in emerging countries. New affordable drug therapeutics launched by Hisamitsu, GSK, Novartis, and AstraZeneca are further expected to drive market growth during the forecast period.
Report Scope:
Pain Management Therapeutics Market: Challenges.
Market growth is expected to be slowed by a slew of opioid-related side effects.
Opioids are used to treat a variety of conditions including joint pain, back pain, stiffness, headaches, pain linked with cancer, and so on, but they also have a number of dangerous side effects such as nausea, minor concussions, breathing problems, and so on. Apart from that, one of the major drawbacks of these medicines is addiction. When people quit using potentially fatal substances, they get restless.
Pain Management Therapeutics Market: Segmentation
The global pain management therapeutics market is bifurcated based on drug class, indication, pain type, and region. Based on drug class, the market is split into anticonvulsants, NSAIDS, anesthetics, anti-migraine drugs, non-narcotics, antidepressant drugs, opioids, and analgesics. By indication, the market is categorized into chronic pain, neuropathic pain, arthritic pain, bone fracture, cancer pain, migraine, fibromyalgia, post-operative pain, acute appendicitis, muscle sprain/strain, and other indications. The pain type segment of the market is divided into acute and chronic.
Recent Developments
March 2021, the market has been introduced to "Salonpas," a pain-relieving gel for individuals suffering from arthritis (knee, ankles, hands, etc.). Hisamitsu America is the company that created the topical gel. The results of Hisamitsu America's newest clinical research were recently announced, supporting the argument for topical pain medications as first-line therapy for pain. Furthermore, it is a non-greasy gel that aids in the reduction of inflammation and gives relief from discomfort.
June 2020, GSK Consumer Healthcare has teamed up with Paula Abdul to promote the medicine "Voltaren Arthritis Pain Gel," which has been approved by the FDA for use as an over-the-counter drug.
Pain Management Therapeutics Market: Regional Landscape
North America to dominate the global market during the forecast period.
In 2021, North America had the biggest market share, accounting for 36 percent of the global pain management therapeutics market. The growth of this region is due to factors such as a healthy conversant population; excellent healthcare infrastructures such as top-tier hospitals, well-equipped laboratories with world-class centers in the United States and Canada; and a vast network of retail pharmacies in every state. Furthermore, the aging population is on the cusp of becoming quite powerful. Adults aged 65 and above, for example, might account for up to 24 percent of the population by 2060, up from around 16 percent now. However, Asia Pacific is anticipated to witness the fastest market growth throughout the projected period. This increase is due to the rise in the older population in various Asian countries, particularly Japan, India, and China, as well as an increase in chronic illnesses and joint disorders along with increased healthcare spending, and the refinement of the healthcare system.
Pain Management Therapeutics Market: Competitive Landscape
Key players operating in the global pain management therapeutics market include GlaxoSmithKline Plc., Novartis AG, Abbott Laboratories, Eli Lilly & Company, Endo Health Solutions, Inc., Pfizer, Inc., Purdue Pharma L.P., Merck & Co. Inc., Mylan NV., and Johnson & Johnson.
The global pain management therapeutics market is segmented as follows:
By Drug Class
NSAIDS
Anesthetics
Anticonvulsant
Anti-Migraine Drugs
Antidepressant Drugs
Opioids
Non-Narcotics
Analgesics
By Indication
Arthritic Pain
Neuropathic Pain
Cancer Pain
Chronic Pain
Post-Operative Pain
Migraine
Fibromyalgia
Bone Fracture
Muscle Sprain/Strain
Acute Appendicitis
Other
By Pain Type
By Region
North America
Europe

France
The UK
Spain
Germany
Italy
Rest of Europe

Asia Pacific

China
Japan
India
South Korea
Southeast Asia
Rest of Asia Pacific

Latin America

Brazil
Mexico
Rest of Latin America

Middle East & Africa

GCC
South Africa
Rest of Middle East & Africa