The global outsourced semiconductor assembly and testing market was worth around USD 34.85 billion in 2021 and is estimated to grow to about USD 50.9 billion by 2028, with a compound annual growth rate (CAGR) of approximately 4.8 percent between 2022 and 2028. The report analyzes the outsourced semiconductor assembly and testing market's drivers, restraints/challenges, and the effect they have on the demands during the projection period. In addition, the report explores emerging opportunities in the Outsourced Semiconductor Assembly and Testing market.
Outsourced Semiconductor Assembly and Testing Market: Overview
Companies that provide third-party IC packaging and testing services are known as Outsourced Semiconductor Assembly and Test (OSAT). OSAT service businesses package silicon devices made by foundries and check them before they can be launched on the market. It primarily focuses on offering new test and packaging solutions for semiconductor companies in well-established industries including consumer and computer, along with wearables, automotive, and the Internet of Things (IoT).
COVID-19 Impact:
The COVID-19 epidemic has had a significant impact on the outsourced semiconductor assembly and test sector. Some of the reasons that restrained the market growth during the COVID-19 pandemic include a disrupted supply chain, a restricted workforce, limited availability of raw materials, and a shift in consumer buying behaviors. The fact that Asia Pacific specifically China and Taiwan has been a worldwide production hub for the past two to three decades, these major semiconductor manufacturing industries in the region were severely impacted during the period of COVID-19 pandemic, which, in turn, has had a significant impact on key semiconductor manufacturing businesses, impacting the global market growth.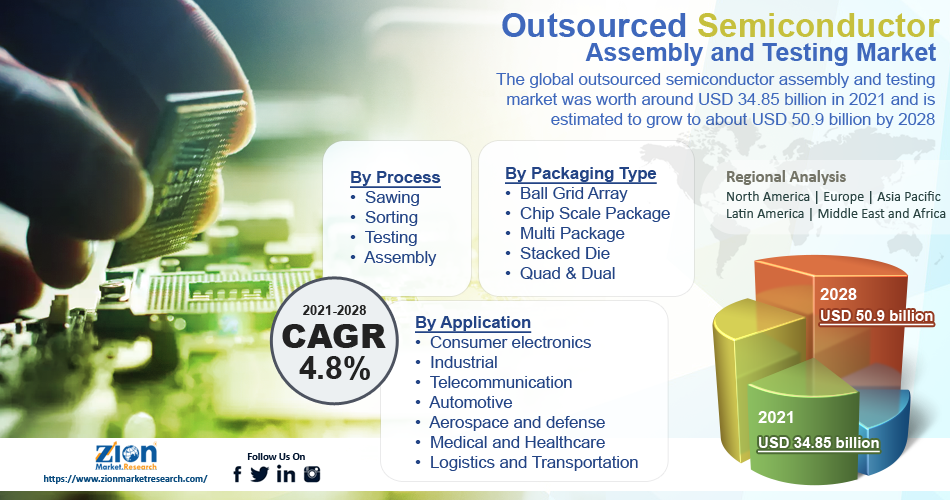 Request Free Sample
Outsourced Semiconductor Assembly and Testing Market: Growth Drivers
Rising consumer electronics demand and increased urbanization globally to boost market growth.
Growing transformation in industrialized nations, as well as a boom in smartphone penetration, encourages people to use electronics more, fueling global outsourced semiconductor assembly and testing market demand. Further, the OSAT growth is boosted by technology advancements along with rising buying power in emerging countries. Moreover, because OSAT businesses dominate IC assembly and testing, industry participants have a lot of opportunities to enhance their market strength.
Outsourced Semiconductor Assembly and Testing Market: Report Scope
Report Attributes
Report Details
Report Name
Outsourced Semiconductor Assembly and Testing Market Research Report
Market Size in 2021
USD 34.85 billion million
Market Forecast in 2028
USD 50.9 billion
Growth Rate
CAGR of 4.8%
Number of Pages
187
Key Companies Covered
JCET, ASE Group, Amkor, Hana Micron, Siliconware Precision Industries Co., Ltd., KYEC, Signetics, Unisem Group, Powertech Technology Inc., and Walton Advanced Engineering.
Segments Covered
By Process, By Packaging Type, By Application, And By Region
Regions Covered
North America, Europe, Asia Pacific (APAC), Latin America, Middle East, and Africa (MEA)
Base Year
2021
Historical Year
2018 to 2021
Forecast Year
2022 - 2028
Customization Scope
Avail customized purchase options to meet your exact research needs. Request For Customization
Outsourced Semiconductor Assembly and Testing Market: Restraints
Questions on the quality of procedures by third-party services providers may hinder the growth of market.
Outsourcing is a reality for today's industrial engineers. Third-party firms construct the majority of printed circuit boards and other electronic devices. However, in the desire to increase profitability and please shareholders, numerous hidden expenses and hazards are sometimes missed. Additionally, the semiconductor products required high levels of assembly or test specifications which many third-party service providers fail to provide. Moreover, most of the outsourcing occurred in China and other Asian countries where many service providers dose not adhere to intellectual property rules due to which OEMs can risk losing important processes.
Outsourced Semiconductor Assembly and Testing Market: Opportunities
Rapid surge in automotive industry is likely to offer excellent growth opportunities for market expansion.
One of the quickest growing sources of revenue for the global outsourced semiconductor assembly and testing market is automotive applications. With the introduction of electrified automobiles, driverless vehicles, and ADAS systems, the complexity of automotive chips is speedily increasing along with the complexity of automotive chip packing. In-cabin applications like infotainment systems and advanced driver-assistance systems (ADAS) have strict mission-critical test requirements that necessitate OSAT suppliers to step in. The entire accessible market for OEMs in automotive is predicted to expand at a CAGR of 12.9 percent, reaching nearly USD 180 billion by 2023, according to Edward Fontanilla, deputy director for technological strategy at Jiangsu Changjiang Electronics Technology Co. Ltd. Most OSAT providers are adapting to the automotive industry's needs by obtaining appropriate certifications and providing zero defect products as a result of the growing need from the automotive business. Advanced driver-assistance systems (ADAS) are expected to account for the majority of chips supplied for automotive applications, followed by infotainment systems.
Outsourced Semiconductor Assembly and Testing Market: Challenges.
Volatile market scenario and high dependency on raw material supplying nations are the major challenges for the market.
The production chain for every individual semiconductor is extremely complicated, including up to 300 distinct inputs like bulk gases, specialized chemicals, commodity chemicals, and raw wafers all of which are processed and examined by up to 50 different types of processing and testing machines. These tools and equipment are often highly engineered and obtained from all over the world. Furthermore, most semiconductor production equipment, such as metrology and lithography machines, rely on highly optimized supply chains that include hundreds of different businesses supplying modules, power supplies, optics, lasers, control chips, mechatronics, and more. Owing to all such factors there is a high dependency on nations supplying raw materials which in turn serves as a challenge for the market growth.
Outsourced Semiconductor Assembly and Testing Market: Segmentation
The global outsourced semiconductor assembly and testing market is segregated by process, packaging type, application, and region. Based on the process, the market is categorized into testing, sawing, sorting, and assembly. The packaging type segment comprised of chip-scale package, ball grid array, stacked die, multi-package, and quad & dual. The application segment of the market is bifurcated based on telecommunication, consumer electronics, aerospace & defense, industrial, automotive, medical & healthcare, and logistics & transportation.
Recent Developments
In November 2021, Tata Group revealed that in India, it aims to build a $300 million semiconductor manufacturing and testing facility. Tata's initial foray into the burgeoning chip business would be through the outsourced semiconductor assembly and test (OSAT) factory.
In February 2021, Siemens Digital Industries Software has announced the release of two new enablement solutions developed in collaboration with Advanced Semiconductor Engineering, Inc. (ASE) to assist mutual customers in creating and evaluating multiple complex integrated circuit (IC) package assemblies and interconnect scenarios in an incredibly simple, data-robust graphical environment before and during physical execution of the design.
Regional Landscape
Asia Pacific led the global outsourced semiconductor assembly and testing market with nearly 55% of the share. Among all the countries in the region, China dominates the regional market. Besides, the market share of China is very high compared to other nations in the world. This is attributed to strong economic growth, purchasing power, the presence of major electronic manufacturing companies, as well as increasing penetration of smartphones. One of the most important markets for the OSAT sector is the United States. The country's OSAT industry is growing due to high investments, technical advancements, and the development of new applications. The expansion of the market for OSATs in the nation is due to a rise in wired and wireless networking equipment. As per Cisco, the nation will have the most average per capita gadgets and connections by 2023. Smartphones, PCs, tablets, and other gadgets are among the devices. Furthermore, shipments of smart home gadgets climbed from 30 million in 2019 to 35 million in 2020, as per the Consumer Technology Association (CTA). Furthermore, the development of the market for OSATs in the nation is aided by the advent of 5G and HPC. According to CloudScene, the United States will have the most data centers by 2022, followed by the UK, Germany, and other nations. Many data centers and cloud infrastructure expenditures around the country are creating a need for OSATs services to provide superior packaged chips.
Competitive Landscape
Key players functioning in the global outsourced semiconductor assembly and testing market include:
JCET
ASE Group
Amkor
Hana Micron
Siliconware Precision Industries Co., Ltd.
KYEC
Signetics
Unisem Group
Powertech Technology Inc.
Walton Advanced Engineering
Global Outsourced Semiconductor Assembly and Testing market is segmented as follows:
By Process
Sawing
Sorting
Testing
Assembly
By Packaging Type
Ball Grid Array
Chip Scale Package
Multi Package
Stacked Die
Quad & Dual
By Application
Consumer electronics
Industrial
Telecommunication
Automotive
Aerospace and defense
Medical and Healthcare
Logistics and Transportation
By Region
North America
Europe

France
The UK
Spain
Germany
Italy
Rest of Europe

Asia Pacific

China
Japan
India
South Korea
Southeast Asia
Rest of Asia Pacific

Latin America

Brazil
Mexico
Rest of Latin America

Middle East & Africa

GCC
South Africa
Rest of Middle East & Africa