The Online Election Voting Software market is set for a rapid growth over the forecast period. In terms of revenue, the global Online Election Voting Software market accounted for USD 263.15 Million in 2019 and is expected to reach USD 387.08 Million by 2026, growing at a CAGR of 5.6%.
Global Online Election Voting Software Market: Overview
Online voting is a way of casting a vote or opinion online, via electronic means. It is a preferred voting channel for many organizations running board, council or committee elections, referendums, polls or AGMs, due to its ease and flexibility. With voter encryption and one, two or three-factor authentication, our online voting system offers the most secure system on the market. Online election voting management software ensures an efficient election, privacy protection, encourage participation, and ultimately reduce the election cost. The platform offers multiple ways to vote, and that includes by mail, physical voting, or by telephonic vote. It verifies every vote to prevent any fraud activities. It offers an indisputable result declaration process and suggests a future improvement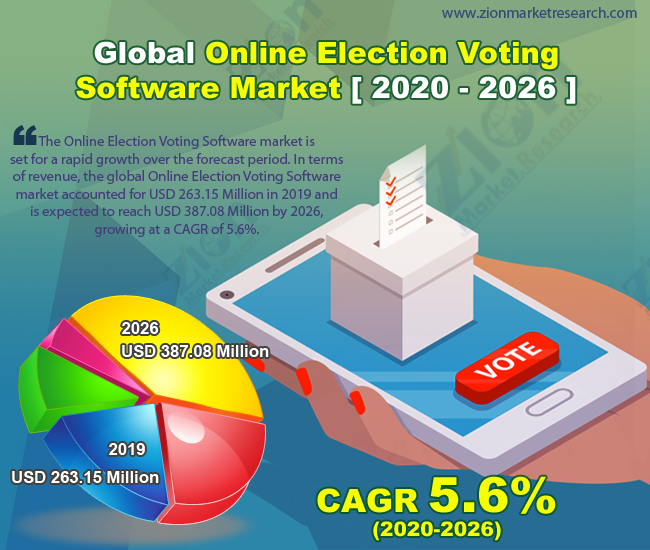 Request Free Sample
Global Online Election Voting Software Market: Growth Factors
The online voting system does not require the physical infrastructure which is a common element for the traditional voting such as paper, printing, staff or physical urns and thus it also reduces the monetary investment. It saves money as there is no supply costs for paper ballots, postage, and printings. As it is automated, no resources are needed for manual hand counts and thereby it saves time. Additionally, the result is accurate as it eliminates the chances of duplicity. The online voting platform provides real-time results as there is no waiting for ballots in the mail. It is secure and environment friendly. Another important reason for increase in the use of online election voting software is, increase in the turn out of the electorates by employing this technology. There are several reasons why people might abstain from voting, but one can use online voting platform to stay one step ahead and reach voters wherever they are worldwide. Voters have not lived and worked as flexibly and as mobile as they do today. University students embarking on exchange semesters, and regular trips or longer stays abroad due to work are the norm nowadays. Making use of the digital opportunities, mobility has increased. With the help of platform, voters get notified about the election via email before the election starts and inform voters abroad about the option to vote online.
Global Online Election Voting Software Market: Segmentation
The global Online Election Voting Software market can be segmented into offering, deployment voting type, voting location, application and platform. By deployment, cloud is likely to increase more as compared to on premises due to the advantages in storage, security and upgradations possible with cloud environment. By voting type, it is estimated that weighted voting will be faster in growth among others as most of the weighted voting is in annual meetings of the company. By voting location, remote online voting has very good prospects of growth due to increasing demand from all the stakeholders operating in numerous election procedures. By application it is observed from several data points that one to one voting revenue will increase as compared to others with better CAGR. By platform, it very much natural that as the users of smartphones is more, growth potential of the online election voting software on smartphone platform is likely to be maximum. By end user government and corporates are likely to be the biggest end user of the online election voting software. Government and Political parties is having highest potential to generate user base. The secure software prevents internal and external influences to streamline the election process. It makes election process easier and engaging. It can be used to take opinion on public policy, feedback of elected candidates etc. which has potential to strengthen the democracy.
Global Online Election Voting Software Market: Regional Analysis
Based on regions, the global Online Election Voting Software market can be divided into five main regions: North America, Europe, Asia Pacific, Latin America, and the Middle East and Africa. North America region has the highest use cases of online voting software and its uses are increasing as more and more organization are moving towards online voting, COVID 19 pandemic has accelerated the migration. The high adoption rate in political as well as corporate and educational organizations is driving the market in North America region. European region has been forefront of adopting online voting in the mainstream. Estonia implemented the EU's first country-wide internet voting (i-voting) system in 2005. Estonia's i-voting system is attracting hundreds of foreign delegations coming to Tallinn to see it in practice. The Estonian government is showcasing the system as a model for other governments on how online voting can be done.
Global Online Election Voting Software Market: Competitive Players
Some of the players operating in the online voting software market are BALLOTEER, eBallot, Election Runner, ElectionBuddy, Inc., ezVote, Insightrix Research Services, JustIssues Pty Ltd., Meridia Interactive Solution, NVOTES, OpaVote, PollGateway, POLYAS International GmbH, Right2Vote, SCYTL, Scytl Secure Electronic Voting, S.A, Smartmatic, Voting Solutions Pty Ltd. and YesElections amongst others.
Global Online Election Voting Software Market: Regional Segment Analysis
North America
Europe

France
The UK
Spain
Germany
Italy
Rest of Europe

Asia Pacific

China
Japan
India
South Korea
Southeast Asia
Rest of Asia Pacific

Latin America

Brazil
Mexico
Rest of Latin America

Middle East & Africa

GCC
South Africa
Rest of Middle East & Africa