Global Oncolytic Virus Immunotherapy Market Size
The global Oncolytic Virus Immunotherapy market accrued earnings worth approximately 301 (USD Million) in 2020 and is predicted to gain revenue of about 678(USD Million) by 2028, is set to record a CAGR of nearly 12.1% over the period from 2021 to 2028. The report offers an assessment and analysis of the Oncolytic Virus Immunotherapy market on a global and regional level. The study offers a comprehensive assessment of the market competition, constraints, revenue estimates, opportunities, evolving trends, and industry-validated data. The report provides historical data from 2018 to 2020 along with a forecast from 2021 to 2028 based on revenue (USD Million).
Oncolytic Virus Immunotherapy Market: Synopsis
An oncolytic virus is a new therapy for treating cancer, and it can infect & destroy cancer tissues, thereby acting as in situ cancer vaccine by releasing tumor-specific antigens. Precisely, oncolytic viruses are class of therapeutic agents prompting anti-tumor responses through selectively killing of cell tumors along with inducing of systemic anti-tumor immunization. Reportedly, oncolytic viruses can help in stimulating the immune responses of host cells against cancer. Furthermore, oncolytic virus immunotherapy is a novel approach in cancer treatment, making use of genetically modified viruses selectively replicating in tumors. Though ability of virus in killing cancer cells has been known long back, clinical trials documenting its therapeutic benefits on cancer patients has been recorded during past decade.
With comprehensive knowledge about viral biology, molecular genetics, and tumor immunology, there has been immense interest in ongoing research activities pertaining to the application of oncolytic viruses in treating cancer. For the record, in October 2015, virus referred as T-VEC or talimogene laherparepvec was the first oncolytic virus immunotherapy approved by U.S. FDA for cancer treatment. Furthermore, the success of T-VEC has prompted new drug discovery for treating cancer. Additionally, H101- a genetically modified oncolytic adenovirus used in combination with chemotherapy was approved by Chinese government for treating nasopharyngeal carcinoma in November 2005.
Additionally, oncolytic viruses make use of two mechanisms for treating tumors, namely, selective replicating of viruses within neoplastic cells leading to a direct lytic effect on cell tumors and inducting of systemic anti-tumor immunity in human system. Developing of oncolytic viruses as drugs for treating various kinds of cancer is predicted to help the market explore new areas of growth in the healthcare sector in the next few years.
Oncolytic Virus Immunotherapy Market: Growth Drivers
Immunotherapy is a leading treatment in oncology with myriad therapies targeting tumor biology and oncolytic virus immunotherapy being one of the most promising ones. Additionally, the latter provides a multimodal approach for effectively targeting & killing malignant tumors. This has resulted in the massive use of oncolytic virus immunotherapy in cancer treatment, thereby driving market trends. Apparently, oncolytic virus immunotherapy is tailored for particular cell targets at specific locations and this is projected to have a long-lasting impact on drug molecule development for cancer treatment. It has been found that oncolytic virus immunotherapy has the ability for inducing potent anti-tumoural effects that help in eliminating cancerous tissues and this has created a massive hype and demand for oncolytic virus immunotherapy in the healthcare sector.
Moreover, tumor-specific oncolytic viruses have proved to be new anticancer agents and its efficacy is being tested intensely in phase I and phase III clinical trials. All these moves and the aforementioned factors are projected to be key growth drivers for oncolytic virus immunotherapy market in near future.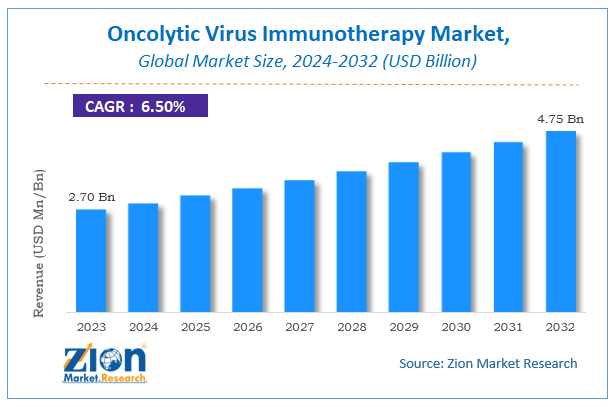 Request Free Sample
Additionally, insights into mechanisms of virus replication, entry, induction, and immune response suppression has resulted into the utilization of virus for treating human ailments along with choosing of oncolytic viral vectors for the treatment of particular kinds of cancers. This will translate into charting of new growth path for the oncolytic virus immunotherapy market in coming decade. Furthermore, oncolytic viruses provide danger signals promoting proficient anti-tumor immune responses in humans. Ability to counteract cancer-mediated immune evasion will steer growth of oncolytic virus immunotherapy industry during forecast timeframe.
Regional Landscape
North America To Make Notable Contributions Towards Overall Market Size By 2028
The expansion of the oncolytic virus immunotherapy market in North America is owing to rise in cases of cancer in North America. Additionally, the large-scale presence of giant manufacturers & vendors in the U.S. and Canada will contribute lucratively towards regional market proceeds. Huge government funding of research activities related to novel therapies for cancer treatment & new drug development will proliferate size of the oncolytic virus immunotherapy market in North America. Apparently, oncolytic virus immunotherapy industry is likely to experience huge growth prospects in sub-continent due to large proportion of sponsorships from cancer drug molecule manufacturers of the region.
Competitive Landscape
Key players profiled in study include Amgen, Inc., Genelux Corporation, Cold Genesys, Inc., Lokon Pharma AB, Takara Bio, Viralytics Ltd., Shanghai Sunway Biotech, Oncolytics Biotech, Inc., DNAtrix Therapeutics, Transgene sa, Turnstone Biologics, VCN Biosciences, and Vyriad.
Oncolytic Virus Immunotherapy Market: Report Scope
Report Attributes
Report Details
Report Name
Oncolytic Virus Immunotherapy Market Report
Market Size in 2020
USD 301 Million
Market Forecast in 2028
USD 678 Million
Growth Rate
CAGR of 12.1%
Number of Pages
150
Key Companies Covered
Amgen, Inc., Genelux Corporation, Cold Genesys, Inc., Lokon Pharma AB, Takara Bio, Viralytics Ltd., Shanghai Sunway Biotech, Oncolytics Biotech, Inc., DNAtrix Therapeutics, Transgene sa, Turnstone Biologics, VCN Biosciences, and Vyriad.
Segments Covered
By Application, By By Product Type, and By Region
Regions Covered
North America, Europe, Asia Pacific (APAC), Latin America, Middle East, and Africa (MEA)
Base Year
2020
Historical Year
2017 to 2020
Forecast Year
2021 - 2028
Customization Scope
Avail customized purchase options to meet your exact research needs. Request For Customization
The global Oncolytic Virus Immunotherapy Market is segmented as follows:
By Application
Melanoma
Ovarian Cancer
Prostrate Cancer
Lung Cancer
Breast Cancer
Myeloma
By Product Type
HSV-based Oncolytic Viruses
Vaccinia Virus-based Oncolytic Viruses
Adenovirus-based Oncolytic Viruses
Newcastle Disease Virus-based Oncolytic Viruses
Vesicular Stomatitis Virus-based Oncolytic Viruses
By Region
North America
Europe

France
The UK
Spain
Germany
Italy
Rest of Europe

Asia Pacific

China
Japan
India
South Korea
Southeast Asia
Rest of Asia Pacific

Latin America

Brazil
Mexico
Rest of Latin America

Middle East & Africa

GCC
South Africa
Rest of Middle East & Africa