Description
The Offshore Patrol Vessels (OPVs) market is set for a rapid growth over the forecast period. In terms of revenue, the global OPVs market accounted for USD 25.64 Billion in 2019 and is expected to reach USD 45.83 Billion by 2026, growing at a CAGR of 8.65%
Global OPVs Market: Overview
The offshore patrol vessel is a highly flexible vessel built to perform roles in the management of the Economic Exclusion Zone (EEZ), which also covers maritime protection to coastal areas and successful disaster relief. They are the fastest rising segment of the naval vessels market. According to statistics, the total number of OPVs on order has expanded by 4% in the last year, whereas the expected number has also increased by 4%.
OPVs can be categorized into two groups, high-end war-fighting vessels and basic patrol vessels. High-end war-fighting vessels are equipped with sophisticated combat systems and C4I (Command, Control, Communications, Computers, & Intelligence) systems, which significantly increase operational flexibility and reduce deployment time. Basic patrol vessels are engineered for continuous low-intensity missions, fitted with basic weapons, and standard navigation sensors, following commercial standards.
The type of OPV, a country chooses depends on its specific naval needs, resulting from its intended role of its naval force, political aspirations, and its geographic location. Most OPV services, however, are of reasonable prices, multi-role type. These are being used in a growing range of functions, including the protection of fisheries, firefighting, pollution control, Search and Rescue (SAR), humanitarian operations, counter-narcotics, and surveillance in the Exclusive Economic Zone (EEZ).
OPVs can help meet the naval demands for ocean surveillance analytics and surface warfare activities in order to avoid invasion and marine transgression sovereignty. Moreover, they are ideal for the surveillance of underwater communications lanes, the protection of offshore oil installations and other important offshore national assets.
Asia has the largest share (44%) of the current fleet, India and Japan itself owns nearly 50% of Asian vessels, with India accounting for about 26% of the total vessels on order globally.
In the early 1980s, the Indian Navy received the first advanced OPVs, 'the Sukanya class' from South Korea. The ships of this class were later constructed with considerable success in India. Although initially they were developed to protect India's substantial offshore assets, later they proved to be valuable workhorses and therefore were introduced for a range of roles. OPVs have also been the backbone of the Indian Coast Guard, and the procurement activities underway in the navy and the Coast Guard highlight their usefulness.
Many companies are developing cutting-edge OPVS and have established skills to meet navies' ever-increasing naval requirements. To meet the UK Royal Navy's multiple mission requirements, BAE Systems has built a new class of 90m Offshore Patrol Vessels (OPV).
In the last few years, the Indian private sector has seen the development of large, innovative, state-of-the-art shipyards, capable of participating in the country's warship building programme. ABG, Bharti and Larsen, Pipavav, and Toubro are private shipyards who have invested substantial amounts of money to produce capability and capacity.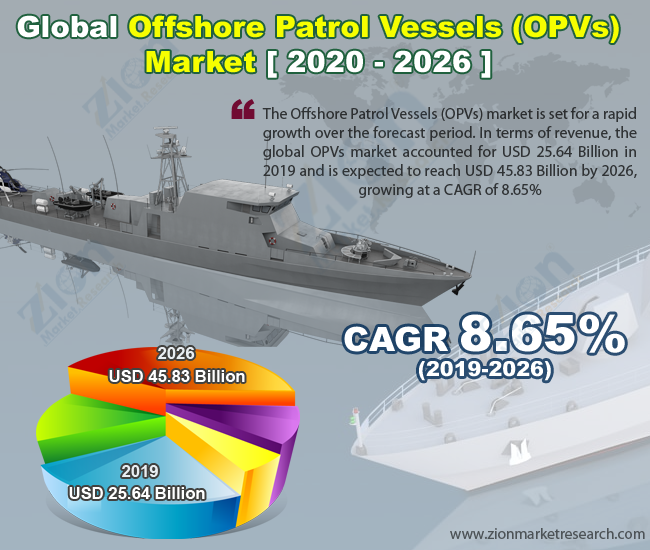 Global OPVs Market: Competitive Players
The major players in the global OPVs market include BAE Systems, STX Offshore & Shipbuilding, Damen, Eastern Shipbuilding Group, Dearsan Shipyard, Austal, Irving Shipbuilding, CSIC, Socarenam, Fassmer, Fincantieri, RNAVAL, Navantia, and Babcock among others.
The report segment of global OPVs market are as follows:
Global OPVs Market: Type Segment Analysis
War-fighting Vessel
Basic Patrol Vessel
Global OPVs Market: Applications Segment Analysis
Navy
Coast Guard
Police Force
Global OPVs Market: Regional Segment Analysis
North America
Europe

France
The UK
Spain
Germany
Italy
Rest of Europe

Asia Pacific

China
Japan
India
South Korea
Southeast Asia
Rest of Asia Pacific

Latin America

Brazil
Mexico
Rest of Latin America

Middle East & Africa

GCC
South Africa
Rest of Middle East & Africa