Abstract
The report covers forecast and analysis for the neurorehabilitation devices market on a global and regional level. The study provides historical data for 2015, 2016, and 2017 along with a forecast from 2018 to 2024 based revenue (USD Billion). The study includes drivers and restraints for the Neurorehabilitation devices market along with the impact they have on the demand over the forecast period. Additionally, the report includes the study of opportunities available in the neurorehabilitation devices market on a global level.
In order to give the users of this report a comprehensive view on the neurorehabilitation devices market, we have included competitive landscape and analysis of Porter's Five Forces model for the market. The study encompasses a market attractiveness analysis, where the product, mode of purchase, application, end-user, and regional segmentation are benchmarked based on their market size, growth rate, and general attractiveness.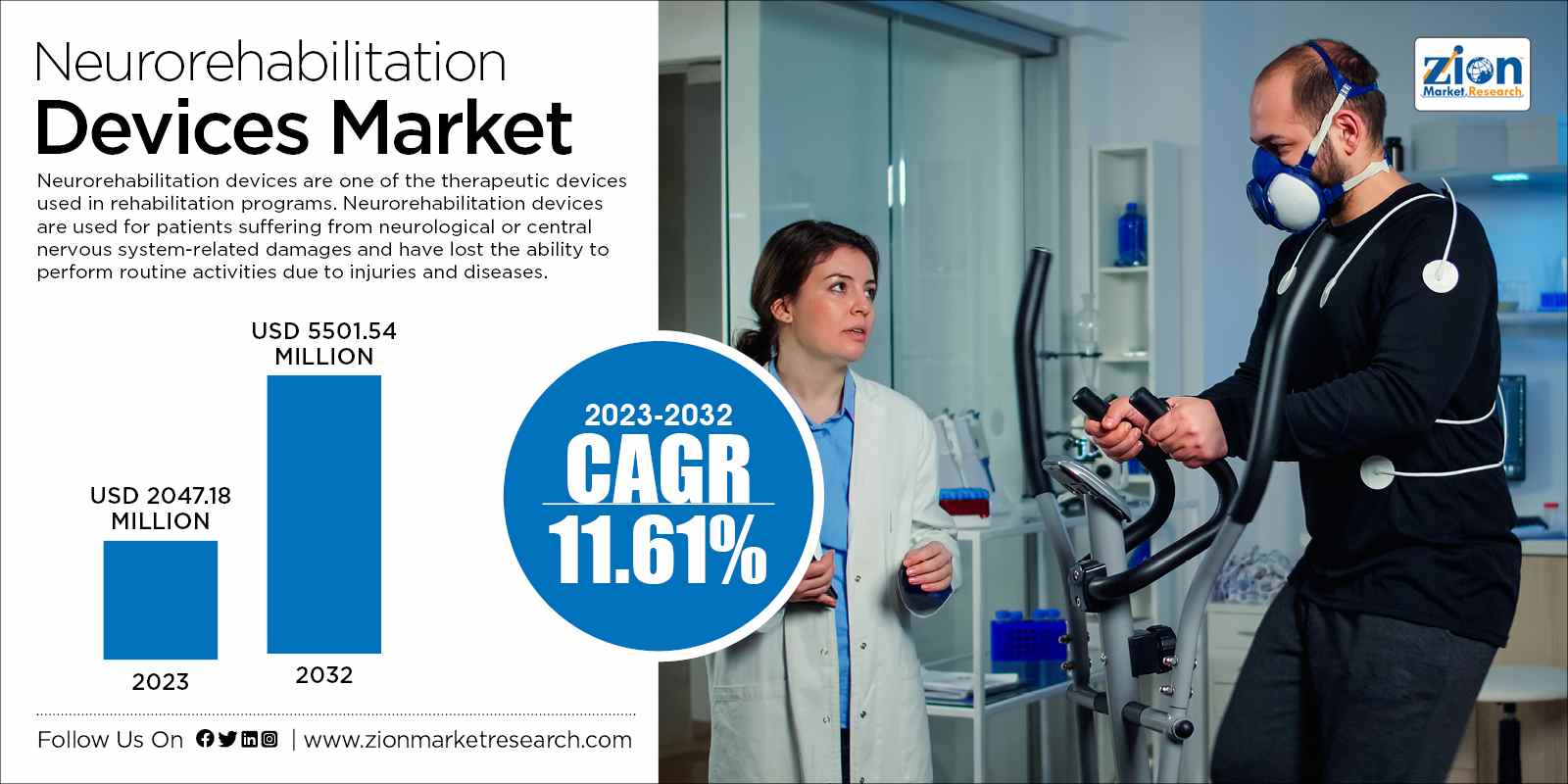 The report provides company market share analysis in order to give a broader overview of the key players in the market. In addition, the report also covers key strategic developments of the market including acquisitions & mergers, new product launches, agreements, partnerships, collaborations & joint ventures, research & development, and regional expansion of major participants involved in the market on a global and regional basis.
The study provides a decisive view of the neurorehabilitation devices market by segmenting the market based on product type, application, end-user, and region. All the segments have been analyzed based on present and future trends and the market is estimated from 2018 to 2024.
Based on product type, the neurorehabilitation devices market is segmented into neuro-robotic devices, wearable devices, non-invasive stimulators, and brain-computer interface. Based on application, the neurorehabilitation devices market has been segmented into Parkinson's disease, spinal cord injury, brain trauma injury, stroke, cerebral palsy, schizophrenia, and others. Based on end-user, the neurorehabilitation devices market is segmented into hospitals/clinics, cognitive care centers, research institutes, and others.
Growing prevalence of neurological disorders increased elderly population, and technological breakthroughs in the neurorehabilitation devices are the major driving factors of neurorehabilitation devices market. The lack of ease associated with the usage of these devices, shortage of personalized home care neurorehabilitation devices, and insufficient disposable income witnessed across the developing countries might hinder the market growth during the forecast period.
The regional segmentation includes the current and forecasts demand North America, Europe, Asia Pacific, Latin America, and the Middle East and Africa with it further segmented into major countries including the U.S., Germany, Italy, France, UK, China, Japan, India, and Brazil. This segmentation includes demand for fertility test market based on individual segments and applications in all the regions and countries.
The report also includes detailed profiles of various end players, such as Bionik Labs, Bioxtreme, Denecor, Ectron Ltd., Ekso Bionics, Helius Medical Technologies, Hocoma AG, MagVenture A/S, Medtronic, Neuro Style, Rehab-Robotics Company Limited, Rehabtronics Inc., St. Jude Medical Inc., and Tyromotion, among others.
This report segments the global neurorehabilitation devices market as follows:
Global Neurorehabilitation Devices Market: By Product Type
Neuro-Robotic Devices
Wearable Devices
Non-Invasive Stimulators
Brain-Computer Interface
Global Neurorehabilitation Devices Market: By Application
Parkinson's Disease
Spinal Cord Injury
Brain Trauma Injury
Stroke
Cerebral Palsy
Schizophrenia
Others
Global Neurorehabilitation Devices Market: By End-User
Hospitals/Clinics
Cognitive Care Centers
Research Institutes
Others
Global Neurorehabilitation Devices Market: By Region
North America
Europe
Asia Pacific
Latin America
The Middle East and Africa