Neuroblastoma Treatment Industry Perspective:
The neuroblastoma treatment market accounted for USD 437.5 Million in 2020 and is expected to reach USD 600.5 Million by 2028, growing at a CAGR of 4.1% from 2021 to 2028.
Neuroblastoma is a type of pediatric cancer that is developed in the nervous system of babies and young children. It grows in immature nerve tissue known as neuroblasts. It affects the adrenal glands present just above the kidneys. Neuroblastoma can also develop in nerve tissue in the spinal cord, abdomen, chest, or neck. It can spread to other parts of the body. Due to the higher rate of neuroblastoma, the need for treatment is necessary for the coming years. The increasing population and frequency of this cancer is the prime reason for the treatment of Neuroblastoma and hence there is the growth rate for this market is necessary.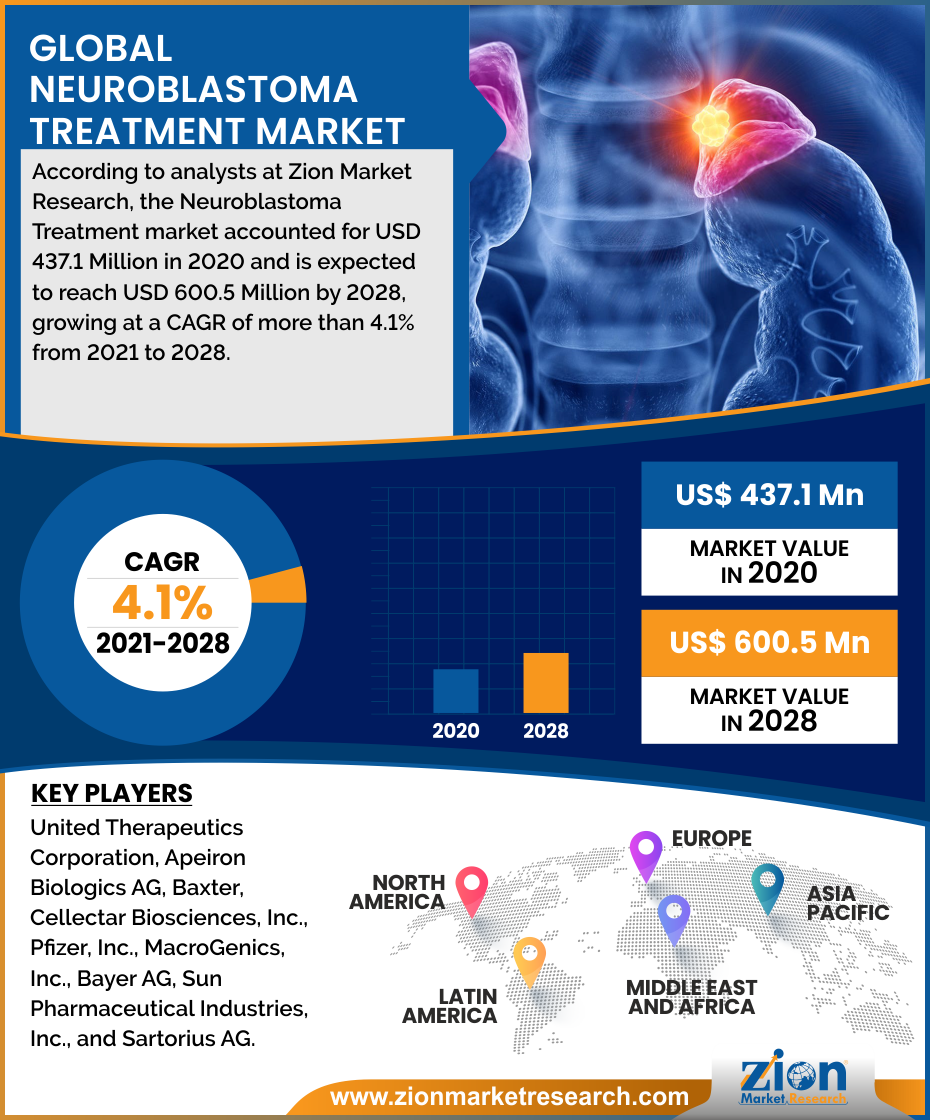 Request Free Sample
COVID-19 Impact Analysis
According to data gathered from countries such as UK & U.S. the treatment for neuroblastoma was on a halt as young children and babies get affected by coronavirus at a rapid rate. CCLG, one of the active groups of doctors in the UK has also recently published data about children with cancer who have had coronavirus, to provide a clear picture of the impact of the virus on young cancer patients. Based on the information gathered by this project, CCLG's updated advice includes recommendations for the extremely vulnerable and vulnerable groups. Thus, the market for neuroblastoma was on a steady growth rate due to COVID-19.
Neuroblastoma Treatment Market: Growth Factors
Neuroblastoma is rare cancer but it's the most common cancer in babies. According to a health organization in the United States, about 800 children are diagnosed with neuroblastoma. It almost always develops before age 5. It can occur in babies before they are born. Neuroblastoma is very rare in children over age 10.
There are four stages of neuroblastoma such as Stage L1, Stage L2, Stage M, and Stage MS. Neuroblastoma happens when immature nerve tissues (neuroblasts) grow out of control. The cells become abnormal and continue growing and dividing, forming a tumor. A genetic mutation (a change in the neuroblast's genes) causes the cells to grow and divide uncontrollably.
Healthcare providers are not sure what causes the genetic mutation and still, there is no technology to find the main cause of this cancer to grow. Due to this reason, the need treatment is necessary and government bodies and healthcare companies are investing huge funds in research and development for this treatment. In coming years due to higher birthrate the need for this treatment is the major factor concerning the growth of the neuroblastoma treatment market.
Neuroblastoma Treatment Market: Report Scope
| Report Attributes | Report Details |
| --- | --- |
| Report Name | Neuroblastoma Treatment Market Research Report |
| Market Size in 2020 | USD 437.5 Million |
| Market Forecast in 2028 | USD 600.5 Million |
| Growth Rate | CAGR of 4.1% |
| Number of Pages | 188 |
| Forecast Units | Value (USD Billion), and Volume (Units) |
| Key Companies Covered | United Therapeutics Corporation, Apeiron Biologics AG, Baxter, Cellectar Biosciences, Inc., Pfizer, Inc., MacroGenics, Inc., Bayer AG, Sun Pharmaceutical Industries, Inc., and Sartorius AG. |
| Segments Covered | By Therapy, By Distribution Channel, And By Region |
| Regions Covered | North America, Europe, Asia Pacific (APAC), Latin America, Middle East and Africa (MEA) |
| Base Year | 2021 |
| Historical Year | 2016 to 2020 |
| Forecast Year | 2019 - 2026 |
| Customization Scope | Avail customized purchase options to meet your exact research needs. Request For Customization |
Therapy Segment Analysis Preview
The therapy segment is subdivided into Surgery, Chemotherapy, Immunotherapy, and Radiotherapy. The surgery segment is one of the major segments that contribute about 45% of total global revenue for the neuroblastoma treatment market, followed by other segments such as chemotherapy, immunotherapy, and radiotherapy. Surgery is the removal of the tumor and some surrounding healthy tissue during an operation. A surgical oncologist is a doctor who specializes in treating cancer using surgery.
If the cancer has not spread, surgery can sometimes be used to remove the entire tumor. Chemotherapy is the use of drugs to destroy cancer cells, usually by ending the cancer cell's ability to grow and divide. Chemotherapy is given by a pediatric oncologist or a medical oncologist, a doctor who specializes in treating cancer with medication. Radiotherapy is the use of high-energy X-rays or other particles to destroy cancer cells.
Regional Analysis Preview
North America dominated the market in 2020, accounting for over 35.0% share of the global revenue. The market growth is due to factors such as the high prevalence of neuroblastoma in the region, and established healthcare infrastructure are some of the key factors accountable for its large share in the market. Furthermore, beneficial government initiatives and an increase in the number of research partnerships are some of the drivers expected to increase market growth. In this region, the United States has the maximum share due to supportive healthcare policies, a high number of patients, and a developed healthcare market. According to the American Cancer Society's Cancer Statistics, nearly 800 new cases of neuroblastoma are reported in the United States every year. The above statistics prove that the high prevalence of the disease is boosting the market in the region.
Key Market Players & Competitive Landscape
Major market players in Neuroblastoma Therapy Market are
United Therapeutics Corporation
Apeiron Biologics AG
Baxter
Cellectar Biosciences. Inc.
Pfizer, Inc., MacroGenics. Inc.
Bayer AG
Sun Pharmaceutical Industries, Inc.
Sartorius AG.
Brief information about 10 companies will also be provided in the report. Similarly, growth strategies such as acquisition, merger, and expansion of the distribution network were a few techniques adopted by most of the companies providing the neuroblastoma therapy market in recent years. For instance, on June 23, 2021, Y-mAbs Therapeutics, Inc. (the "Company" or "Y-mAbs") a commercial-stage biopharmaceutical company focused on the development and commercialization of novel, antibody-based therapeutic products for the treatment of neuroblastoma cancer. The FDA-approved product DANYELZA is launched by the company which will benefit neuroblastoma patients.
The Neuroblastoma Therapy Market is segmented as follows:
By Therapy
Surgery
Chemotherapy
Radiotherapy
By Distribution Channel
Hospital Pharmacies
Retail Pharmacies
Drug Stores
By Region
North America
Europe

France
The UK
Spain
Germany
Italy
Rest of Europe

Asia Pacific

China
Japan
India
South Korea
Southeast Asia
Rest of Asia Pacific

Latin America

Brazil
Mexico
Rest of Latin America

Middle East & Africa

GCC
South Africa
Rest of Middle East & Africa