Description
Market Overview
The neuroblastoma treatment market accounted for USD 2904 Million in 2020 and is expected to reach USD 3854 Million by 2028, growing at a CAGR of 3.6% from 2021 to 2028.
Neuroblastoma is amongst the foremost common cancers affecting infants under the age of 1to 5. The condition accounts for nearly 6% of all cancers in children, especially in developed countries like the U.S. Also, an estimated 800 new cases of neuroblastoma are reported annually within the U.S. The increasing burden of the condition is anticipated to push demand for treating the disease. The cancer is caused because of embryonal malignancy of sympathetic systema nervosum which arises from the neuroblasts. The cancer develops within the nerve tissues of adrenal, chest, or medulla spinalis. Neuroblastoma is listed as a "rare disease" within the U.S. by the National Institute of Health (NIH), and Orphaned in Europe. The cancer is most prevalent in infants below 5 years aged, with peak age bracket of two to three years.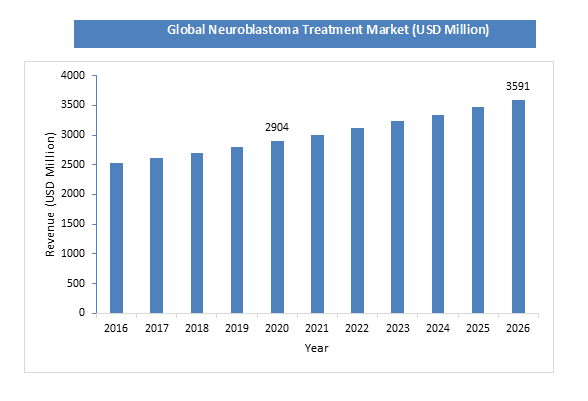 COVID-19 Impact Analysis
With the continued COVID-19 pandemic healthcare workers are exercising caution and stepping up treatment to guard cancer afflicted children from infection. Though the COVID-19 pandemic appears to largely spare children, practitioners are warning researchers to review the potential impacts the virus can wear paediatric patients to seek out the acceptable response just in case of an infection. It is a standard understanding amongst medical professionals that the danger of COVID-19 infection can increase in immunocompromised children with cancer, leading to increased morbidity and mortality. Most childhood cancers have an aggressive course and need immediate treatment, often involving prolonged durations of intensive multi-agent chemotherapy. Postponement of therapy is therefore not an option.
Realizing the potential risks faced by paediatric Neuroblastoma patients, key players within the market are leveraging their research in preventing potential infection of those patients by the novel COVID-19 virus.
Growth Factors
R&D activities of Neuroblastoma Treatment Market is one of the growth factors. The global market will benefit from research and development for the treatment of relapsed refractory neuroblastoma. Improved understanding of the aetiology of neuroblastoma has led to the discovery of new tumour targets and novel therapeutic methods. Molecular and genetic tumour profiling are being used in many ongoing clinical trials to target tumour-specific aberrations. As a result, increased R&D would drive demand growth over the forecast period.
The second growth factor is advanced technologies market growth. High technical advances and the availability of orphan drugs are assisting in the approval process, which is fostering the development of the industry.
Report Scope: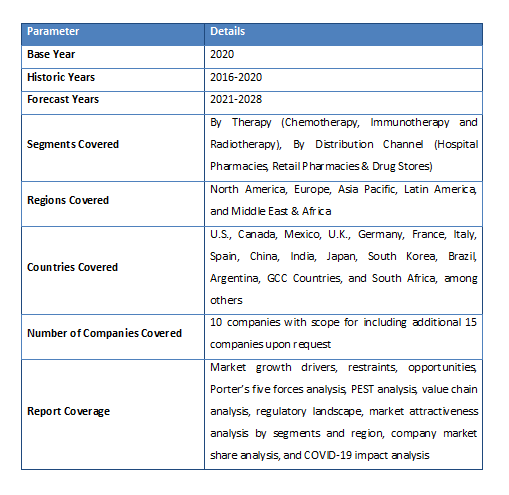 Therapy Segment Analysis
Chemotherapy (chemo) uses anti-cancer drugs, which are generally given into a vein. The drugs enter the bloodstream and travel throughout the body to succeed in and obliterate cancer cells. This makes chemo useful for treating neuroblastoma that has spread to the lymph nodes, bone marrow, liver, lungs, or other organs.
Whether an infant with neuroblastoma will get chemotherapy differs on their risk group. Some children with neuroblastoma are cured with chemo either before surgery (neoadjuvant chemotherapy) or after surgery (adjuvant chemotherapy).
Immunotherapy is that the use of medicines to assist a patient's own system recognize and obliterate cancer cells more effectively. Immune helps your system fight cancer. Immunotherapy drugs are approved to treat many sorts of cancer. However, immunotherapy is not yet as widely used as surgery, chemotherapy, or radiotherapy.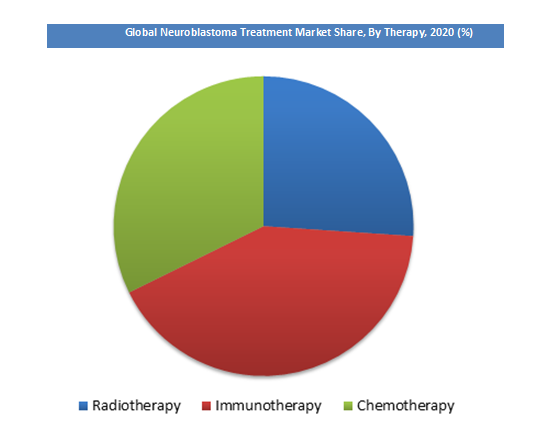 Distribution Channel Segment Analysis
Hospital Pharmacies channel dominated the market and is predicted to sustain its leadership position in terms of market share during the forecast period. This is often acknowledgments to high preference for hospital pharmacies for purchasing drugs prescribed for cancer treatment.
Drug Stores of Neuroblastoma treatment market provides high cost of medication due to the long duration of procedures and demand. Drugs for the treatment of neuroblastoma, especially immunotherapy drugs, are very costly. As a result, the production costs of these drugs rise, as do their prices.
Regional Analysis Preview
As per analysis, North America would account for a dominant share with CAGR of 3.4% within the market over the forecast period and variety of things would push it thereto position, high incidence of neuroblastoma is being reported in the North American region. This is contributing tremendously to development, which is projected for the area. The healthcare system in this city is solid, which is reflected in the positive statistics. Furthermore, in the regional sector, a better reimbursement system and increasing knowledge are major growth propellers.
In terms of revenue share, Europe is second due to the existence of favourable government programmes for improving respiratory care, such as the European Committee for Hyperbaric Medicine (ECHM), which is active in raising awareness about the procedure.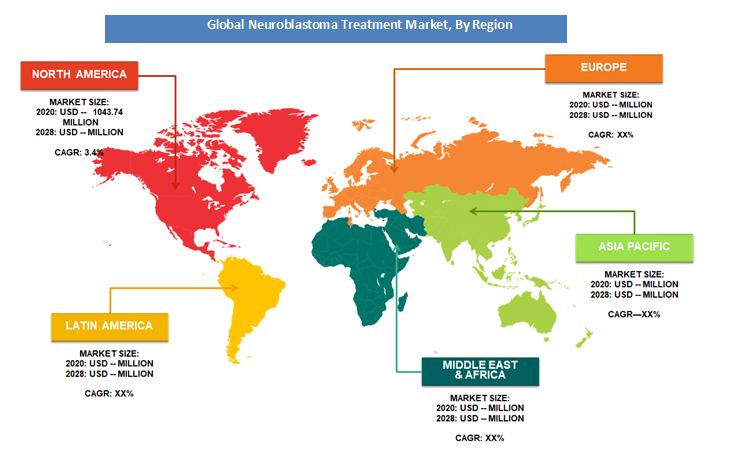 The Neuroblastoma Treatment Market is segmented as follows:
By Therapy
Chemotherapy
Immunotherapy
Radiotherapy
By Distribution Channel
Hospital Pharmacies
Retail Pharmacies
Drug Stores
By Region
North America
Europe

France
The UK
Spain
Germany
Italy
Rest of Europe

Asia Pacific

China
Japan
India
South Korea
Southeast Asia
Rest of Asia Pacific

Latin America

Brazil
Mexico
Rest of Latin America

Middle East & Africa

GCC
South Africa
Rest of Middle East & Africa