Nasal Spray Bottle Market Size And Industry Analysis
The global nasal spray bottle market size was worth USD 14,825.7 million in 2021 and is estimated to grow to USD 20,326.32 million by 2028, with a compound annual growth rate (CAGR) of approximately 5.40% over the forecast period.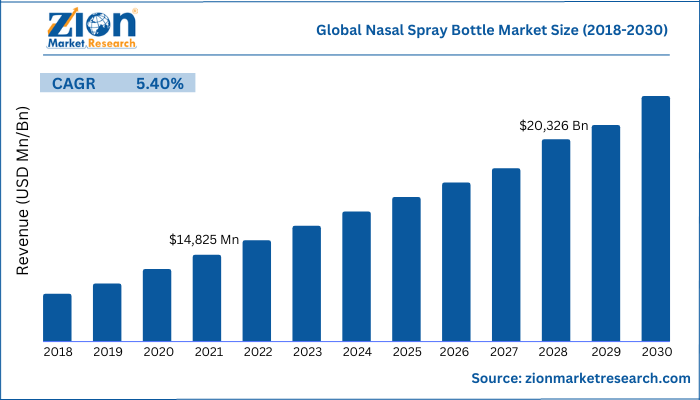 Request Free Sample
The report analyzes the nasal spray bottle drivers, restraints/challenges, and their effect on the demands during the projection period. In addition, the report explores emerging opportunities in the nasal spray bottle market.
Nasal Spray Bottle Market: Overview
Small plastic nasal spray bottles spritz a fine liquid mist up the nose. There are different sizes available, but the majority hold about 2 ounces (60 milliliters) of liquid. Nasal spray bottles put saline fluid or medicine right into the nasal passages. It can help treat other cold or allergy symptoms by drier mucus, clearing congestion, and clearing congestion.
COVID-19 Impact:
Due to COVID-19, consumers' attitudes about allergies and respiratory infections have changed. Consumers began to prioritize recovery time more during this pandemic, which is evident in the growth in the nasal spray industry. Consumers benefit from the nasal spray's quicker effects and ease of use, while pharmaceutical corporations benefit from its ease of shipment. Additionally, this has a favorable effect on the nasal spray bottle industry. The nasal spray is more effective than other delivery methods and aids in patient compliance.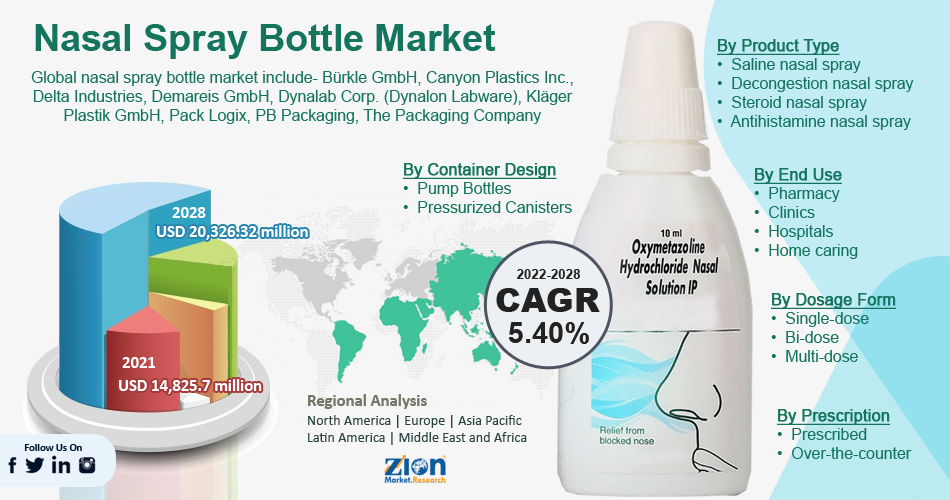 Request Free Sample
Key Insights
As per the analysis shared by our research analyst, the global nasal spray bottle market value will grow at a CAGR of 5.40% over the forecast period.
In terms of revenue, the global nasal spray bottle market size was valued at around USD 14,825.7 million in 2021 and is estimated to grow to USD 20,326.32 million by 2028.
The development of the global nasal spray bottle market would likely be fueled by shifting lifestyles around the globe, greater patient compliance, a growing senior population, rising pollution levels, and a painless method of medication administration.
The steroid nasal sprays will cover a major share of the market by product type in 2021.
By end use, the hospital segment dominated the market in 2021.
North America dominated the global nasal spray bottle market in 2021.
Nasal Spray Bottle Market: Growth Drivers
An increased development of medical science drives market growth
The development of medical science and changes in lifestyle throughout the world brought about a rise in the demand for self-administration goods, which led to the growth of the global nasal spray bottle market. Another significant issue faced by pharmaceutical companies is drug delivery. One of the solutions these firms have discovered is the nasal spray bottle. The nasal spray is preferred over syrup, tablets, and other delivery methods because it provides customers with efficient delivery. In the past, nasal sprays are used to treat respiratory issues, but now both consumers and pharmaceutical businesses prefer nasal spray bottles because of how convenient they are.
Nasal Spray Bottle Market: Restraints
Myths associated with the nasal spray bottles to hamper market
There is a misconception among consumers that nasal sprays are addictive; however, other advisors contend that rebound congestion brought on by prolonged and frequent use is not an addiction. The fact that nasal sprays only provide temporary relief is one further restriction. Patients who already have sensitive nasal passages may have to endure nasal discomfort.
Nasal Spray Bottle Market: Report Scope
Report Attributes
Report Details
Report Name
Nasal Spray Bottle Market Research Report
Market Size in 2021
USD 14.83 Billion
Market Forecast in 2028
USD 20.33 Billion
Growth Rate
CAGR of 5.40%
Number of Pages
210
Key Companies Covered
AptarGroup Inc., Berry Global Group, Inc., Gerresheimer AG, Nolato AB, Rexam PLC, Coster Group, Aptar Pharma India Pvt. Ltd., Klockner, Pentaplast Group, Catalent Pharma Solutions, Owen Mumford Ltd., Medspray, Heinz Glas GmbH & Co. KGaA, Sanner GmbH, Unilife Corporation, Inpress Plastics Ltd., Bürkle GmbH, Canyon Plastics Inc., Delta Industries, Demareis GmbH, Dynalab Corp. (Dynalon Labware), Kläger Plastik GmbH, Pack Logix, PB Packaging, The Packaging Company
Segments Covered
By Product Type, By End Use, By Container Design, By Dosage Form, By Prescription and By Region
Regions Covered
North America, Europe, Asia Pacific (APAC), Latin America, Middle East, and Africa (MEA)
Base Year
2020
Historical Year
2018 to 2020
Forecast Year
2021 - 2028
Customization Scope
Avail customized purchase options to meet your exact research needs. Request For Customization
Nasal Spray Bottle Devices Market: Segmentation
The global nasal spray bottle market has been segmented into product type, end-use, container design, dosage form, prescription, and region.
Based on product type, the saline nasal spray, decongestion nasal spray, steroid nasal spray, and antihistamine nasal spray are segments of the global market. The steroid nasal spray segment led the market in 2021 and is expected to maintain its dominance throughout the forecast period. To treat nasal allergy symptoms, including sneezing and runny nose, nasal steroid sprays spray a corticosteroid straight into the nose. These sprays can relieve hay fever or nasal allergies and frequently take the place of other oral allergy treatments. One must use them daily to continue to feel better during allergy season. The category is anticipated to maintain its high market share during the forecast period due to the commercialization of affordable generics of nasal steroid spray and its convenient availability throughout Europe countries.
Based on container design, the global nasal spray bottle market is segmented into pump bottles and pressurized canisters. Pump bottles accounted for the largest portion of all packaging, or nearly 75%, and are anticipated to maintain dominance throughout the forecast period. The dosage precision offered by the pump bottles is the primary factor behind the segment's expansion. Additionally, it can apply to highly viscous fluids for which pressured sprays are ineffective. Additionally, the need is being fueled by the need for quick drug delivery.
Recent Developments
April 2019: Cipla Ltd. purchased a 30% stake in the South African company Branded for business expansion. The acquisition was made to complement Cipla Medpro's portfolio by combining the company's advantages with Brandmed's cutting-edge, patient-centered approach to healthcare.
May 2022: Under the Brillo brand, Sun Pharma will introduce a new oral lipid-lowering medication to lower low-density lipoprotein cholesterol. The corporation will make the medicine available under the Brillo brand name.
Nasal Spray Bottle Market: Regional Landscape
North America dominated the nasal spray bottle market in 2021
The global nasal spray bottle market has grown dramatically in North America. When South and East Asia's population is considered, North America is the second fastest-growing region for nasal spray bottle sales. With hospitals and a large population of patients suffering from respiratory diseases, Europe will have a significant prospective market for nasal spray bottles. Latin America has a great demand for nasal spray despite having a predicted low CAGR.
Nasal Spray Bottle Market: Competitive Landscape
Some of the main competitors dominating the global nasal spray bottle market include -
AptarGroup Inc.
Berry Global Group, Inc.
Gerresheimer AG
Nolato AB
Rexam PLC
Coster Group
Aptar Pharma India Pvt. Ltd.
Klockner Pentaplast Group
Catalent Pharma Solutions
Owen Mumford Ltd.
Medspray
Heinz Glas GmbH & Co. KGaA
Sanner GmbH
Unilife Corporation
Inpress Plastics Ltd.
Bürkle GmbH
Canyon Plastics Inc.
Delta Industries
Demareis GmbH
Dynalab Corp. (Dynalon Labware)
Kläger Plastik GmbH
Pack Logix
PB Packaging
The Packaging Company
Global Nasal Spray Bottle Market is segmented as follows:
By Product Type
Saline nasal spray
Decongestion nasal spray
Steroid nasal spray
Antihistamine nasal spray
By End Use
Pharmacy
Clinics
Hospitals
Home caring
By Container Design
Pump Bottles
Pressurized Canisters
By Dosage Form
Single-dose
Bi-dose
Multi-dose
By Prescription
Prescribed
Over-the-counter
By Region
North America
Europe

France
The UK
Spain
Germany
Italy
Rest of Europe

Asia Pacific

China
Japan
India
South Korea
Southeast Asia
Rest of Asia Pacific

Latin America

Brazil
Mexico
Rest of Latin America

Middle East & Africa

GCC
South Africa
Rest of Middle East & Africa