Description
The MID market is set for a rapid growth over the forecast period. In terms of revenue, the global MID market accounted for USD 1,008.06 Million in 2019 and is expected to reach USD 2,794.41 Million by 2026, growing at a CAGR of 15.68%.
Global Molded Interconnect Device (MID) Market: Overview
Molded interconnect devices (MIDs) are injection-molded thermoplastic substrates with conductive circuit patterns that combine mechanical and electrical functions. They are generally 3-dimensional, and a number of techniques can be used to apply the components and conductors. Although the technology has advanced significantly in recent years, especially with the advancement of light-temperature resins and the use of rapid prototyping techniques to produce pre-production examples, however, traditional planar printed circuit board technology will continue to meet the demands for multilayers, large component densities, and plated-through holes.
With the introduction of features such as soldering pads and plated through-hole vias, it has become increasingly popular for MID solutions to include other components such as antennas and sensor interfaces. Consumer electronics, telecommunications, automobile, and medical are key markets for MID technology. MIDs are widely used as integrated antennas in cellphones and other mobile devices such as laptops and netbooks.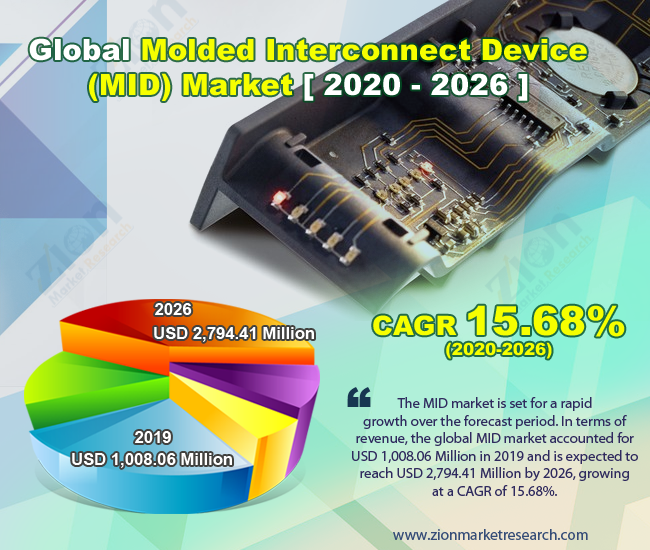 Global Molded Interconnect Device (MID) Market: Growth Factors
Today's portable electronic devices with various functions in a small package are in high demand. To satisfy the miniaturisation requirement, mechanical and electrical systems must be integrated into a single product, which can be easily accomplished using MID. It aids in the integration of circuitry, connectors, housing, and cables into a single component. In consumer electronics, there is a growing need for more electronic circuits to be integrated into smaller spaces. For example, a smartphone needs an antenna; rather than engineering a stand-alone antenna.

The two-shot molding segment dominates the industry, owing to its ability to improve the performance and aesthetics of rubber and plastic molding products. Moreover, the process needs only one machine cycle, which reduces manufacturing costs and deliver more products per process. Since the process ensures a strong connection between materials, it is widely used in automotive interior components and medical devices among others.
The growing demand for designing medical-grade components, tools, and equipment would increase the demand for two-shot molding processes, providing an advantage for the growth of the molded interconnect devices industry. In healthcare applications, the process can handle requirements such as medical cleanliness and complex designs.
To achieve a competitive advantage over other players, companies are implementing innovation and growth strategies in the molding processes. For instance, in January 2019, GW Plastics announced plans to expand its multi-shot molding capabilities in order to increase automation and meet the needs of healthcare OEMs.
Global Molded Interconnect Device (MID) Market: Segmentation
Injection molding, laser activation, and metallization are the three fundamental stages in Laser Direct Structure (LDS). LDS requires only a single thermoplastic material to create a MID, making the molding phase a one-shot operation. The fact that there is only one part, implies that the circuitry is produced on the plastic itself, which is one of the distinctive characteristics of LDS. Laser activation is the second stage in the LDS process. At this stage, a physiochemical reaction takes place, which laser etched the wiring pattern onto the part and sets it for metallization. To allow LDS to function properly, the part molded in phase one must be made of an LDS grade material. These products, which are available from most major plastics suppliers, are doped versions of standard plastics such as acrylonitrile-butadiene-styrene (ABS) or nylon.
Automotive applications held a significant market share in 2020 and is projected to expand at a rapid pace in the near future. The spike is due to the increasing use of molded interconnect devices in a variety of automotive applications such as steering wheel hubs, position sensors, lighting and brake sensors.
In automotive applications, these devices are used to lower the number of wirings and integrate the requisite circuitry, including housings and connectors, into a single piece. Because of these features, molded interconnect devices will be in high demand from automotive manufacturers looking to create compact devices at a lower cost.
The industry would benefit from increasing customer demand for more electronic features in vehicles. Major players in the automotive industry are launching a slew of new safety and entertainment features in order to provide comfort and meet market demand. According to the OICA (International Organization of Motor Vehicle Manufacturers), automobile production in 2018 increased by 5.2% in Brazil, 8.0% in India,13.9% and 67.7% in Russia and Portugal respectively.
Global Molded Interconnect Device (MID) Market: Regional Analysis
By Geography, the MID market is segmented into North America, Europe, Latin America, Asia Pacific, and Middle East and Africa.
The Asia Pacific molded interconnect devices market will develop at a rapid pace in the near future. This is due to the increasing consumer electronics industry in India and China, which has an ample supply of raw materials and a large pool of cheap labour. This has encouraged many leaders in the consumer electronics industry to increase their presence in the region. Technology companies are focusing on providing more secure and lightweight portable electronic devices, generating massive business opportunities for market participants. In addition, many government measures to broaden the manufacturing sector would benefit the industry.
Global Molded Interconnect Device (MID) Market: Competitive Players
The major players in the global MID market include Molex, TE Connectivity, LPKF, HARTING, JOHNAN, APC, MID Solutions, Multiple Dimensions, and 2E mechatronic among others.
The report segment of global MID market are as follows:
Global Molded Interconnect Device (MID) Market: Process Segment Analysis
Laser Direct Structuring
2-Shot Molding
Film Techniques
Global Molded Interconnect Device (MID) Market: Product Type Segment Analysis
Antennae & Connectivity Modules
Connectors & Switches
Sensors
Lighting
Others
Global Molded Interconnect Device (MID) Market: Industry Vertical Segment Analysis
Telecommunications
Consumer Electronics
BFSI
Military & Aerospace
Industrial
Healthcare
Automotive
Others
Global Molded Interconnect Device (MID) Market: Regional Segment Analysis
North America
Europe

France
The UK
Spain
Germany
Italy
Rest of Europe

Asia Pacific

China
Japan
India
South Korea
Southeast Asia
Rest of Asia Pacific

Latin America

Brazil
Mexico
Rest of Latin America

Middle East & Africa

GCC
South Africa
Rest of Middle East & Africa