Mobile Security Market: Industry Prospective
The Mobile Security Market was worth around USD 19,284.1 million in 2021 and is estimated to grow to about USD 44,373.1 million by 2028, with a compound annual growth rate (CAGR) of approximately 14.9 percent over the forecast period. The report analyzes the Mobile Security Market drivers, restraints/challenges, and the effect they have on the demands during the projection period. In addition, the report explores emerging opportunities in the Mobile Security Market.
Mobile Security Market: Overview
The rising use of mobile devices like cellphones, laptops, and portable Universal Serial Bus (USB) memory sticks are raising network security concerns. This, along with the growing popularity of the Internet of Things (IoT) and the emerging Bring Your Own Device (BYOD) trend, is one of the primary causes driving up demand for mobile security solutions to limit access to important company data. In addition, mobile security also outperforming existing network security solutions in terms of remotely managing users and their devices and combating the growing threat of cyberattacks and data breaches. Moreover, mobile security is gaining preference with other network security solutions to manage users and their devices remotely and combat the growing threat of cyberattacks and data breaches. Aside from that, the growing popularity of smart electronic gadgets like netbooks and wearables is boosting the market growth. Furthermore, some firms are employing different biometric authentication methods in mobile devices, which is expected to accelerate market expansion, owing to the increased adoption of cloud computing and growing worries about the surface transmission of the coronavirus illness (COVID-19).
Covid-19 Impact
The COVID - 19 outbreak has led businesses to review their business continuity plans and assess their readiness for remote work. Businesses of all sizes are putting their business strategies to use to allow their employees to work from home. Working in remote places creates a weak link in the security ecosystem because employees opt to connect to the network over public Wi-Fi. Companies generally use mobile data protection solutions to secure infrastructure for enterprise mobility. As a result, the size of the Mobile Security market is predicted to expand throughout the forecast period. Furthermore, the Covid19 outbreak would cause individuals to stay at home for a longer period of time, necessitating the deployment of security solutions for mobile endpoints by enterprises. Organizations supported enterprise mobility during the COVID-19 epidemic. As a result, during the COVID-19 pandemic, an increase in enterprise mobility usage is expected to boost the market growth.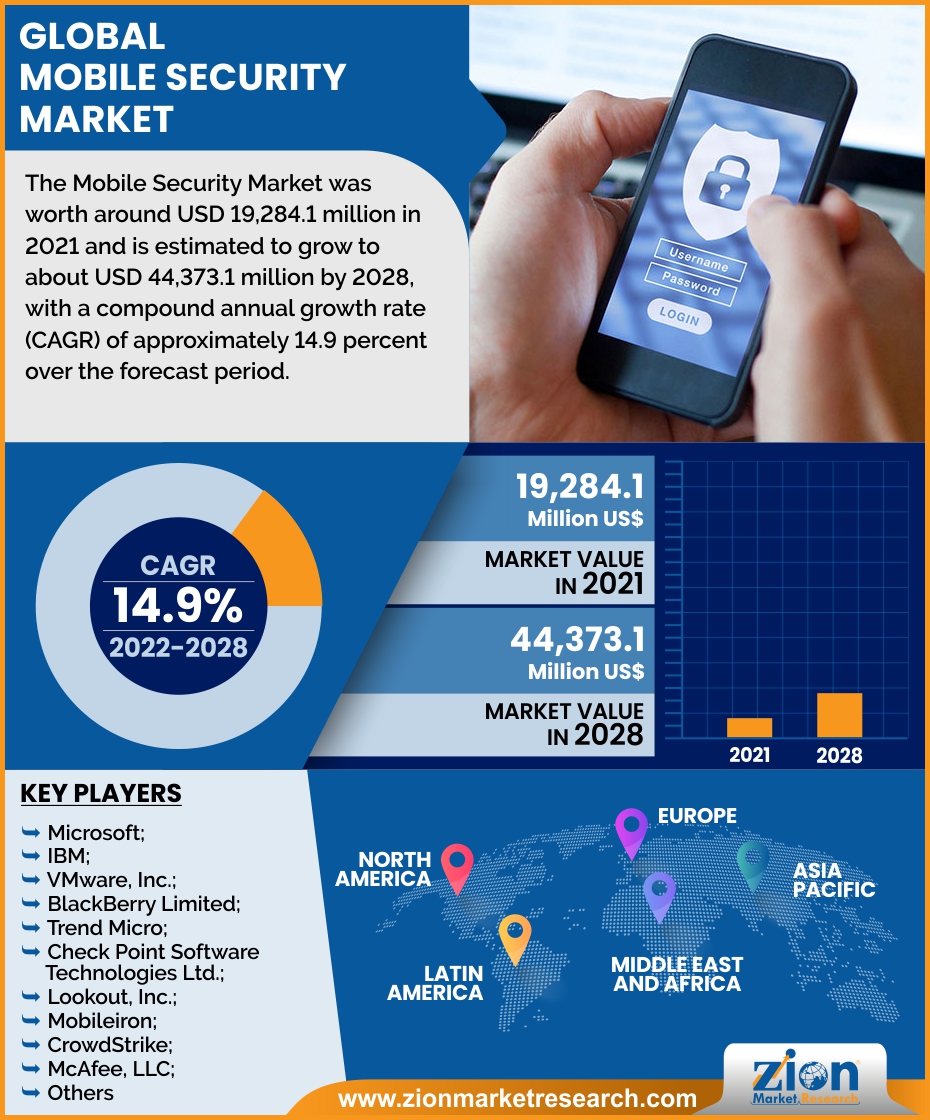 Request Free Sample
Mobile Security Market: Driver
The market is expected to be driven by rising demand for Bring Your Own Device (BYOD).
Demand for Bring Your Own Device (BYOD) is on the rise (BYOD) Enterprises are offering to bring your own device (BYOD) services to promote corporate mobility, which is expected to drive the market. Employees can bring their own mobile devices to work, such as laptops, smartphones, and tablets, under the BYOD policy. In addition, BYOD provides secure network connectivity for mobile devices. The key motivators for BYOD adoption are increased productivity and employee satisfaction. Unauthorized data access, data leakage/loss, and malware assaults, among other difficulties, are important concerns for businesses implementing BYOD. As a result of the increased demand for better and enhanced data privacy and security, as well as network security, mobile device security solutions are projected to gain traction. Moreover, businesses are focusing on the privacy and security of mobile devices as well as network infrastructure, which will fuel the growth of the mobile security market.
Mobile Security Market: Restraint
Growth is hampered by a lack of awareness regarding cyber security and vulnerability.
Hundreds of millions of smartphone users use their phones or tablets to access a wide range of applications. Many users are ignorant of the source from which they download software, as well as the privacy regulations that apply to them. Many people use computers or mobile phones to access untrustworthy websites and download unsafe apps, making these devices more exposed to cyberattacks. The market's growth is being stifled by a lack of understanding regarding mobile device dangers and security solutions.
Report Scope:
Mobile Security Market: Segmentation
The Mobile Security Market is segregated based on Offerings, End-Use, Organization, and Industry Vertical.
By Offerings, the market is classified into Solutions and Services. Due to the increase in malware, trojans, and phishing assaults on mobile devices, the solutions sector had the largest market share over the predicted period. Individuals are also being influenced to embrace mobile security solutions by an increase in demand for mobile organization size security and device security to limit risks from third-party apps and data breaches. Over the projected period, the services segment is expected to be the fastest-growing. The need for an efficient remediation solution for data breaches, theft, and cyberattacks in personal mobility devices tied to organizational workspaces has prompted SMEs and major corporations to hire consultancy and maintenance services.
By End-Use, the market is classified into Individuals and Enterprises. With the largest market share in the forecast period, the Enterprises sector dominated the market and is expected to continue to do so throughout the projected period. The rise of BYOD and workplace mobility is encouraging businesses of all sizes to implement unified endpoint mobile security solutions to assist them to limit data threat exposure. Furthermore, the need to relieve IT administrators of the effort of administering organizational frameworks for portable data storage and data sharing has prompted enterprises to implement both cloud-based and traditional mobile security solutions.
By Organization, the market is classified into SMEs and Large Enterprises. In the forecast period, the large enterprise sector will have the largest market share. The threat of cyberattacks grows as cloud-based installations and digital services become more common in major companies. With the advent of mobile threats and phishing assaults, large businesses are investing in mobile security solutions to strengthen their defenses against attacks and thefts.
Mobile Security Market: Regional Landscape
In the forecast period, North America dominated the global market. The region is predicted to develop considerably throughout the forecast period due to a rise in company expenditure on information security solutions. The regional market is being driven by the growing usage of mobility devices in various sectors such as government and defense, as well as retail. The United States accounted for the greatest revenue share in North America and is predicted to maintain this position throughout the forecast period. The presence of a large number of mobile security solution manufacturers and rising technology usage are two factors driving the global mobile security market in this area.
Asia Pacific is predicted to increase at the quickest rate throughout the projection period. Growing smartphone users, advancements in mobile device technology, and sophisticated network connectivity in the region are all elements that will contribute to an increase in mobile security threats. Furthermore, government digitization ambitions and the rapid growth of digital transaction apps are leading to an increase in malware and phishing attacks on mobile devices. As a result, people and businesses are phasing in their attempts to implement security solutions for their mobile devices.
Mobile Security Market: Competitive Landscape
Some of the main competitors dominating the Mobile Security Market include - Microsoft; IBM; VMware, Inc.; BlackBerry Limited; Trend Micro; Check Point Software Technologies Ltd.; Lookout, Inc.; Mobileiron; CrowdStrike; McAfee, LLC; Sophos Ltd.; Quick Heal Technologies Limited.
Mobile Security Market is segmented as follows:
Offerings
End-Use
Organization
Industry Vertical
Telecom & IT
Retail
Healthcare
Government & Defense
Manufacturing
Others
By Region
North America
Europe

France
The UK
Spain
Germany
Italy
Rest of Europe

Asia Pacific

China
Japan
India
South Korea
Southeast Asia
Rest of Asia Pacific

Latin America

Brazil
Mexico
Rest of Latin America

Middle East & Africa

GCC
South Africa
Rest of Middle East & Africa