Free Analysis
Mobile devices have become an integral part of everyday life. Powerful computing capabilities and increased connectivity are enabled by smart devices like smartphones and tablets to enable productive workforce. As a result of which cybercriminals target potential users with valuable and personal data on mobile devices. Mobile devices have created a great deal of concern for IT personnel who are responsible for information security. Corporate or personal information can be easily transported or lost and the advancement in technology has increased the number of security breaches. The increase in demand for mobile security is now seeing the emergence of security specialists who offer security solutions for PC as well as mobile.
Increasing need for mobile security has driven the development and implementation of solutions in protecting digital content. The digital content present in the mobile devices includes music, films, and e-books which are downloaded by the users. Such applications not only require a high level of security in protection against unauthorized access but also require a high level of functionality to deliver quality features expected by the end users. Content security solution providers are working with content copyright holders, technology providers and device manufacturers for better understanding the level of security needed. Advancement in technology solutions to protect DRM, trusted playback, user authentication and trusted link protection is probably to increase the adoption of the solution in the forecast period.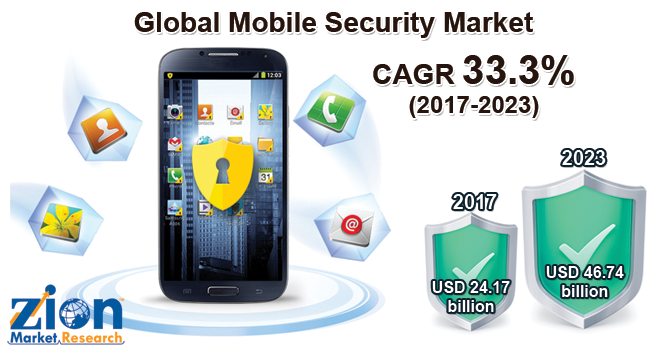 Based on solution type the market is segmented into authentication, mobile application management, and mobile data protection. Mobile application management trend is likely to increase as more applications are introduced in the market. On the basis of the operating system, the market is segmented into iOS, android, windows, blackberry, others. Android is becoming one of the most popular OS in the mobile device market with thousands of devices activated per day. Based on end user the market is segmented into individual users, financial institutions, retail, government, telecom and it, education, manufacturing and automotive, aerospace, defense and intelligence and others. Financial institutions such as banking sector dominated the market followed by telecom and IT industry.
Currently, the demand for Mobile Security is more evident in all the regions of North America leading the market. North America is followed by Europe and the Asia Pacific. Asia Pacific is expected to see robust growth in the coming years due to the growing IT industry such as Infosys, Accenture, Wipro and Cognizant in the region and consumer electronic manufacturers like Samsung and Sony.
Some of the key players in the mobile security market are innoPath Software, Inc., International Business Machine Corporation (IBM), Microsoft Corporation, Google Inc., Intel Corporation, Symantec Corporation, Kaspersky Lab, Apple Inc., VMware Inc., MobileIron, and Others. Currently, the market's growth rate is very high, which has encouraged the leading players to focus on consolidation through product licensing and new product development.