The report encloses the forecast estimates and historical data for military robotics market on a global and regional level. The study provides the data from 2015 to 2018 and for the forecast period from 2019 to 2027 based on revenue (USD Billion). The study also provides the impact and descriptive analysis of major drivers, restraints, opportunities, and challenges of the global military robotics market.
The study also offers the market attractiveness analysis and Porter's Five Forces model analysis to gauge the competitive landscape of major vendors of the global military robotics market. This comprehensive study also provides a detailed analysis and an overview of each segment included in the study.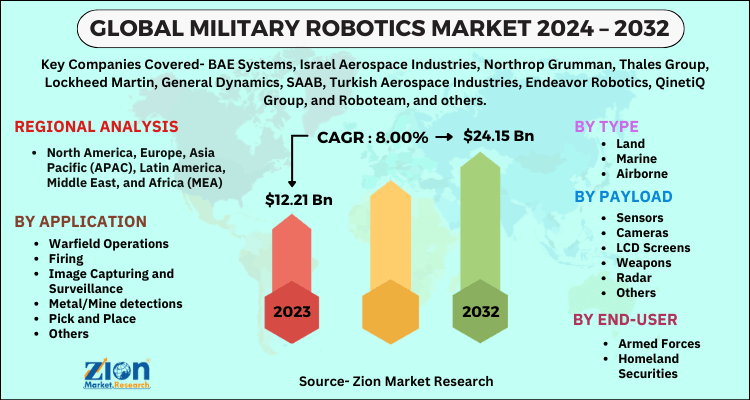 Request Free Sample
The report analyzes the major type, payload, application, end-user, and region of the global military robotics market. All the segments have been analyzed based on present and future trends and the market is estimated from 2019 to 2027. The regional segment includes the historic and forecast demand for North America, Europe, Asia Pacific, Latin America, and the Middle East and Africa.
Some key players operating in the global military robotics market include BAE Systems, Israel Aerospace Industries, Northrop Grumman, Thales Group, Lockheed Martin, General Dynamics, SAAB, Turkish Aerospace Industries, Endeavor Robotics, QinetiQ Group, and Roboteam.
This report segments the global military robotics market into:
Global Military Robotics Market: Type Analysis
Global Military Robotics Market: Payload Analysis
Sensors
Cameras
LCD Screens
Weapons
Radar
Others
Global Military Robotics Market: Application Analysis
Warfield Operations
Firing
Image Capturing and Surveillance
Metal/Mine detections
Pick and Place
Others
Global Military Robotics Market: End-User Analysis
Armed Forces
Homeland Securities
Global Military Robotics Market: Regional Analysis
North America
Europe
Asia Pacific
Latin America
Middle East and Africa