Free Analysis
Military robots are remote-controlled mobile or autonomous robots. They are intended for various military applications, i.e., from transport to search and rescue and attack. These robots are currently in use, and most of them are under development. The use of military robots is considered to be lifesaving. The foremost advantage of military robots is that they are able to perform various tasks similar to humans without causing any harm to human lives. These robots are easily replaceable at an economical cost, unlike human lives. These robots can sustain damage done by bombs or other weapons, which destroys the human body. Other advantages of human robots include the deactivation of bombs and weapons and putting out fires. Military robots are fortified with various features like a machine gun, which make these medium-sized robots appear to be a small army. Autonomous military systems have become an important part of the modern army, which is expected to increase the demand for military robots and drive the military robotics growth over the forecast time period.
The increasing demand for military robots for intelligence, surveillance, and reconnaissance (ISR) is expected to fuel the global military robotics market growth over the forecast timeframe. The U.S. Army, Air Force, and Navy have developed various robotic aircrafts, such as unmanned flying vehicles (UAVs). For instance, the ground vehicles can perform various applications, such as they can be used for reconnaissance without endangering human pilots and carry weapons and missiles. These developments regarding military robots are expected to drive the global military robotics market growth over the forecast time period.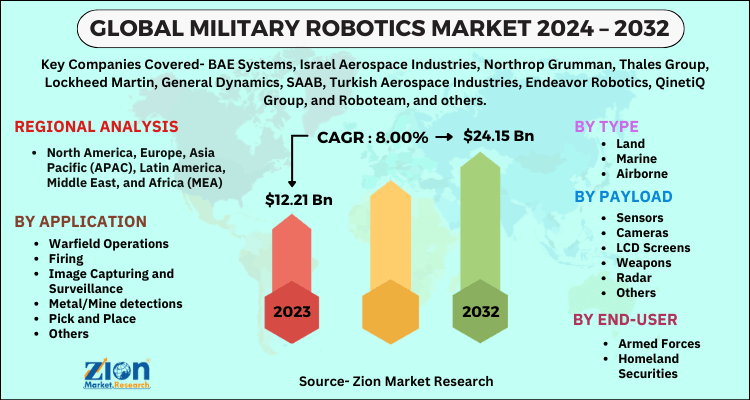 Based on type, the global military robotics market includes land, marine, and airborne. On the basis of payload, the market includes radar, cameras, sensors, weapons, LCD screens, and others. Based on application, the global military robotics market includes firing, pick and place, warfield operations, metal/mine detections, image capturing and surveillance, and others. By end-user, the global military robotics market is bifurcated into armed forces and homeland securities.
North America held a major share of the global military robotics market in 2018, due to the rising number of technological advancements and increasing incidences of armed conflicts or war against terrorism. Furthermore, the presence of major manufacturers and end-users of military robots, due to the threat faced by the country and its participation in the war against terrorism in countries like Afghanistan, Syria, Iraq, etc., is also expected to drive the North American military robotics market in the upcoming years. Asia Pacific military robotics market is anticipated to show the highest CAGR over the forecast time period, owing to the increased spending in the defense sector by developing countries in the region.
Some key players operating in the global military robotics market include BAE Systems, Israel Aerospace Industries, Northrop Grumman, Thales Group, Lockheed Martin, Boston Dynamics, General Dynamics, SAAB, Turkish Aerospace Industries, Endeavor Robotics, QinetiQ Group, and Roboteam.