the report covers a forecast and an analysis of the micro-display market on a global and regional level. The study provides historical data for 2016, 2017, and 2018 along with a forecast from 2019 to 2025 based on revenue (USD Million). The study includes drivers and restraints of the micro-display market along with the impact they have on the demand over the forecast period. Additionally, the report includes the study of opportunities available in the micro-display market on a global level.
This report offers a comprehensive analysis of the global micro-display market along with market trends, drivers, and restraints of the market. This report includes a detailed competitive scenario and product portfolio of the key vendors. To understand the competitive landscape in the market, an analysis of Porter's Five Forces model for the market has also been included. The study encompasses a market attractiveness analysis, wherein all the segments are benchmarked based on their market size, growth rate, and general attractiveness.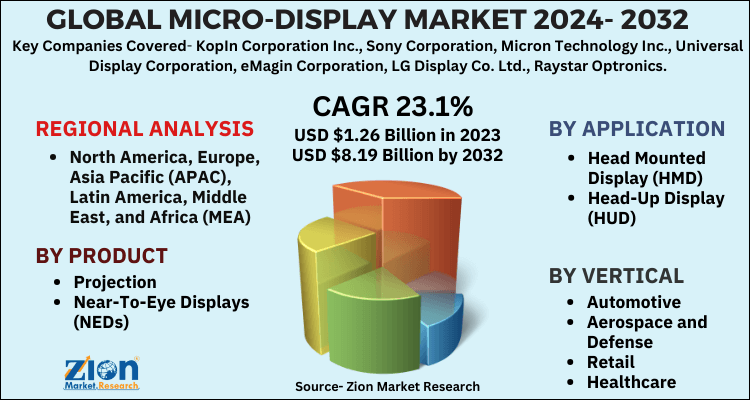 Request Free Sample
The global micro-display market is segmented based on product, display technology, application, vertical, and region. By product, the market is classified into projection and near-to-eye displays (NEDs). By display technology, the market includes liquid crystal on-silicon (LCoS), liquid crystal displays (LCD), digital micro-mirror display technology (DMD), digital light processing (DLP), an organic light emitting diode (OLED), and others. By application, the market includes a head-mounted display (HMD), head-up display (HUD), an electronic view finder (EVF), and projector. By vertical, the market is categorized into automotive, aerospace and defense, retail, healthcare, entertainment, and others. All the segments have been analyzed based on present and future trends and the market is estimated from 2019 to 2025. The regional segmentation includes the current and forecast demand for North America, Europe, Asia Pacific, Latin America, and the Middle East and Africa. Each region has been further segmented into major countries, such as the U.S., Canada, Mexico, UK, France, Germany, China, India, Japan, South Korea, Brazil, Argentina, and GCC Countries.
Some key players of the global micro-display market are KopIn Corporation Inc., Sony Corporation, Micron Technology Inc., Universal Display Corporation, eMagin Corporation, LG Display Co. Ltd., Raystar Optronics, OLiGHTEK, Himax Technologies, WINSTAR Display, Seiko Epson, Microvision Inc., HOLOEYE Photonics, Syndiant Inc., and AU Optronics Corp., among others.
This report segments the global micro-display market into:
Micro-Display Market: Product Analysis
Projection
Near-To-Eye Displays (NEDs)
Micro-Display Market: Display Technology Analysis
Liquid Crystal On-Silicon (LCoS)
Liquid Crystal Displays (LCD)
Digital Micro-Mirror Devices (DMD)
Digital Light Processing (DLP)
Organic Light Emitting Diode (OLED)
Others
Micro-Display Market: Application Analysis
Head Mounted Display (HMD)
Head-Up Display (HUD)
Electronic View Finder (EVF)
Projector
Micro-Display Market: Vertical Analysis
Automotive
Aerospace and Defense
Retail
Healthcare
Entertainment
Others
Micro-Display Market: Regional Analysis
North America
Europe
Asia Pacific
Latin America
Middle East and Africa