Analysis
A micro-miniaturized electronic display with an extremely small-sized screen is defined as a micro-display. The display screen size of any micro-display is usually less than a quarter inch diagonally. These compact displays are designed with user-configurable technology and facilitate high resolution required for developing quality images.
The adoption rate of micro-displays is projected to be escalating worldwide, due to the integration of advanced technologies. Such small-sized displays are flourishing worldwide as they provide high resolution and increased pixel for developing exemplary images. In addition, the compact size and low power consumption of these displays have elevated their market penetration in consumer electronics and medical applications to a large extent. These are some factors that are projected to fuel the growth of the micro-display market over the estimated timeframe. Several benefits of these micro-displays are likely to further drive the market for micro-displays in the future. However, the saturation in the demand for micro-displays in digital cameras and projectors may restrain the micro-display market in the upcoming years. Moreover, the evolving product penetration rate in the aerospace and defense industry is estimated to create lucrative growth opportunities for the market over the forecast timeframe.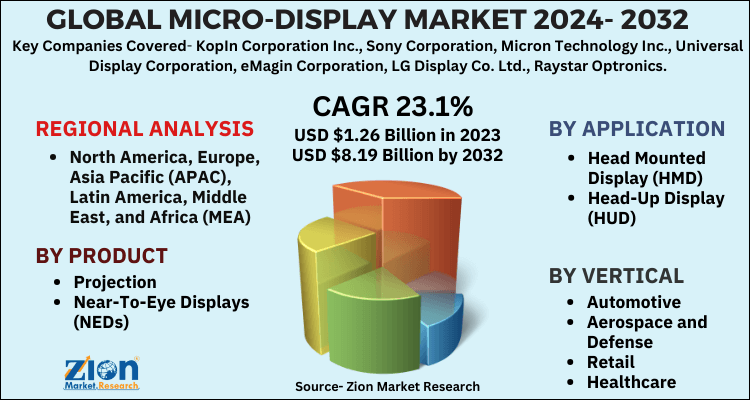 The global micro-display market is segmented based on product, display technology, application, and vertical. By product, the market is classified into projection and near-to-eye displays (NEDs). The projection segment is slated to dominate the market in the future. By display technology, the market includes liquid crystal on-silicon (LCoS), liquid crystal displays (LCD), digital micro-mirror display technology (DMD), digital light processing (DLP), an organic light emitting diode (OLED), and others. By application, the market includes a head mounted display (HMD), head-up display (HUD), an electronic view finder (EVF), and projector. By vertical, the market is categorized into automotive, aerospace and defense, retail, healthcare, entertainment, and others.
North America is likely to hold a substantial market share in the future, owing to the increasing demand for projectors with micro-displays for the educational sector. The Asia Pacific micro-display market is projected to grow rapidly in the upcoming years, owing to the increasing adoption of wearable electronic devices, such as smartwatches and fitness bands in developing Asian economies, such as India and China.
Some key players of the global micro-display market are KopIn Corporation Inc., Sony Corporation, Micron Technology Inc., Universal Display Corporation, eMagin Corporation, LG Display Co. Ltd., Raystar Optronics, OLiGHTEK, Himax Technologies, WINSTAR Display, Seiko Epson, Microvision Inc., HOLOEYE Photonics, Syndiant Inc., and AU Optronics Corp., among others.