Abstract
The report of the metering pumps market provides a comprehensive glance at the global and regional level. The study provides historical data from 2016 to 2018 along with a forecast from 2019 to 2025 based on revenue (USD Billion) and volume (K Units). The study includes major driving forces and restraints of the metering pumps market along with their impact on the demand over the forecast period. Furthermore, the study also provides the major avenues of global metering pumps market.
The global metering pumps market study also comprises a detailed value chain analysis for providing a comprehensive market view. Moreover, the study also includes Porter's Five Forces model of the metering pumps market to understand its competitive landscape. The study includes a market attractiveness analysis of all the segments related to the market.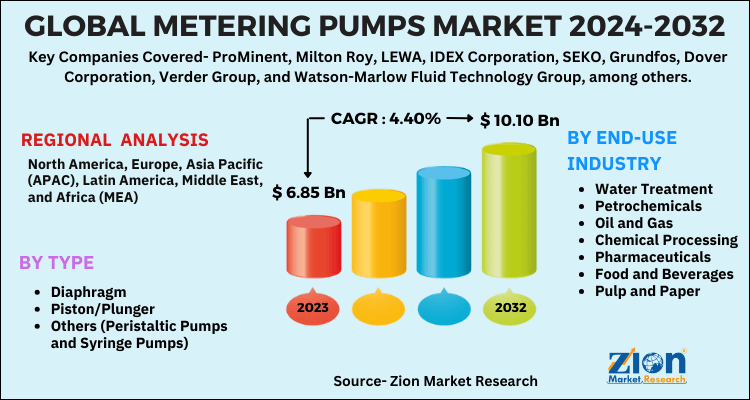 The study provides a significant view of the global metering pumps market by classifying it into type, end-user industry, and region. These segments have been estimated and forecasted with respect to future and past trends. Based on the type, the global metering pumps market is divided into the diaphragm, piston/plunger, and others. By end-user industry, the global metering pumps market is segmented into water treatment, petrochemicals, oil and gas, chemical processing, pharmaceuticals, food and beverages, pulp and paper, and others. The regional segment includes North America, Europe, Asia Pacific, Latin America, and the Middle East and Africa.
Some key players of the global metering pumps market are ProMinent, Milton Roy, LEWA, IDEX Corporation, SEKO, Grundfos, Dover Corporation, Verder Group, and Watson-Marlow Fluid Technology Group, among others.
This report segments the global metering pumps market into:
Global Metering Pumps Market: Type Analysis
Diaphragm
Piston/Plunger
Others (Peristaltic Pumps and Syringe Pumps)
Global Metering Pumps Market: End-Use Industry Analysis
Water Treatment
Petrochemicals
Oil and Gas
Chemical Processing
Pharmaceuticals
Food and Beverages
Pulp and Paper
Others (Agriculture and Pesticides, Textiles, Construction, Poultry, Mining, etc.)
Global Metering Pumps Market: Regional Analysis
North America
Europe
Asia Pacific
Latin America
Middle East and Africa