Global Memristive Devices For Computing Market Size
The global Memristive Devices For Computing market, which accrued revenue worth 4.42 (USD Billion) in 2019 and anticipated to garner earnings about 8.14 (USD Billion) by 2026, is set to grow at a CAGR of nearly 56.78% during the period from 2020 to 2026. The report offers valuation and analysis of the Memristive Devices For Computing market on a global as well as regional level. The study offers a comprehensive assessment of the industry competition, restraints, revenue estimates, avenues, current & emerging trends, and industry-validated market information. The report offers historical data from 2016 to 2019 along with a forecast from 2020 to 2026 based on value (USD Billion).
Memristive Devices For Computing Market: Outlook
Breakthrough in the field of electronics has brought a paradigm shift in the workings of the employees as well as their communication. Earlier, the changes in the electronic devices were governed by Moore's law with new generation of electronic equipment being tiny, fast, and cost-effective. This, in turn, led to launching of stronger circuits and electronic systems. Nonetheless, growing necessity of new materials, equipment, and architectures for computing applications has resulted in need for strong integration of memory, logic, and parallel processing, thereby creating need for Memristive devices. Moreover, these electronic devices can store & process data and can function even better as compared to traditional integrated circuits.
Furthermore, these devices facilitate efficient operations of data storage applications along with enabling proficient working of analog computing architectures. In addition to this, Memristive devices find a slew of applications in analog-digital neuromorphic computing designs. Citing an instance, Memristive devices are used for creating neuromorphic computers that are designed by observing the functioning of neurons of the human brain.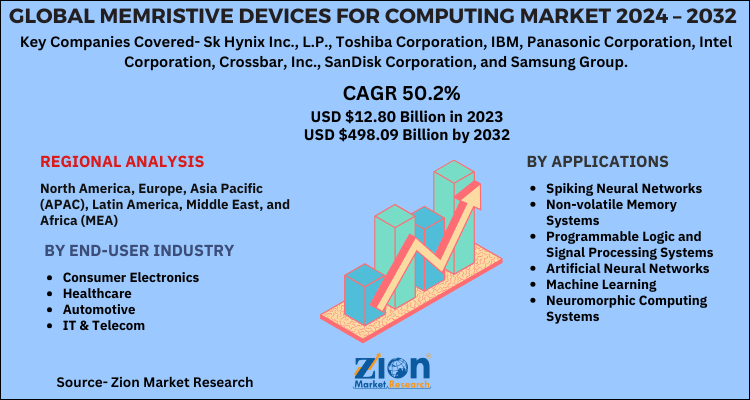 Request Free Sample
Memristive Devices For Computing Market: Growth Drivers
With Memristive devices emerging as next-gen non-volatile memory equipment, it is likely that Memristive devices for computing industry will gain traction over the coming years. Apart from this, these electronic devices have proved to be more effective in comparison to static access memory, dynamic random access memory, and flash. This, in turn, will create massive demand for Memristive devices in computing over the forthcoming years. Furthermore, Memristive devices have the ability to retain the data for more than a decade and this feature has enhanced its popularity in the domain of computing.
Apparently, Memristive devices are predicted to replace CMOS in memory storage as they have ability of writing speedily along with reducing the power usage. With onset of smartphones, notebooks, and tablets, the Memristive devices for computing industry is anticipated to witness an accelerated growth over the years to come.
Memristive Devices For Computing Market: Regional Analysis
North America is slated to contribute majorly towards the overall market share over the coming years. The expansion of the industry in the sub-continent can be ascribed to large presence of giant players in the countries like the U.S. In addition to this, onset of new technologies like IoT, industrial robotics, flexible electronics, and edge computing along with its massive adoption in nations like Canada and the U.S. will prompt the regional industry trends. Massive funding of ongoing research ventures pertaining to production of Memristive equipment for purpose of computing in the U.S. will propagate the expansion of the Memristive devices for computing industry in the region over the forecasting years.
Key participants profiled in the study include Sk Hynix Inc., L.P., Toshiba Corporation, IBM, Panasonic Corporation, Intel Corporation, Crossbar, Inc., SanDisk Corporation, and Samsung Group.
This report segments the Memristive Devices For Computing market as follows:
Global Memristive Devices For Computing Market: By End-User Industry Segment Analysis
Consumer Electronics
Healthcare
Automotive
IT & Telecom
Global Memristive Devices For Computing Market: By Applications Segment Analysis
Spiking Neural Networks
Non-volatile Memory Systems
Programmable Logic and Signal Processing Systems
Artificial Neural Networks
Machine Learning
Neuromorphic Computing Systems
Global Memristive Devices For Computing Market: Regional Segment Analysis
North America
Europe

France
The UK
Spain
Germany
Italy
Rest of Europe

Asia Pacific

China
Japan
India
South Korea
Southeast Asia
Rest of Asia Pacific

Latin America

Brazil
Mexico
Rest of Latin America

Middle East & Africa

GCC
South Africa
Rest of Middle East & Africa