According to the report published by Zion Market Research, global demand for the medical membranes market was valued at approximately USD 2.54 Billion in 2019 and is expected to generate revenue of around USD 4.70 Billion by end of 2026, growing at a CAGR of around 9.2% between 2020 and 2026.
Global Medical membranes Market: Overview
The medical membrane market is expected to observe an unprecedented development in the upcoming years, due to its maximum use in various sectors, such as biotechnology, pharmaceuticals, and healthcare, among others. At present, medical membranes are extensively utilized in the medical sector, to produce and maintain the maximum purity of products. High selectivity and permeability are the most dominant benefits provided by medical membranes.
Global Medical membranes Market: Growth Factors
The global medical membrane market is projected to grow at a considerable rate of growth in the upcoming years. Advancements made in biotechnology, increasing prevalence of diseases globally, growing life science and healthcare industry, increasing use of a medical membrane in the medical sector, and rising demand for high purity products are some of the major factors that are expected to propel the medical membrane market on a global scale in the forecast time period. Furthermore, increasing cases of kidney failure and diabetes are predicted to fuel the medical membrane market on a global scale. In addition, numerous benefits provided by the medical membrane, such as the filtration method to recover materials, like concentrated proteins and enzymes, are set to drive the demand and popularity of the medical membranes market across the globe.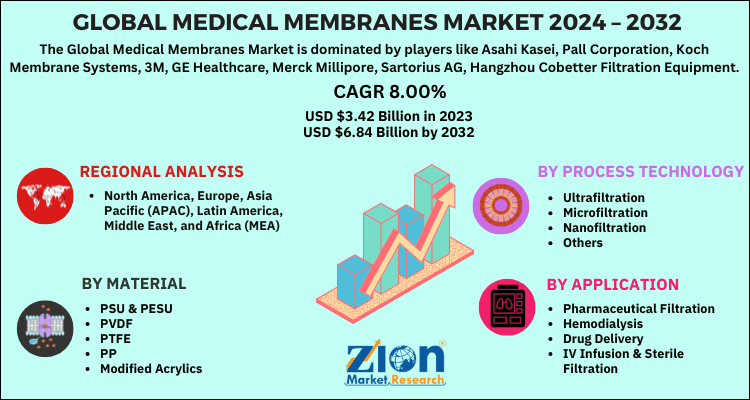 Request Free Sample
Global Medical Membranes Market: Segmentation
The medical membranes market is classified in terms of application, technology, and material type. By application, this global market is divided into blood delivery, IV infusion filters and sterile filtration, haemodialysis, bio-artificial pancreas, and others. By technology, the medical membranes market is categorized into gas separation, dialysis, ultrafiltration, reverse osmosis, microfiltration, and others. In terms of material type, this global market is fragmented into modified acrylics, polyethylene, polyvinylidene fluoride, polytetrafluoroethylene, and others.
Region-wise, the global market is segregated into North America, Europe, Asia Pacific, Latin America, and Middle East & Africa.
Global Medical membranes Market: Regional Analysis
Based on the region, the medical membrane market is categorized into the Middle East and Africa, Europe, North America, Asia Pacific, and Latin America. North America is likely to dominate the global medical membrane market, owing to the advanced healthcare infrastructure and growing requirement for membrane equipment. Furthermore, technological developments related to medical membrane equipment has also fuelled the development of the medical membranes market in the North America region. The U.S. is likely to be the leading country for medical membrane devices in North America, which is likely to be followed by Canada. In the European region, countries like France, Germany, and UK are projected to hold substantial shares of the medical membranes market. The Asia Pacific medical membranes market is anticipated to witness good growth in the upcoming years. This is due to the growing requirement for medical membrane equipment in this region. Furthermore, many medical equipment producing companies are foraying mainly into Asia Pacific countries with their manufacturing facilities, as that are supported by less strict policies and low labor costs in the region. Changing demographics and the presence of developing economies, such as China and India, are likely to fuel the development of the global medical membrane devices market in the Asia Pacific region. Moreover, China, India, and Japan are anticipated to be the major contributors to the medical membrane market in the Asia Pacific region.
Global Medical membranes Market: Competitive Players
Some key players operating in the medical membranes market are Asahi Kasei, Pall Corporation, Koch Membrane Systems, 3M, GE Healthcare, Merck Millipore, Sartorius AG, Hangzhou Cobetter Filtration Equipment, Microdyn-Nadir, and W. L. Gore & Associates, among others.
Medical membranes Market: Regional Segment Analysis
North America
Europe

France
The UK
Spain
Germany
Italy
Rest of Europe

Asia Pacific

China
Japan
India
South Korea
Southeast Asia
Rest of Asia Pacific

Latin America

Brazil
Mexico
Rest of Latin America

Middle East & Africa

GCC
South Africa
Rest of Middle East & Africa