Magnesium Hydroxide Industry Prospective:
The global magnesium hydroxide market size was worth around USD 724.68 million in 2022 and is predicted to grow to around USD 1165.36 million by 2030 with a compound annual growth rate (CAGR) of roughly 6.15% between 2023 and 2030.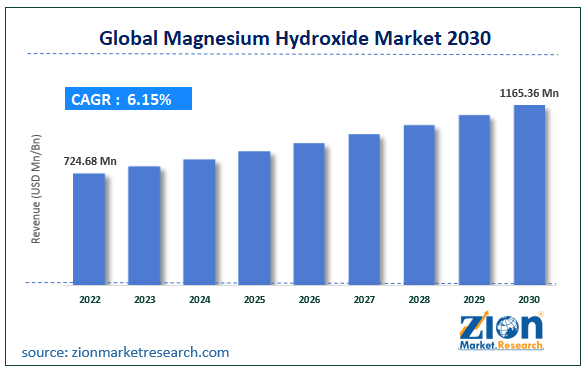 Request Free Sample
Magnesium Hydroxide Market: Overview
Magnesium hydroxide is a popular and versatile inorganic compound as it does not contain carbon-hydrogen bonds. The chemical formula for the compound is Mg(OH)2. In nature, magnesium hydroxide is available as the mineral brucite which is a low-temperature hydrothermal vein mineral. Mg(OH)2 appears as a white solid and exhibits low water solubility. It has wide applications in end-user verticals including the healthcare and food industries. In the medicine industry, it is profoundly popular as an antacid and an active key ingredient for extensively consumed laxatives such as milk of magnesia.
Apart from these most common applications, the market is filled with several research initiatives working toward improving compound use which could lead to further growth for the market players. However, in recent times, the magnesium hydroxide market growth trend has registered specific setbacks associated with health concerns over excessive consumption of magnesium hydroxide. Nevertheless, the Mg(OH)2 outlook is projected to be steady during the forecast period as more investments pour in toward the increased production rate of the compound.
Key Insights:
As per the analysis shared by our research analyst, the global magnesium hydroxide market is estimated to grow annually at a CAGR of around 6.15% over the forecast period (2023-2030)
In terms of revenue, the global magnesium hydroxide market size was valued at around USD 724.68 million in 2022 and is projected to reach USD 1165.36 million, by 2030.
The magnesium hydroxide industry is projected to grow at a significant rate due to its promising application as a laxative and an antacid
Based on application segmentation, environmental was predicted to show maximum market share in the year 2022
Based on grade segmentation, technical or industrial was the leading segment in 2022
On the basis of region, Asia-Pacific was the leading revenue generator in 2022
Magnesium Hydroxide Market: Growth Drivers
Promising application as a laxative and an antacid to drive market growth
The global magnesium hydroxide market is projected to grow owing to the promising application of the compound as a popular laxative and an antacid. It is used for treating occasional constipation in children and adults on a short-term basis and belongs to the saline laxatives class of medications. It helps in water retention in the stool resulting in an increased number of bowel movements. Magnesium hydroxide is typically available in tablet or chewable tablet form but can also be found in liquid form to be taken by mouth. It is known to cause bowel movement within 30 minutes of intake but may take over 6 hours in some cases.
The extended medical applications of magnesium hydroxide include its use as an antacid since it is known to treat conditions such as heartburn, upset stomach, and acid indigestion. Depending on the doctor's recommendation, it can be prescribed for other conditions as well. The increasing population rate and surging number of adults or children facing constipation are excellent market growth drivers. Several factors are responsible for improper bowel movement in adults including limited consumption of fiber, changes in routine or lifestyle, and not paying enough attention to the need for passing stool. As per a report by the National Institutes of Health (NIH), around 16 in every 100 people in the US exhibit constipation symptoms regularly.
Increasing construction of new Mg(OH)2 production facilities may push market growth rate
The industry for magnesium hydroxide is projected to gain higher momentum in terms of revenue due to the rising compound production rate globally and also includes strategic partnerships, acquisitions, or joint ventures. In a recent market move, RHI Magnesita (RHIM), a leading supplier of refractory products, sold its 50% stakes in Magnifin Magnesiaprodukte GmbH & Co. KG, one of Australia's largest producers of magnesium hydroxide to J.M. Huber Corp., America's prominent corporation. The overall transaction was valued at USD 100 million and has strengthened J.M. Huber Corp's footprint in the chemical industry
Magnesium Hydroxide Market: Restraints
Health concerns over excess consumption of magnesium hydroxide may restrict market growth
The global magnesium hydroxide market growth is projected to be limited due to certain health concerns associated with the excess or unwanted consumption of magnesium hydroxide. Medical professionals recommend against magnesium hydroxide unless necessary and when prescribed, it should be consumed in advised doses. Excess amounts of magnesium hydroxide medicine can lead to severe diarrhea. Another key unwanted impact deals with high magnesium levels leading to shallow breathing, muscle weakness, mood changes, and irregular heartbeat. Patients have also complained of dehydration symptoms, rectal bleeding, abdominal pain, and bloody stools. While a serious allergic reaction to the drug is rare, significant risk still persists. These factors do not work in the favor of magnesium hydroxide medicine especially when consumed in quantities more than required.
Magnesium Hydroxide Market: Opportunities
Growing applications in flue gas desulfurization (FGD) will open new avenues for expansion
During the projection period, the demand for magnesium hydroxide is projected to grow multifold as higher applications of the compound are emerging in the FDH market segment. Flue gas desulfurization deals with the use of multiple technologies and methods for the removal of toxic sulfur content such as sulfur dioxide (SO2) from exhaust flue gasses produced by power plants running on fossil fuel. It is also used for the removal of sulfur oxide-emitting processes such as petroleum refineries, incineration plants, and lime kilns. Sulfur dioxide is an extremely harmful environmental pollutant and can lead to several serious health risks including bronchitis and asthma attacks.
It has also been linked to various cardiovascular diseases (CVDs). The environmental impact of SO2 is more severe as it is directly related to the formation of acid rain that causes deforestation and hampers marine ecosystems. These events have led to governments and international environment bodies regulating the release of SO2 in the environment. For instance, as per regulations in the US, the hourly average for sulfur dioxide is 75 parts per billion. Magnesium hydroxide is used in the desulfurization process as it follows 3 simple steps to achieve the goal including absorption, oxidation, and separation.
Use of magnesia power requires more attention
Magnesia powder is used as fillings for electrical materials and this segment requires more attention from the players as it holds tremendous growth potential. Fused magnesia possesses excellent electric and thermal resistance which means it can be used to form a protective layer between the outer sheath and the element. In cable applications, it is used as mineral insulation.
Magnesium Hydroxide Market: Challenges
Availability of substitutes across end-uses to challenge market growth
The magnesium hydroxide industry expansion trajectory will be challenged by the presence of an extensive market filled with alternatives to magnesium hydroxide across end-user verticals. For instance, some other popular antacids available in the market are sodium bicarbonate, calcium carbonate, proton pump inhibitors, simethicone, and others. Some of these variants are safer than magnesium hydroxide. Similarly, other substitutes for FGD are also highly prevalent leading to serious market fragmentation.
Magnesium Hydroxide Market: Segmentation
The global magnesium hydroxide market is segmented based on application, grade, and region.
Based on application, the global market segments are pharmaceuticals, environmental, chemicals, and others. During the forecast period, the environmental segment is expected to lead the market growth as it is expected to grow at a CAGR of over 5.1%. In 2022, it accounted for more than 39% of the total share, and increasing investments in the development of sustainable solutions related to magnesium hydroxide will lead to segmental growth.
Based on grade, the magnesium hydroxide industry divisions are technical or industrial and food or pharma. The highest growth will be observed in the technical or industrial grade. The segmental growth will be a CAGR of 5.29% and may account for over 25% of the total market share. Growing applications in wastewater treatment and removal of heavy metals from wastewater may act as segment growth drivers.
Magnesium Hydroxide Market: Report Scope
Report Attributes
Report Details
Report Name
Magnesium Hydroxide Market
Market Size in 2022
USD 724.68 Million
Market Forecast in 2030
USD 1165.36 Million
Growth Rate
CAGR of 6.15%
Number of Pages
211
Key Companies Covered
Martin Marietta Magnesia Specialties, Ube Industries, Premier Magnesia LLC, Konoshima Chemical Co. Ltd., Nedmag Industries, Xinyang Minerals Group, Kumas Manyezit Sanayi A.S., Russian Mining Chemical Company LLC, NIKOMAG, Kyowa Chemical Industry Co. Ltd., Naikai Chemical Industries Co. Ltd., RHI Magnesita, Nedmag B.V., Lehmann&Voss&Co., ICL Group, and others.
Segments Covered
By Application, By Grade, and By Region
Regions Covered
North America, Europe, Asia Pacific (APAC), Latin America, Middle East, and Africa (MEA)
Base Year
2022
Historical Year
2017 to 2021
Forecast Year
2023 - 2030
Customization Scope
Avail customized purchase options to meet your exact research needs. Request For Customization
Magnesium Hydroxide Market: Regional Analysis
Asia-Pacific may be led by companies in China in the coming period
The global magnesium hydroxide market will be led by Asia-Pacific which in turn will be dominated by China, as per research projections. China is one of the leading producers and exporters of magnesium hydroxide strengthened by the presence of an expansive regional chemical industry. KANTO CHEMICALS CO., INC is considered one of the world's top producers of magnesium hydroxide and is headquartered in China.
In July 2021, CJSC NikoMag, a prominent producer of magnesium hydroxide, announced additional investments to increase production capacity from 25,000 to 40,000 tonnes per year. As per market research, held a share of 16% in the global market. India is one of the leading nations in terms of chemical industry For the fiscal year 2023-2024, India's central government has allotted USD 20.93 million to the Department of Chemicals and Petrochemicals. Growth in North America will be fueled by the increasing applications in wastewater treatment and management of flue gas desulfurization (FGD) procedures across leading nations such as the US and Canada.
Magnesium Hydroxide Market: Competitive Analysis
The global magnesium hydroxide market is led by players like:
Martin Marietta Magnesia Specialties
Ube Industries
Premier Magnesia LLC
Konoshima Chemical Co. Ltd.
Nedmag Industries
Xinyang Minerals Group
Kumas Manyezit Sanayi A.S.
Russian Mining Chemical Company LLC
NIKOMAG
Kyowa Chemical Industry Co. Ltd.
Naikai Chemical Industries Co. Ltd.
RHI Magnesita
Nedmag B.V.
Lehmann&Voss&Co.
ICL Group
The global magnesium hydroxide market is segmented as follows:
By Application
Pharmaceuticals
Environmental
Chemicals
Others
By Grade
Technical or Industrial
Food or Pharma
By Region
North America
Europe

France
The UK
Spain
Germany
Italy
Rest of Europe

Asia Pacific

China
Japan
India
South Korea
Southeast Asia
Rest of Asia Pacific

Latin America

Brazil
Mexico
Rest of Latin America

Middle East & Africa

GCC
South Africa
Rest of Middle East & Africa