Locker Locks Industry Prospective:
The global locker locks market size was worth around USD 293.64 million in 2022 and is predicted to grow to around USD 447.12 million by 2030 with a compound annual growth rate (CAGR) of roughly 5.38% between 2023 and 2030.
Request Free Sample
Locker Locks Market: Overview
Locker locks are devices that facilitate the protection of private commodities including documents and objects. A locker is defined as a small box that can be locked to safeguard personal items. Locker locks are the devices promoting the locking action. Several types of locking systems are available in the market including mechanical and nonmechanical variants with the former acting as the more traditional method of securing personal items. However, with time, the locking technology has also evolved giving rise to multiple digital locking systems with enhanced security features.
Lockers can be found in all spaces occupied by humans including homes, workspaces, public facilities, banks, recreational centers, and many other places. Locker locks are one of the most standard items used by people or business entities for the protection of data or objects holding high value. Examples of the most widely used locker locks include combination locks, padlocks, cam locks, and combination locks with each type offering certain advantages and limited by specific restrictions. During the forecast period, advancements in locking technology are expected to create growth opportunities in the locker locks industry.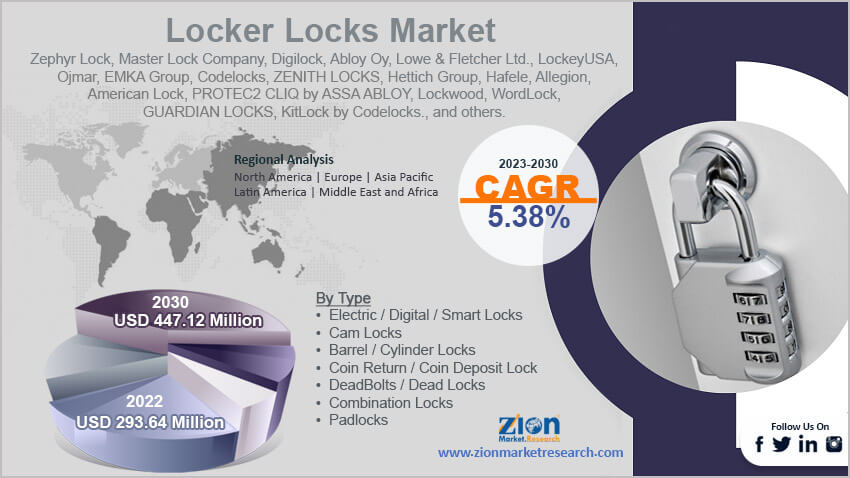 Request Free Sample
Key Insights:
As per the analysis shared by our research analyst, the global locker locks market is estimated to grow annually at a CAGR of around 5.38% over the forecast period (2023-2030)
In terms of revenue, the global locker locks market size was valued at around USD 293.64 million in 2022 and is projected to reach USD 447.12 million, by 2030.
The locker locks market is projected to grow at a significant rate due to the rising use of locker systems in banks, airports, and other public access facilities
Based on type segmentation, combination lock was predicted to show maximum market share in the year 2022
Based on application segmentation, education centers was the leading segment in 2022
On the basis of region, North America was the leading revenue generator in 2022
Locker Locks Market: Growth Drivers
Rising use of locker systems in banks, airports, and other public access facilities to drive market growth
The global locker locks market is expected to grow due to the increasing investments by the management of public access facilities such as airports, banks, gyms, and other recreational centers in improving services provided to customers. These units use significant resources in providing locker services to regular clients. Banks use them to secure important documents, jewelry, and antique items on the basis of their clients while recreational centers provide these lockers either on temporary or semi-permanent to customers for keeping their personal belongings.
These lockers are typically allotted to single users and are provided with either a unique key or other unlocking system that allows only the customers to open the locks. Furthermore, these lockers are also used by employees of the firm for organizing their items. In addition to this, educational facilities are one of the largest consumers of locker locks since most schools provide individual locker systems to each student and faculty member. For instance, in February 2020, the West Bengal government of India announced that it would provide locker facilities in all state-run schools in West Bengal to reduce the burden on students for carrying heavy books.
Locker Locks Market: Restraints
High installation cost of advanced locker lock systems may restrict market growth
The global locker locks market growth trend is projected to be impacted due to the high cost of installation of advanced locker systems, especially the ones that use digital technology for unlocking. For instance, lockers used in government facilities and research units or other sectors storing high-security information, and documents require the use of specially manufactured locking systems that can be unlocked using advanced means only. It can either be a unique key or a digital system. However, such locker locks are more expensive due to the use of sophisticated technology in their construction. Furthermore, in case the unlocking device is lost or forgotten, the locker will remain locked permanently and will require assistance from professionals to unlock these lockers. This is especially true for locks that open using a key.
Locker Locks Market: Opportunities
Growing demand for automated lockers to create growth opportunities
The locker locks industry growth is expected to be further fueled by the growing demand for automated locker systems since they offer higher security and protection. Some of the advantages offered by automated lockers include control using remote access, customized access, security alerts, and notifications during unauthorized access, and tracking capabilities. For instance, India's private bank ICICI uses 'Smart Vault' technology to secure the possessions of its clients. Smart Vault refers to the use of fully automated state-of-the-art locker systems that are available 24*7 for access and customers can use the facility during weekends or after bank hours. Customers using this facility have to visit a secure lounge and the vault comes directly to them.
Growing use of RFID lockers in workspaces, data centers, and other high-profile facilities may create expansion possibilities
The demand for locker locks is expected to further grow during the projection period due to the rising use of lockers powered by radio-frequency Identification (RFID) technology in high-profile facilities such as workspaces and data centers. These places have lockers in place for employees and servers respectively and only a few with authorization can access lockers used in the facilities. The growing number of data centers across the globe as the demand for digital solutions is growing rapidly along with an increasing number of corporate offices with large manpower is likely to push market growth to new heights. A June 2023 report by the New York Times claimed that the demand for data centers is soaring with the growth of high-speed streaming and remote work culture.
Locker Locks Market: Challenges
Extreme market saturation to challenge growth trend
The global locker locks industry players are expected to face challenges due to extreme industry saturation as it is filled with numerous manufacturers and suppliers of locker locks. The increasing number of options available has resulted in users facing difficulty in product differentiation which directly impacts brand value and no player can stand out from the rest of the competitors. Furthermore, the market is quickly changing with the addition of new locking mechanisms and locks resulting in companies constantly looking out for new ideas leading to business burnout.
Locker Locks Market: Segmentation
The global locker locks market is segmented based on type, application, and region.
Based on type, the global market segments are electric/digital/smart locks, cam locks, barrel/cylinder locks, coin return/coin deposit locks, deadbolts/deadlocks, combination locks, and padlocks. The demand for combination locks is growing at a steady pace since it is widely used in several commercial facilities. Padlocks are the oldest type of locks and still have high demand due to the study structures of locks made with premium materials. Cam locks have higher application in filing cabinets. These locks consist of a stationary cylinder portion and when turned, the cam rotates around 90 degrees for unlocking.
Based on application, the locker locks industry divisions are education centers, corporate offices & industrial units, recreational centers, public transport facilities, commercial centers, data centers & IT facilities, personal lockers, and others. In 2022, the highest growth was registered in the education centers segment due to the growing use of locker facilities for students in private and public schools and colleges. The US has more than 6 million commercial buildings as per research and they are also leading contributors in the US locker locks sector.
Locker Locks Market: Report Scope
Report Attributes
Report Details
Report Name
Locker Locks Market
Market Size in 2022
USD 293.64 Million
Market Forecast in 2030
USD 447.12 Million
Growth Rate
CAGR of 5.38%
Number of Pages
208
Key Companies Covered
Zephyr Lock, Master Lock Company, Digilock, Abloy Oy, Lowe & Fletcher Ltd., LockeyUSA, Ojmar, EMKA Group, Codelocks, ZENITH LOCKS, Hettich Group, Hafele, Allegion, American Lock, PROTEC2 CLIQ by ASSA ABLOY, Lockwood, WordLock, GUARDIAN LOCKS, KitLock by Codelocks., and others.
Segments Covered
By Type, By Application, and By Region
Regions Covered
North America, Europe, Asia Pacific (APAC), Latin America, Middle East, and Africa (MEA)
Base Year
2022
Historical Year
2017 to 2021
Forecast Year
2023 - 2030
Customization Scope
Avail customized purchase options to meet your exact research needs. Request For Customization
Locker Locks Market: Regional Analysis
North America to continue its dominance streak during the assessment period
The global locker locks market is expected to witness the highest growth in North America due to the extensive use of locking systems across end-user verticals. The US educational system is such that most schools are required to provide locker systems to the students. The growing number of public and private education centers across the US is expected to fuel regional growth. In April 2022, the US Department of Education announced that USD 9 million was invested by the Overdeck Family Foundation toward school improvement projects and managing a shortage of teaching faculty.
As per official data, between 2020 and 2021, the country has more than 98000 public schools. Furthermore, the growing use of locker systems in other public-access places such as airports and gymnasiums may also assist in delivering better results. On average, around 32 new gyms open across the US as research findings. Asia-Pacific is a crucial player for global revenue. The regional growth drivers are an increasing number of locker lock manufacturers, growing use in corporate and industrial settings, and higher revenue from the banking system.
Locker Locks Market: Competitive Analysis
The global locker locks market is led by players like:
Zephyr Lock
Master Lock Company
Digilock
Abloy Oy
Lowe & Fletcher Ltd.
LockeyUSA
Ojmar
EMKA Group
Codelocks
ZENITH LOCKS
Hettich Group
Hafele
Allegion
American Lock
PROTEC2 CLIQ by ASSA ABLOY
Lockwood
WordLock
GUARDIAN LOCKS
KitLock by Codelocks
The global locker locks market is segmented as follows:
By Type
Electric / Digital / Smart Locks
Cam Locks
Barrel / Cylinder Locks
Coin Return / Coin Deposit Lock
DeadBolts / Dead Locks
Combination Locks
Padlocks
By Application
Education Centers
Corporate Offices & Industrial Units
Recreational Centers
Public Transport Facilities
Commercial Centers
Data Centers & IT Facilities
Personal Lockers
Others
By Region
North America
Europe

France
The UK
Spain
Germany
Italy
Rest of Europe

Asia Pacific

China
Japan
India
South Korea
Southeast Asia
Rest of Asia Pacific

Latin America

Brazil
Mexico
Rest of Latin America

Middle East & Africa

GCC
South Africa
Rest of Middle East & Africa