Liposomal Supplements Industry Prospective:
The global liposomal supplements market size was worth around USD 361.08 million in 2022 and is predicted to grow to around USD 627.39 million by 2030 with a compound annual growth rate (CAGR) of roughly 7.17% between 2023 and 2030.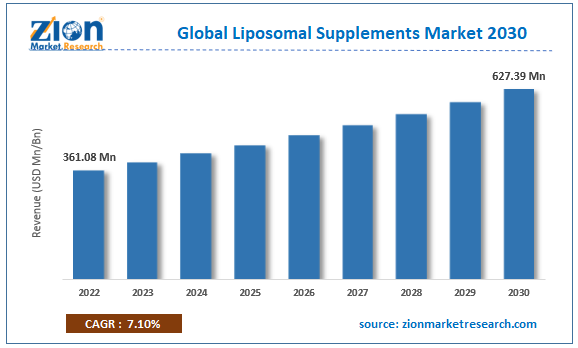 Request Free Sample
Liposomal Supplements Market: Overview
Liposomal supplements are nutritional supplements that deliver nutrients through the liposome delivery system. This method of protecting the essential nutrients is known to improve the chances of absorbency by the small intestine thus allowing the supplement to deliver expected results. In terms of structure, liposomes appear as tiny bubbles that are essentially made of phospholipids encapsulating nutrients. This allows them to stay stable when ingested and pass through the small intestine. Since they appear and mimic body cells, the chances of being recognized by the digestive system are higher. This delivery system can be used for water-soluble and fat-soluble nutrients including all types of minerals, vitamins, and any other essential unit of energy. In the commercial market, liposomal supplements are available in powder and liquid form. Studies have indicated that the bioavailability of certain nutrients such as magnesium and calcium is improved when consumed using liposomal encapsulation. The liposomal supplements industry deals with the production, marketing, and distribution of liposomal supplements and is likely to witness steady growth during the forecast period.
Key Insights:
As per the analysis shared by our research analyst, the global liposomal supplements market is estimated to grow annually at a CAGR of around 7.17% over the forecast period (2023-2030)
In terms of revenue, the global liposomal supplements market size was valued at around USD 361.08 million in 2022 and is projected to reach USD 627.39 million, by 2030.
The liposomal supplements market is projected to grow at a significant rate due to the rising need for additional supplements to meet dietary requirements
Based on mode of purchase segmentation, online was predicted to show maximum market share in the year 2022
Based on type segmentation, glutathione was the leading type in 2022
On the basis of region, North America was the leading revenue generator in 2022
Liposomal Supplements Market: Growth Drivers
Rising need for additional supplements to meet dietary requirements may drive market growth
The global liposomal supplements market is expected to be driven by the growing need to consume essential dietary supplements using additional means. This trend is influenced by the lack of necessary supplements in everyday food products that are produced, in most cases, inorganically. During the cultivation process, most food items including vegetables and fruits are subject to chemical pesticides and insecticides. Additionally, due to rampant deforestation, soil in most areas has degraded in terms of quality. These factors in tandem affect the quality of the food produced. A recent research published by National Geographic pointed out that there is sufficient evidence proving that in today's time, everyday edible items have less amount of calcium, phosphorus, protein, and vitamin C when compared to the food products produced a decade ago. Since people are unable to meet their bodily nutrition requirements by consuming only primary sources of food, they are compelled to invest in secondary or additional measures such as nutrition supplements.
A survey conducted by the Centers for Disease Control and Prevention (CDC) reported that nearly 13.8% of all adults consumed four or more dietary supplements in the last 1 month from the date of the survey. As the population and consumers of secondary sources of nutrition continue to grow, the demand for liposomal supplements will register higher revenues.
Liposomal Supplements Market: Restraints
Limited research and fact-based evidence supporting the claim to restrict market expansion
The global liposomal supplements market players have advertised the products as supplements that have a higher chance of absorption in the body as compared to other competing supplements. However, there is limited research that backs such claims. Most of the companies selling the products continue to mention words such as 'likely' and 'probability' while marketing the products since there is a lack of proof supporting such claims. More research needs to be conducted to understand the efficiency of liposomal supplements in delivering the drug. Otherwise, there is no significant difference in liposomal supplements and counterparts available in the market.
Liposomal Supplements Market: Opportunities
Increasing investment in advanced liposomal technology to create growth opportunities
The global liposomal supplements industry is expected to come across extensive growth opportunities owing to the increased investments and research in liposomal technology thus creating a higher scope for further analysis and discussions on these supplements. For instance, in May 2023, Pharmako Biotechnologies and Gencor announced the launch of evidence-based PlexoZome technology. It is a liposomal technology to be used for liquid formulations that will be made on-site at the company's licensed facility. In May 2023, it was reported that the Japan-based producer of Lyco-C, a liposomal vitamin C brand, has registered a positive response in the overseas market. In the same period, Codeage, a leading brand supplying nutritional supplements, launched Liposomal NAD+ Ultra Supplement capsules, a cutting-edge product promoting overall wellness, energy production, healthy aging, and cellular health. There are multiple other new product launches in recent times thus catering to the needs of a vast audience.
Liposomal Supplements Market: Challenges
Lack of knowledge among consumers to challenge market expansion
One of the key challenges faced by the liposomal supplements industry players is the lack of sufficient knowledge among their target audience. The concept of liposomal supplements is fairly new and the market for health supplements is already governed by older brands. Consumers are more comfortable with the consumption of supplements that they are already aware of in terms of brand and efficiency. Liposomal supplements use a relatively new delivery system and more awareness programs are needed to educate potential consumers about the difference between the latest delivery method and other older methods of nutrition delivery.
Liposomal Supplements Market: Segmentation
The global liposomal supplements market is segmented based on mode of purchase, type, and region.
Based on mode of purchase, the global market segments are offline and online. In 2022, the highest growth was observed in the online segment. This is mainly because most of the companies selling the supplements first initiate sales through e-commerce platforms before enlisting the products in a brick-and-mortar unit. It helps brands understand buying patterns, and product acceptance, and save sufficient resources that they will have to invest when selling through physical stores. Moreover, from a consumer's perspective online sales platforms are more effective since they can get their hands on new launches quickly along with access to a larger range of options even from international markets. A recent report suggested that nearly 50% of all vitamin buyers in the US preferred purchasing from online channels.
Based on type, the liposomal supplements industry divisions are vitamin D, curcumin, vitamin C, glutathione, and others. The highest growth was registered in the glutathione segment in 2022. Glutathione is labeled as a master antioxidant due to its versatility which helps in achieving overall wellness. In its organic form, it occurs naturally in the body and helps to create an excellent antioxidant defense. Due to its excellent benefits, market players have invested in manufacturing synthetic glutathione for people who do not produce sufficient amounts of antioxidants. It promotes skin health and the anti-aging process. Research suggests that nearly 63% of the US population consumes some form of anti-aging products every day.
Liposomal Supplements Market: Report Scope
Report Attributes
Report Details
Report Name
Liposomal Supplements Market
Market Size in 2022
USD 361.08 Million
Market Forecast in 2030
USD 627.39 Million
Growth Rate
CAGR of 7.17%
Number of Pages
214
Key Companies Covered
Terry Naturally, LivOn Labs, NOW Foods, Pure Encapsulations, Quicksilver Scientific, Dr. Mercola, Thorne Research, Nutrex Hawaii, Designs for Health, NutriCology, Bulletproof, Jarrow Formulas, Quincy Bioscience, Empirical Labs, Nature's Answer, and others.
Segments Covered
By Mode of Purchase, By Type, and By Region
Regions Covered
North America, Europe, Asia Pacific (APAC), Latin America, Middle East, and Africa (MEA)
Base Year
2022
Historical Year
2017 to 2021
Forecast Year
2023 - 2030
Customization Scope
Avail customized purchase options to meet your exact research needs. Request For Customization
Liposomal Supplements Market: Regional Analysis
North America to register the highest revenue in the coming period
The global liposomal supplements market is expected to be led by North America during the projection period. The growth rate will be driven by the presence of a larger consumer base along with their high spending capacity. Most North Americans including people in the US and Canada have higher product awareness rates due to the presence of several key producers of liposomal supplements and the excellent marketing strategies adopted by them to educate people about the benefits of liposomal supplements. Moreover, several pharmaceutical companies in the US are investing in developing more advanced liposome-based delivery systems which could impact the regional market growth. In November 2021, US-based wellness company Life Extension launched its new vitamin C 24-hours liposomal hydrogel formula which the company claims to be 7 times more absorbable as compared to traditional vitamin C tablets. Similarly in March 2022, Specnova launched LipoVantage, a new and advanced liposomal technology to further push the market growth rate.
Liposomal Supplements Market: Competitive Analysis
The global liposomal supplements market is led by players like:
Terry Naturally
LivOn Labs
NOW Foods
Pure Encapsulations
Quicksilver Scientific
Dr. Mercola
Thorne Research
Nutrex Hawaii
Designs for Health
NutriCology
Bulletproof
Jarrow Formulas
Quincy Bioscience
Empirical Labs
Nature's Answer
The global liposomal supplements market is segmented as follows:
By Mode of Purchase
By Type
Vitamin D
Curcumin
Vitamin C
Glutathione
Others
By Region
North America
Europe

France
The UK
Spain
Germany
Italy
Rest of Europe

Asia Pacific

China
Japan
India
South Korea
Southeast Asia
Rest of Asia Pacific

Latin America

Brazil
Mexico
Rest of Latin America

Middle East & Africa

GCC
South Africa
Rest of Middle East & Africa