LiPF6 Industry Prospective:
The global LiPF6 market size was worth around USD 3912.47 million in 2022 and is predicted to grow to around USD 6082.36 million by 2030 with a compound annual growth rate (CAGR) of roughly 5.65% between 2023 and 2030.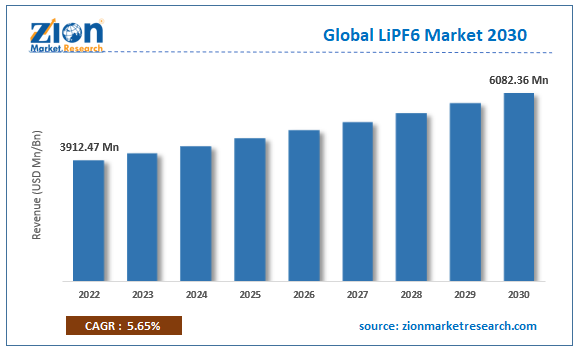 Request Free Sample
LiPF6 Market: Overview
LiPF6 is the chemical formula for lithium hexafluorophosphate. It is an inorganic compound which means that it does not contain carbon-hydrogen bonds. It appears in white crystalline powder form and is produced by a reaction between lithium fluoride, hydrogen fluoride, and phosphorus pentachloride. Its chemistry analysis shows that the salt form is relatively stable but tends to lose 50% of its weight when exposed to temperatures as high as 200 °C. It starts hydrolyzing at temperature at 70 °C resulting in the formation of highly toxic hydrogen fluoride (HF) gas. One of the primary applications of the inorganic compound is in the production of commercial secondary batteries. During the forecast period, LiPF6 industry players can expect a steady growth rate but may face challenges due to associated environmental concerns.
Key Insights:
As per the analysis shared by our research analyst, the global LiPF6 market is estimated to grow annually at a CAGR of around 5.65% over the forecast period (2023-2030)
In terms of revenue, the global LiPF6 market size was valued at around USD 3912.47 million in 2022 and is projected to reach USD 6082.36 million, by 2030.
The LiPF6 market is projected to grow at a significant rate due to the increasing application in production of lithium-ion batteries
Based on channel segmentation, offline was predicted to show maximum market share in the year 2022
Based on end-user vertical segmentation, automotive was the leading segment in 2022
On the basis of region, Asia-Pacific was the leading revenue generator in 2022
LiPF6 Market: Growth Drivers
Increasing application in the production of lithium-ion batteries may provide growth opportunities
The global LiPF6 market is projected to grow owing to the increasing application of the chemical compound in the production of lithium-ion (Li-ion) batteries. It is used as an electrolyte in Li-ion batteries helping in the transportation of positive lithium ions between anode and cathode. The most widely used electrolyte solution consists of a mixture of organic solution and lithium salt such as LiPF6. In recent times, especially with the rapidly evolving advancements in the consumer electronics segment, the demand for Li-ion batteries has grown multifold. As compared to traditional energy storage systems, these batteries have proven more efficient and effective as they have higher power density and charge faster. This allows Li-ion battery producers to provide power-storing solutions that have higher battery life and lighter packaging.
Product miniaturization is one of the crucial catalysts that demanded innovation of compact battery solutions without impacting storage capacity. Some other advantages of Li-ion batteries include low self-discharge as compared to nickel-cadmium batteries and zero memory effect. In addition to this, customized Li-ion battery cells have the capacity to provide the current required in high-power tools such as high-torque impact wrenches, high-power drills, professional-grade grinders, and large-scale air compressors to name a few.
End-user verticals of Li-ion batteries are growing exponentially with urbanization and industrialization acting as key growth propellers. Demand for consumer electronics is reaching new heights every year as the world population continues to grow. On the other hand, Li-ion batteries are becoming increasingly important in activities related to grid stabilization in the power sector resulting in an unmatched growth rate for Li-ion batteries and subsequently for LiPF6.
LiPF6 Market: Restraints
Health hazards associated with negligent use of LiPF6 may restrict market expansion
The global LiPF6 market growth trend is projected to be restricted due to the serious health hazards associated with the reckless or negligent use of LiPF6. Until the compound is used in its intended applications such as an electrolyte solution, it can be considered safe. However, inhaling or ingesting LiPF6 can lead to serious health risks such as serious corrosive injury to the lungs and upper respiratory tract. Furthermore, as per the National Library of Medicine, LiPF6 is classified as toxic if it comes in contact with the skin as it can lead to skin burns and damage the eyes. Safety protocols have to be followed at all times when dealing with the compound as prolonged exposure is not recommended.
LiPF6 Market: Opportunities
Rising investments in new production site development may create expansion opportunities
The LiPF6 industry is most likely to benefit from the increasing rate of investments in the construction of new production facilities aiming to meet the drastically growing demand for lithium hexafluorophosphate. The trend is an indication of the high confidence that LiPF6 providers have in the compound and its end applications. In July 2021, Polyfluoro Duo, a Chinese producer of the inorganic compound, announced that it would use internal monetary resources to fund the construction of a new manufacturing facility for LiPF6. The unit is expected to boast 100,000 tons of lithium hexafluorophosphate production capacity along with 10,000 tons of lithium difluorophosphate and 40,000 tons of difluoro sulfonimide lithium (LiFSI). The total investment is expected to cross RMB 5.15 billion. The company has already signed crucial sales deals with other chemical giants such as Henan Nonferrous, Funeng Technology, and BYD. In March 2023, Koura, the owner of the St. Gabriel Plant in the US known for manufacturing batteries used in electric vehicles (EVs) signed a contract with a Massachusetts-based company for the supply of specialty chemicals in the form of 5,000 metric tons of recycled lithium carbonate per year. This chemical will be used for the production of LiPF6 which is expected to support the production of 1 million EVs per year. Koura was already granted USD 100 million in October 2022 by the U.S. Department of Energy for building the LiPF6 production plant.
LiPF6 Market: Challenges
Extensive market for alternate electrolytes to challenge market growth plans
The global LiPF6 industry growth is projected to be challenged by the presence of an extensive market for alternatives to LiPF6 that are gaining progressive adoption. Some substitutes include compounds such as lithium hexafluoroarsenate (LiAsF6), lithium bisoxalatoborate (LiBOB), and others. Some of these alternatives are less harmful and more environmentally friendly as compared to LiPF6. Chemical manufacturers generally tend to fragment their production facilities to facilitate the production of several alternatives to a compound as it is an excellent survival technique. Additionally, changing political relationships between countries, looming tensions over global economic conditions, and the general regulatory guidelines determining chemical industry operations add to existing challenges.
LiPF6 Market: Segmentation
The global LiPF6 market is segmented based on sales channel, end-user, and region.
Based on sales channel, the global market segments are online and offline. In 2022, the latter segment generated significant revenue. LiPF6 is a highly regulated chemical compound owing to its toxic content. It cannot be purchased legally without proper approval from administrative authorities. Companies using LiPF6 typically require large quantities of the compound and best prefer offline mode of transaction since it helps them maintain transparency across the transaction line. However, chemical manufacturing companies tend to advertise their product offerings on official websites but sign deals only after thorough background checks. LiPF6 concentration in a small Li-ion battery in its electrolyte solution may range between 1 to 1.2 M.
Based on end-user verticals, the LiPF6 industry segments are industrial energy storage, electronics, automotive, and others. In 2022, the highest demand was observed in the automotive sector due to the exponentially growing sector for EVs across the globe as electric vehicles are powered by Li-ion batteries. The growing demand for EVs in 2-wheeler, 3-wheeler, and 4-wheeler formats is a crucial segmental driver. In 2022, EV sales represented 3% of Japan's total passenger car sales.
LiPF6 Market: Report Scope
Report Attributes
Report Details
Report Name
LiPF6 Market
Market Size in 2022
USD 3912.47 Million
Market Forecast in 2030
USD 6082.36 Million
Growth Rate
CAGR of 5.65%
Number of Pages
211
Key Companies Covered
FMC Corporation, Albemarle Corporation, Sumitomo Osaka Cement Co. Ltd., Showa Denko K.K., UBE Industries Ltd., Kureha Corporation, Kishida Chemical Co. Ltd., Merck KGaA, Do-Fluoride Chemicals Co. Ltd., TOMIYAMA PURE CHEMICAL INDUSTRIES LTD., Mitsui Chemicals Inc., Tianjin Jinniu Power Sources Material Co. Ltd., and others.
Segments Covered
By Sales Channel, By End-User Vertical, and By Region
Regions Covered
North America, Europe, Asia Pacific (APAC), Latin America, Middle East, and Africa (MEA)
Base Year
2022
Historical Year
2017 to 2021
Forecast Year
2023 - 2030
Customization Scope
Avail customized purchase options to meet your exact research needs. Request For Customization
LiPF6 Market: Regional Analysis
Asia-Pacific to act as a preferential market during the projected period
The global LiPF6 market will be led by Asia-Pacific during the projection period. The presence of an expansive, evolving, and robust chemical industry in Asian countries is the most significant growth driver supporting regional dominance. China, for multiple years, has continued to dominate the global chemical ecosystem with the construction of extended production lines and acting as home ground for multiple regional players. For instance, Sinopec, also known as China Petroleum & Chemical Corporation, is an integrated chemical and energy corporation that is one of the world's largest such corporations. The Chinese government has been consistently investing in regional industry expansion by collaborating with international players and pumping more investments in domestic chemical manufacturing infrastructure.
Furthermore, the growing presence of the automotive sector, especially electric vehicles, is expected to create a higher consumption rate for LiPF6. China is the leading EV manufacturer and exporter globally. India, on the other hand, is witnessing an extensive surge in the sales of EVs as demand for electric passenger cars and public transport systems is on the rise. In April 2023, Gujarat Fluorochemicals (GFL), a flagship company owned by InoxGFL group is expected to invest INR 400 to INR 500 crore for producing EV batteries. The first phase will deal with the production of LiPF6 at a capacity of 1,800 tons per annum.
LiPF6 Market: Competitive Analysis
The global LiPF6 market is led by players like:
FMC Corporation
Albemarle Corporation
Sumitomo Osaka Cement Co. Ltd.
Showa Denko K.K.
UBE Industries Ltd.
Kureha Corporation
Kishida Chemical Co. Ltd.
Merck KGaA
Do-Fluoride Chemicals Co. Ltd.
TOMIYAMA PURE CHEMICAL INDUSTRIES LTD.
Mitsui Chemicals Inc.
Tianjin Jinniu Power Sources Material Co. Ltd.
The global LiPF6 market is segmented as follows:
By Sales Channel
By End-User Vertical
Industrial Energy Storage
Electronics
Automotive
Others
By Region
North America
Europe

France
The UK
Spain
Germany
Italy
Rest of Europe

Asia Pacific

China
Japan
India
South Korea
Southeast Asia
Rest of Asia Pacific

Latin America

Brazil
Mexico
Rest of Latin America

Middle East & Africa

GCC
South Africa
Rest of Middle East & Africa